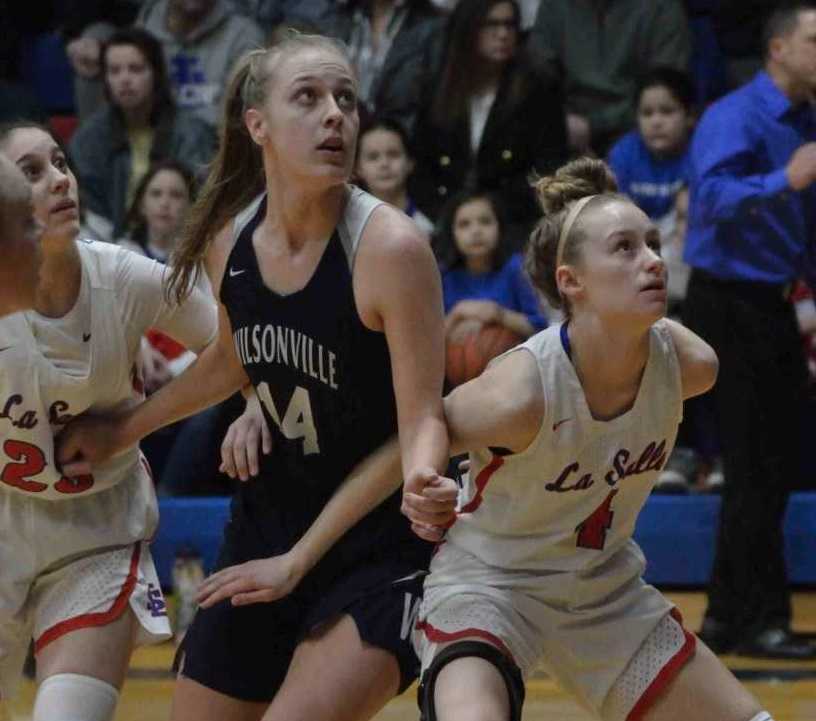 MILWAUKIE -- The Wilsonville Wildcats hope to have much bigger wins this girls basketball season, but what they did Tuesday night is an enormous steppingstone.
The top-ranked Wildcats won 71-59 at No. 2 La Salle Prep in a 5A Northwest Oregon Conference showdown, handing the Falcons their first league loss in seven years, a span covering 83 games.
Sophomore guard Sydney Burns scored 19 points to lead Wilsonville (10-4, 3-0), which trailed by three points at half but took control with a 19-3 run to start the third quarter.
"As competitors, for sure we wanted to take that down," Burns said of the Falcons' streak. "We play hard and we leave it all out. And this game, we just really wanted to give it everything we had."
Wilsonville coach Justin Duke tried to put the win over La Salle Prep (10-4, 2-1) in perspective.
"It's been a four-year journey to get to this point," Duke said. "It counts as one win in the standings, but on the other hand it feels like another step forward for the program. Hats off to La Salle. Ever since I've been here, they've been the measuring stick in 5A. It's great to come in here and do that. Kudos to them for being part of that."
Ultimately, the Wildcats imposed their will in a physical game that was played at a fever pitch.
"La Salle is a great team and all, but we've been working our butts off for this moment for years," said Wilsonville senior wing Teagan McNamee, who scored all 12 of her points in the second half. "All we can say is we did it, and we're ready to do it again."
The Falcons find themselves in the unfamiliar position of dealing with a league loss, their first since falling to Madras 68-35 on Feb. 17, 2012. It is the first one in Kelli Wedin's seven seasons as coach, starting with two seasons in the 4A Tri-Valley Conference.
"It hurts their heart, I will say that," Wedin said. "They'll take it personally. I don't worry about that. They're not going to sulk about it. Maybe a few tears, just in the moment, but they'll get better from this. It's not about this game, it's about the big picture."
Wilsonville's win came with a price when senior Reese Timm, a starting wing, suffered a knee injury with 1:59 left and was helped off the court. Losing Timm would be costly for the Wildcats, who lost senior wing Emily Scanlan – their best on-ball defender – to a torn ACL last month.
"It doesn't sound too good, based on what the trainer said," Duke said of Timm, who transferred from La Salle Prep as a junior. "But we've been here before."
Wilsonville opened a 21-14 lead early in the second quarter before La Salle Prep's Addison Wedin caught fire. The 5-foot-11 sophomore guard scored 14 points in the second quarter to put the Falcons up 39-36 at half.
Wedin and Burns both picked up their fourth fouls by the mid-point of the third quarter and did not return until the fourth quarter. McNamee picked up the offense for Wilsonville, hitting two three-pointers and a layup as the Wildcats surged ahead 55-42.
McNamee credited Burns, who drove for two baskets early in the third quarter, for setting the tone.
"She brought the energy level up like 10 times higher, and we just decided that we needed to keep that level up," McNamee said. "Sydney Burns is such a player. We try to run behind her, and she just lifts everybody up, and we decided to lift her up when she was in the time of need."
In the six-plus minutes that Burns sat, the Wildcats outscored La Salle Prep 18-7. Five different players scored in that span.
"I knew my teammates would have my back," Burns said. "We're always there for each other. When I came out, I wasn't worried at all. I just wanted to do whatever I could on the bench by encouraging them, talking to them and helping them focus on the game."
It helped that La Salle Prep was without Addison Wedin during that time.
"That's tough on us," Kelli Wedin said. "That's where it gets away from us. Other kids have to step up. We had some really good opportunities. Without Addi, other kids had great shots, we just didn't knock them down. … We never really fully put the whole thing together for any length of time."
The Falcons were within 58-50 with 6:40 left but could get no closer. The Wildcats – in the double bonus for the entire fourth quarter -- made 9 of 13 free throws in the fourth quarter and 28 of 36 for the game.
Senior guard Cydney Gutridge and Timm added 11 and 10 points, respectively, for Wilsonville. Junior guard Emily Niebergall scored 18 points, Addison Wedin had 14 points and freshman guard Mia Skoro added 12 points for La Salle Prep.
The Falcons once again played without USC-bound senior guard Alyson Miura, who has been out with a shoulder injury since playing in the season opener. Kelli Wedin said she is unsure of when Miura will return.