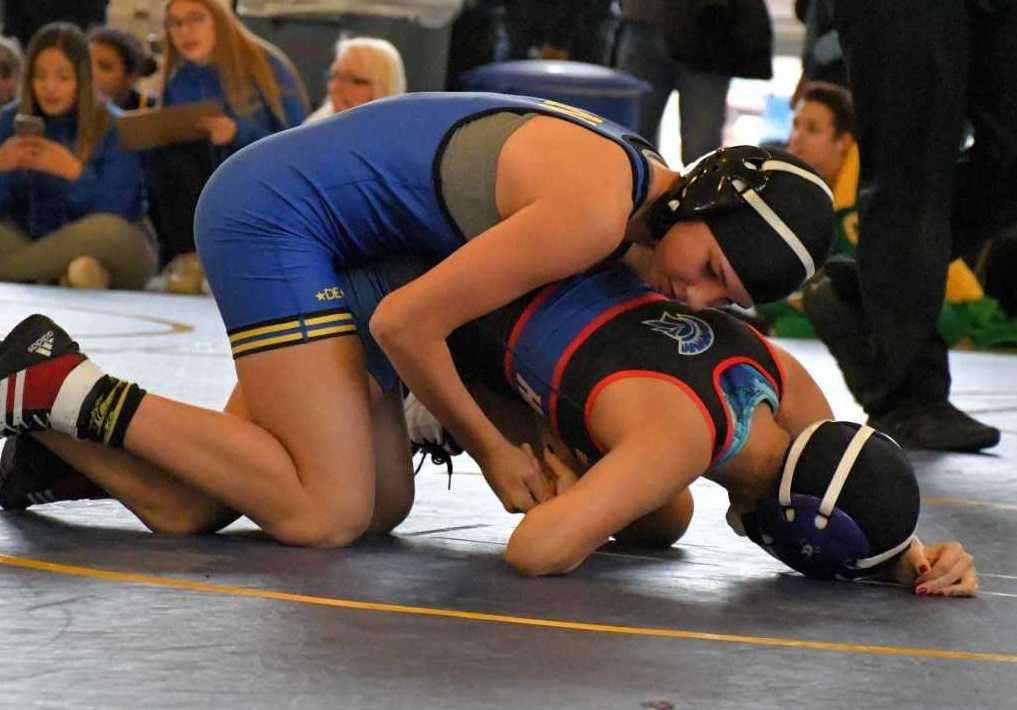 Newberg freshman Sophia Redwine clearly is one of the top girl high school wrestlers in the state this season.
But what she's accomplished on the mat against boys isn't too bad, either.
As the backup at 106 pounds for the top-ranked Tigers, she has compiled an 11-11 record in the boys lineup, with one win coming against a girl. Of her 10 wins against boys, eight have come by pin.
The success against boys is nothing new for Redwine, who began wrestling as a sixth-grader in Newberg's youth program.
"She's been with us for quite a while," Tigers coach Neil Russo said of Redwine, one of two girls on the team. "She knows how to wrestle. She's technically very sound, fundamentally very sound. She's certainly not a huge drop-off. We certainly don't hesitate to use her in the lineup."
Redwine's competition against girls comes in girls-only tournaments. She won titles at both tournaments she entered last month, pinning six of her seven opponents in the Battle of the Boro at Hillsboro and the War of the Roses in the Rose City Championships at Westview.
Her most impressive performance of the season, though, came late last month in the Northwest Duals boys meet, where she went 6-2 with five pins and a major decision. One of her pins gave Newberg a 33-33 tie with Chiawana (Wash.), a dual the Tigers won on criteria.
"She was the queen for the day, that's for sure," Russo said. "If we would've had to forfeit at 106, we would've lost those duals. It was exciting. It was great for her and it was great for our program."
Redwine said her workout partners at Newberg have helped her reach another level.
"It's the guys' muscle mass that's made me stronger," she said. "I don't really have muscle mass, so I rely on technique. The guys have helped me wrestle when I go against girls."
The biggest challenge for Redwine in wrestling against boys is matching up physically.
"There are some big, physical 106-pounders that she's looked like a freshman 106-pounder against," Russo said. "But it certainly wasn't because of her lack of toughness or lack of wrestling ability."
In regard to girls wrestling boys, Redwine said she has heard from supporters and detractors. Would she prefer to wrestle strictly against girls?
"I don't really care," she said. "Matches are matches, and I want to get more time on the mat."
Girls wrestling has been an exhibition at the OSAA tournament for more than a decade, but this season marks the first time it will be an official championship. Redwine will be among the favorites to bring home a title.
It won't be a cakewalk for her, though, in a 105-pound division that Russo compares to the boys 145-pound class.
"Sophia is as good a girl as I've seen, but I've also seen her get challenged at the girls level," Russo said. "She had a finals match at Rose City that she had to come from behind to win. There are some good girls out there.
"But she is technically and physically very good. And I'm not talking about for a girl. She is very good for a wrestler."