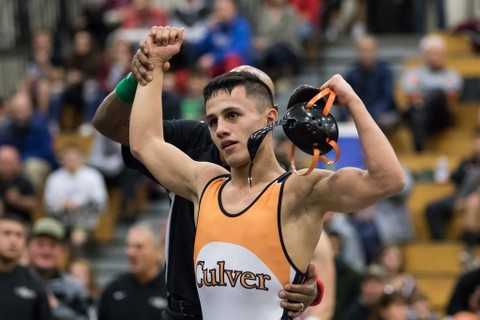 As one of the great dynasties in the history of Oregon high school sports, Culver's wrestling team has a pretty good idea of what it takes to win a state championship.
The Bulldogs have won 11 of the last 12 titles in 2A/1A, including the last five. In many cases, they have left the competition in the dust, like last year, when they outscored runner-up Central Linn 201.5-104.
So as coach J.D. Alley paces through his 29th season at Culver, he senses that the Bulldogs will have a battle on their hands to continue their dominance. Of the seven Bulldogs who made the state finals last year, two graduated and two transferred.
"That's probably 100 team points right there," Alley said. "I don't see us pushing the 200-point mark this year."
Also, a handful of schools have dropped down from 3A, including Glide, which finished third in the 3A championships last year.
"I expect Glide to be a formidable foe," Alley said. "They were at our tournament and looked pretty formidable."
Still, Culver is the team to beat, holding the No. 1 ranking in the OSAAtoday 2A/1A coaches poll ahead of No. 2 Central Linn and No. 3 Glide. The Bulldogs return two state champions in seniors Lorenzo Vasquez (126) and Cylus Hoke (195) and a runner-up in sophomore Anthony Hood (132).
Culver is slowly coming together, last weekend cruising to the title at the 14-team JO HI Tournament in Joseph by outscoring second-place Santiam Christian 301.5-127.
The Bulldogs had nine champions in the tournament as Vasquez, Hoke and Hood were joined by senior Joseph Russo (182), sophomores Brody Piercy (106), Jordan Piercy (113) and Eduardo Penaloza (220) and freshmen Noel Navarro (120) and Isaiah Toomey (160).
"It was a great day to be a Bulldog," Alley said. "It was an awful good weekend for us, so maybe we'll be all right. … It's starting to evolve. It's a pretty young team in a lot of aspects. Half the kids on the team are either freshmen or people who came out late in their high school careers. We definitely have matured and grown some since Day 1."
The Bulldogs got a bit of a wakeup call Dec. 7-8 when they finished second in the Culver Invitational to La Pine, which is ranked third in 3A. La Pine scored 202.5 points to beat Culver (190), 3A No. 1 Harrisburg (188) and Glide (175).
"That hasn't happened to us in a while," Alley said of falling short in its own tournament.
Vasquez, who has signed with Southern Oregon, is bidding to become Culver's third four-time champion, following Miguel Baltazar (2008) and Jared Kasch (2013). He is 22-1 this season, his only loss coming in the finals of the Sierra Nevada Classic in Reno.
"He's somebody we could count on from Day 1," said Alley, who as a three-time champion at Culver (1983-85). "We're trying to do our best to get him prepared for the next level, get him tuned."
Hoke is 19-3. He lost to Blake Ohlson of 6A Mountain View and dropped two matches in Reno after he tweaked his knee.
"He's an original short, fat kid that people overlooked for so long," Alley said. "He had success early in his high school career because they did kind of overlook him, and he was a lot tougher than they expected. But the secret's out on that one."
The team suffered a blow when the Torres brothers transferred to Madras. Senior Victor Torres won the state title at 152 last year and junior Orlando Torres was runner-up at 126.
But the Bulldogs still have a dangerous lineup, which soon will include junior Lane Downing (138), who finished third at 132 last year but has been sidelined since mid-December after having his appendix removed.
Does Culver have what it takes to stay on top? How the team's lineup shakes out will be key.
"You win a couple titles, and at the start of the year, that's always on your mind," Alley said. "How are you going to get there? Can you get there? But wrestling's a little bit different. You've got to see how you can fit the bodies you have into the 14 weight classes."