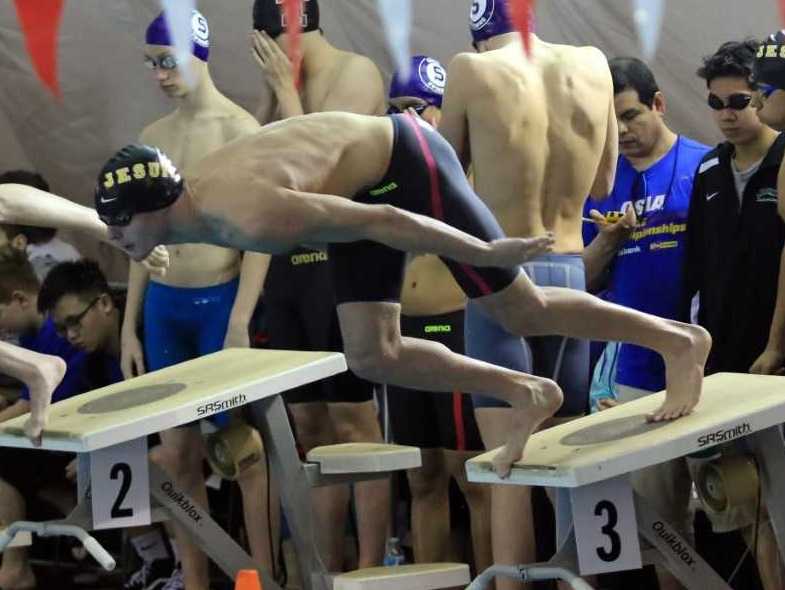 In recent seasons, the 6A swim meet has showcased one of the state's best high school rivalries as Metro League foes Jesuit and Sunset have ruled the pool.
The Crusaders have won four consecutive boys titles, with the Apollos taking second the last two years. And Sunset and Jesuit have finished 1-2 in the last two girls meets.
The state's coaches voted Jesuit and Sunset first and second, respectively, in both preseason polls. But the way things are looking, the Crusaders appear to be a cut above.
Whereas both Jesuit teams are loaded with returners, Sunset's champion girls team was gutted by graduation, and its boys team suffered a blow when its top swimmers decided to forgo the high school season to focus on club.
"I'm missing most of my state team," Sunset coach Adam Farber said. "We'll readjust and see what we can accomplish. On the girls side, I think we can push Jesuit. We'll make them work a little harder for it. It's going to be tough to try to pull it off without the strength that I graduated, but we'll see.
"The guys is definitely going to be tougher because they didn't lose much, and I did. I think Jesuit has too much strength for anybody to do much more than poke at them a little bit."
Much will be revealed when the teams collide Jan. 24 in a Metro dual meet. They will meet again Feb. 8 in the district meet.
"I think the boys match up a little bit stronger," Jesuit coach Bryan Butcher said of his team's chances against Sunset. "The girls match up again like every year. It's always a fun meet. It's one that the last three years has been very exciting for the kids."
Jesuit has one of the state's stars in USC-bound senior Trent Martinez, the two-time reigning champion in the 200- and 500-yard freestyle. He holds school records in both events, as well as the 100 freestyle.
"He's so consistent," Butcher said. "He's always been a really good, solid leader. He'll swim anything at state, whatever will help the team."
The Crusaders bring back two top-six state placers in sophomores Marco Nosack and Beau Lonnquist and three-fourths of their state champion 200 medley and 400 freestyle relay teams.
They also have impact newcomers in freshmen Nick Simons and Matthias Kreutzer. Simons is a threat to contend for state titles, according to Butcher.
"He can pretty much do everything," Butcher said. "He'll be in the finals in the 100 back for sure, if he swims that. He's one of Oregon's better swimmers."
Sunset's boys will be missing three top-six state placers in senior Caspar Corbeau and juniors Regis Wang and David Boariu. Corbeau, his sophomore brother, Angus, and Wang are concentrating on club swimming.
The University of Texas-bound Corbeau -- the reigning 100 breaststroke champion and a member of the Dutch Junior National Team – leaves a gaping hole. The Apollos are counting on senior Miles Imai and junior Jon Westlake to help show the way.
Jesuit's girls are stocked with experienced talent. Senior Elise Kreutzer is the reigning state champion in the 200 freestyle and was runner-up in the 100 freestyle. Senior Sofia Nosack, junior Isabella Wallace and sophomore Emma Matous were top-six state placers.
Graduation hit Sunset hard. But the Apollos still return junior Tia Lindsay, who won the 200 IM as a freshman and was second last year, and all four members of a 200 medley relay team that finished third.
"There's a lot of points that went out the door on graduation day, but there's a lot of returners," Farber said. "We'll definitely be a presence."
Jesuit and Sunset girls teams have added potential star freshmen, the Crusaders with Fay Lustria and the Apollos with Hannah Trainer.
Farber said that Trainer "has got a lot of talent and potential, it's just a matter of if we can come around her as a team and make sure she's ready for it."
Butcher expects Sunset to challenge his team.
"The other girls they have are very good swimmers," he said. "For that meet, it's going to come down to more of our depth."