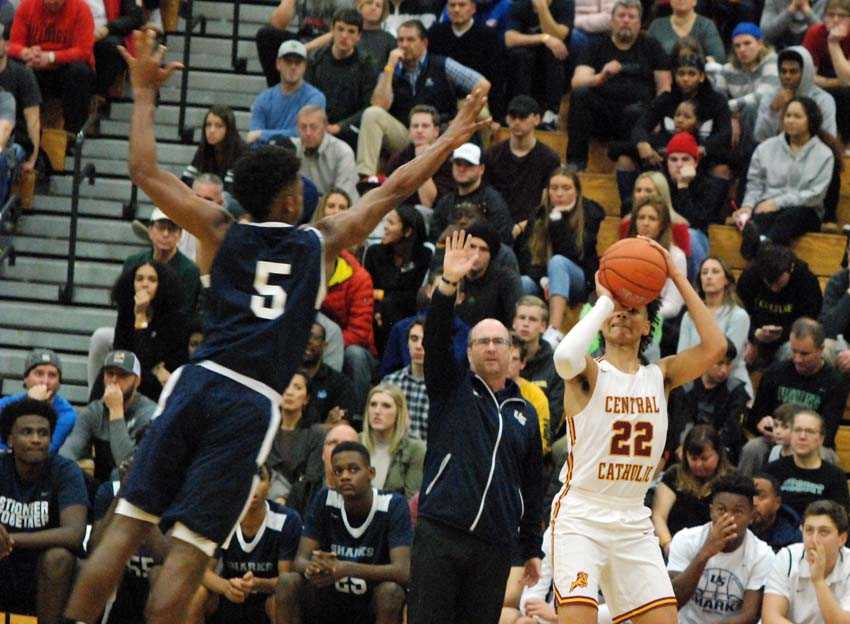 Reigning Florida 5A champion University of Fort Lauderdale got all it could handle from Central Catholic Thursday night at the Les Schwab Invitational before winning, 72-62, in a quarterfinal game played at Liberty HS in Hillsboro.
The Rams used strong long-distance shooting and took care of the ball to play toe-to-toe with a nationally ranked foe that enjoyed overwhelming physical superiority.
Central, which is tied for sixth in the most recent Oregon 6A Coaches Poll, led the Sharks at the half, after three quarters and midway through the fourth, until a 10-0 run that showcased University's awesome power turned the game around for good.
"We didn't come just to play the LSI; we came to win," said Ram head coach David Blue. "We felt like if things went the right way and we knocked down some shots and didn't turn the ball over we'd have a shot and we did that. At the end of the day those are some guys who will be making millions of dollars. We just don't see that. They took over the game at the end. You've got to give it up to their two dudes. They're dudes for a reason."
The "dudes" Blue referred to are 6-11 senior Vernon Carey, Jr. and 6-8 junior Scottie Barnes. Carey and Barnes combined for 45 points and a slew of highlight-reel plays for University, especially in the fourth quarter, when the Sharks outscored Central, 22-11. Carey, a southpaw committed to Duke, scored 12 points in the period, almost all on rim-shattering dunks. Clinging to a 66-60 lead with less than two minutes remaining, Barnes, a long wing with NBA-ready game, blocked a Ram shot to set up Carey for a coast-to-coast attack and finish. Barnes added a sweet assist to Carey on University's next possession to extend the Sharks' lead to an insurmountable 10.
Central Catholic had four players, Darius Gakwasi, Isaiah Amato, DeRay Seamster and Sataievior Ayiola, score in double figures. The Rams stayed close thanks to nine triples, while University struggled to make shots from outside the lane.
"We wanted their other guys to beat us tonight," said Blue. "Our bigs played tough and our guards really did a good job of coming down and rebounding. We have some long, athletic guards who helped clean up the boards."
University (9-2) used a Carey dunk to open the game and early scoring from Roger McFarlane to build an 18-13 advantage after one quarter. Three second-quarter three-point shots from Gakwasi, a 6-5 sophomore wing, helped Central Catholic surge into the lead, which the Rams held until University's big players became simply too big.
"My guys came out and competed," said Blue. "They stuck to the game plan virtually the entire game and gave us a chance to win at the end."
The loss snapped a three-game winning streak for Central Catholic (4-4).
"We're starting to figure things out and create an identity for ourselves," said Blue. "I'm feeling really good about where we're headed."