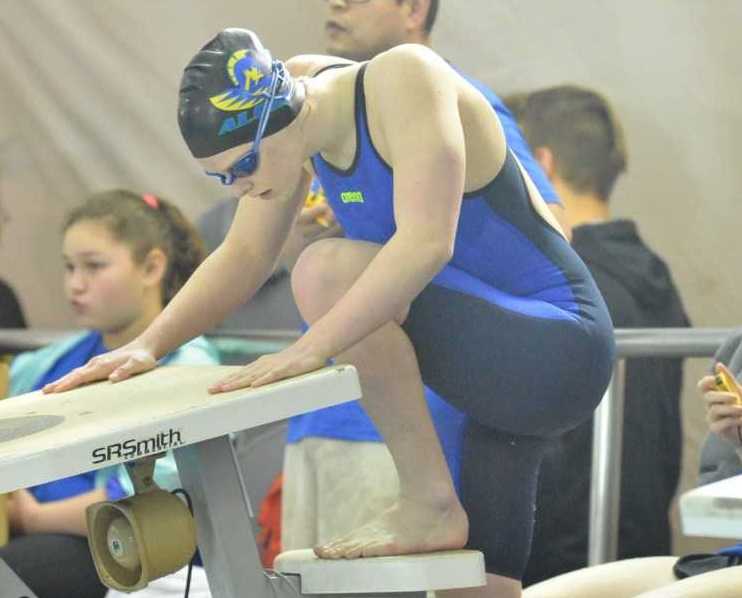 At this point in Kaitlyn Dobler's swimming career, the record book is her main competition.
As the owner of two Oregon state meet records and all but two individual school records, it's one of the few things left to push the Aloha junior. And this season, she is looking beyond state lines for that challenge.
"I want to try to get the national high school record in the 100 breaststroke," Dobler said. "I'm really hoping. I'm training and doing the pace to be able to get that time.
"I've gotten close to my best time in the meets I've already swam, and I'm hoping I'll be able to drop time when it gets to districts and state."
Last season, Dobler swam the 100-yard breaststroke in 59.17 seconds at the Metro League district meet and 59.89 at the 6A championships, breaking the state meet record. So far, she is ahead of her pace from last year, swimming 59.25 on Dec. 7 to finish second at the Junior Nationals West meet in Austin, Texas.
The national high school record of 58.4 -- set last year by Emily Weiss, now a senior from Yorktown, Ind – is well within reach of Dobler, who is very calculated in setting goals.
"I admire how she sets herself up for success," Aloha coach Lisa Leslie said of Dobler. "She knows what's within her realm. She doesn't reach for pie-in-the-sky too soon. She knows where she is and what she needs to do to get there."
In her third high school season, Dobler is well on her way to becoming one of the state's all-time great swimmers. She has won back-to-back 6A championships in the breaststroke and last year won a state title in the 50 freestyle, in which she also broke the state meet record.
Her name dominates Aloha's record books. She owns every individual event record except the 100 backstroke and 500 freestyle, and she has swam on all three school-record relay teams.
Dobler has begun to make a name for herself nationally, too. She is the top-rated 16-year-old in the country in the 100 and 200 breaststroke and is ranked in the top 10 for the 50 freestyle. Among 18-and-under swimmers, she is in the top 25 for all three events.
"She gives me goosebumps when I watch her swim," Leslie said.
Dobler is gaining confidence as a national-level contender. At long-course Junior Nationals in California in August, she won the title in the 100 breaststroke.
"The first ones I went to, I didn't do as well, but they were really good learning experiences," Dobler said of the national meets. "But as I've gone to more, I feel like I've done better at them. Originally, it was pretty nerve-racking, but the practice is really good, to be able to get used to that kind of level."
Leslie marvels on how Dobler rises to meet challenges.
"I've never seen anyone who loves to compete like Kaitlyn does," Leslie said. "But you don't see her that way on deck. It all happens literally in the water.
"It's something to watch. There is something that happens with her that pushes her to a completely different level. There is like an overdrive that happens with her when she wants something."
Leslie also is impressed with Dobler's maturity. For her 16th birthday, Dobler invited friends to join her in volunteering at the Oregon Food Bank. She is serious about academics, carrying a 4.0-plus GPA. And unlike some club swimmers, Dobler is fully committed to the high school team, attending all the team functions.
"I'm in awe of her not only as an athlete, but also as a person," Leslie said. "She supersedes what happens in the water as a person. She's one of the most articulate young women I've ever met. She has a quiet confidence. But she does not seek the limelight in any way, shape or form. She tends to stand in the back."
Dobler's versatility speaks to her talent. She had the state's top time in the 200 individual medley as a freshman but suffered an asthma attack during the state final and took third. Many observers expected to see her in the 200 IM at state last season, but she showed her sprinter speed in setting the state mark in the 50 freestyle.
Dobler is certain to enter the breaststroke again this season, but her other event for district and state remains up in the air.
"I love swimming pretty much anything," Dobler said. "So I'm just going to see how I feel when I get there. I'm not really sure at this point. There are so many events, and all of them are fun to swim."
Dobler has been a member of The Dolphins Swim Team since age 8, along with her sister, Allison, an eighth-grader who will attend Mountainside next year because of a change in the district boundaries. The years of training paid off this year when she accepted a full-ride scholarship to USC.
"The engineering program was really good, and that's what I was looking for," Dobler said. "Also the coaching staff and the team are really nice. I felt kind of at home there, and really liked it, so I decided to commit."
It will be the next step on what she hopes is a long, successful journey in swimming.
"I definitely want to go to the Olympics," Dobler said. "That's been my goal for a while. That's kind of the end game for me."
Photos of state championship events are available from Northwest Sports Photography at 4nsp.com