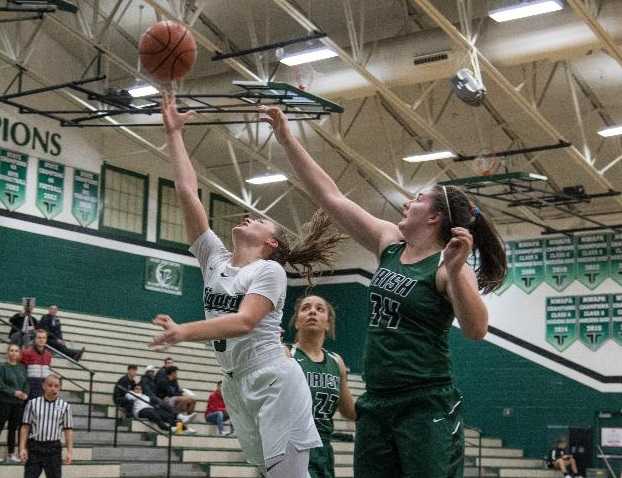 TIGARD -- Coming off two narrow wins to start the season, Tigard coach Steve Naylor wasn't sure what to expect when No. 5 Sheldon paid a visit for a 6A non-league girls basketball game Tuesday night.
What he didn't see coming was a comfortable, wire-to-wire 69-51 win for the third-ranked Tigers.
"I didn't think we had that in us right now, where we're at," Naylor said. "We had a stretch of about five days of not playing very good basketball. We were hoping getting home would help."
It seemed to do the trick. Senior guard Campbell Gray, who is headed to UC Davis, attacked the middle of the Sheldon defense to score 12 points in the first quarter, staking the Tigers to 12-point lead. The 5-foot-10 Gray went on to finish with a game-high 22 points.
"Most games we get off to a quick start, and at halftime we lull a little bit," Gray said. "So if we can build up a lead early, that helps us."
Naylor liked how Gray "took the initiative and got downhill" to spark the Tigers.
"If you're going to get in her face at the beginning of the game, she's going to try to go by, and if she does that, she's strong, and there's a good chance she's going to get to the rim," Naylor said. "That's what happened tonight."
Tigard is loaded with experience. Gray and senior point guard Paige LaFountain were key players on the 2016 state runner-up team. And the Tigers return all five starters from last season, when they won their third consecutive Three Rivers League title and reached the state quarterfinals.
"All of our starters have been in close-game situations," Gray said. "They know our sets really well. They just know how to play the game. I've played with them two or three years, and we're looking for a strong finish this year."
Tigard opened by beating Central Catholic 54-53 and Clackamas 54-50, but didn't show the type of crisp execution of a veteran team. The Tigers gave a glimpse of what they can do Tuesday during an 8-0 run to build a 17-7 lead.
The surge included a short jumper by Gray, a basket by junior Delaney Leavitt off a feed by LaFountain and two steals and hoops by junior guard Kennedy Brown. Gray went inside for three more baskets to push the lead to 24-12.
"That three-minute stretch was the best I've ever seen us play," Naylor said. "So that was nice to see."
Sheldon, which beat Forest Grove 74-46 and Westview 55-47 in its first two games, could not recover. The Irish trailed 38-20 at half and got no closer than 13 points after the break.
Sheldon coach Brian Brancato lamented the team's slow start, especially in the way it defended Gray.
"If we're going to allow kids to drive to the basket, and just shoot, and then not make shots on the other end, that's what's going to happen," Brancato said. "It's very disappointing."
Brown and LaFountain added 17 and 11 points, respectively, for Tigard. Sarah Lamet, a 6-foot-2 freshman, came off the bench to score six points and show some promise with her range on defense.
"It's really exciting," Gray said of the play of Lamet. "She's still a freshman, and we're trying to incorporate her, get her more reps. I think she's going to be a really big key for us this year."
Tigard is hoping to use Tuesday's performance as a springboard into a Friday game at No. 1 Southridge, the two-time reigning state champion.
"They're just so much bigger than us, it's a whole 'nother set of problems," Naylor said of Southridge.
Sheldon junior guard Aly Mirable scored 14 of her team-high 19 points in the second half. The Irish also got 11 points from junior guard Makayla Scurlock and 10 points from senior forward Emma Neuman.
Sheldon has started the season without Kami Walk, a 6-0 senior forward who is recovering from a knee injury she suffered in the spring. Brancato said he expects Walk to return for the PIL Holiday Classic Dec. 28-29.
"It hurts a lot," Brancato said of Walk's absence. "When things don't go well on the floor, she's the kid that will settle them down and get everybody locked back in defensively."