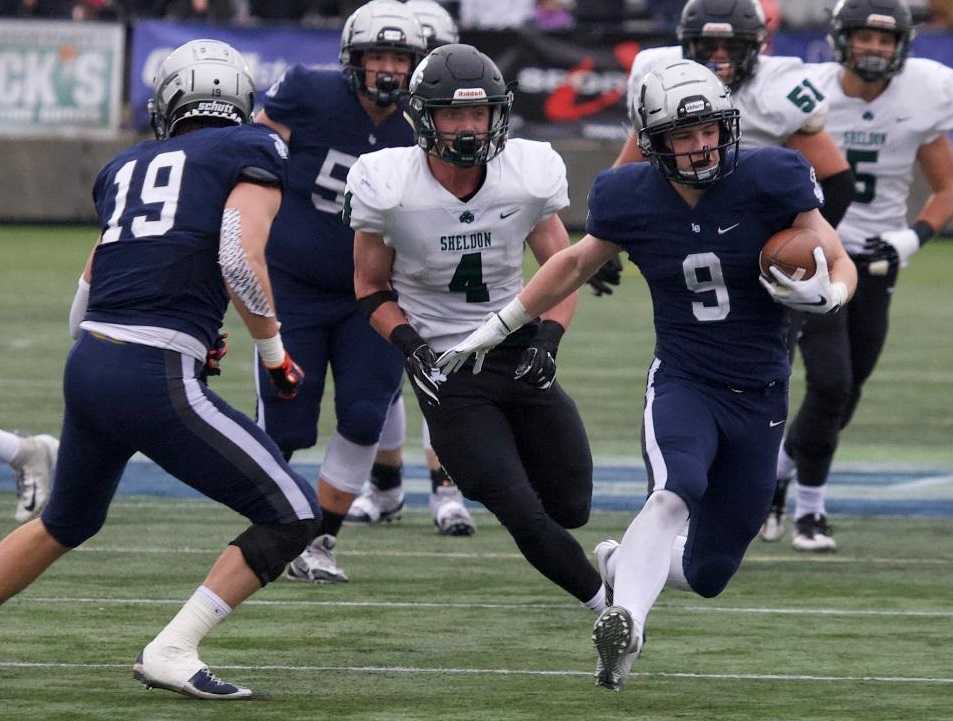 HILLSBORO -- Seven years after riding a star tailback to their first football state championship, the Lake Oswego Lakers did it again Saturday.
Junior Casey Filkins scored five touchdowns, including the go-ahead one-yard run with 2:38 left, as top-seeded Lake Oswego beat No. 3 Sheldon 34-27 in the OSAA/OnPoint Community Credit Union 6A final at Hillsboro Stadium.
It was the Lakers' first title since 2011, which also came against Sheldon. In that game, Steven Long stole the show by rushing for 322 yards and four touchdowns. Saturday, it was Filkins' turn.
"He went off," junior receiver Thomas Dukart said of Filkins. "He's the greatest part of this team. He's the soul of this team, for sure. He's our go-to man. It showed tonight in crunch time."
Filkins rushed for 90 yards and four touchdowns on 16 carries and caught five passes for 77 yards and one score for Lake Oswego (13-1). His yardage numbers weren't gaudy, but his massive impact was undeniable.
"He should be player of the year. He should be All-American," Lakers senior linebacker Chris Todd said of Filkins.
Still, it appeared as if it might not be Lake Oswego's day when Sheldon sophomore Jay Kartub kicked a 40-yard field goal off the crossbar to give the Irish (11-3) a 27-26 lead with 5:54 remaining. Sheldon's first title since 2012 – when it beat Lake Oswego – was within reach.
Lake Oswego didn't shrink in the moment, though, led by Filkins and its first-year quarterback, senior Jackson Laurent.
"We went into the huddle, got everybody together, and I said, 'You guys got to remember, this is going to be the greatest moment of your life,'" Laurent said. "'We're going to go down and score, and we're going to win the state championship, so get ready, boys.'"
Filkins carried six times for 46 yards on the seven-play drive, including a 21-yard run to the Sheldon 4-yard line. Filkins scored on a one-yard run from the wildcat formation, then caught a two-point conversion pass from Laurent to give the Lakers a 34-27 lead with 2:38 to go.
"Player of the year. Just an unbelievable performance," Lake Oswego coach Steve Coury said of Filkins. "That last drive, you could just tell he wanted to win, like a lot of teammates. But he just refused to lose. And he's been like that all year."
Laurent echoed Coury in saying that Filkins was "unbelievable."
"Having him on the field makes my job so much easier," Laurent said. "He's the most dynamic player I've ever played with."
Filkins said the Lakers were prepared for the pressure situation. They went 8-1 against teams ranked in the top 10 of the final OSAAtoday 6A coaches poll, losing only to top-ranked Clackamas.
"We've been in that position a few times this year, with the schedule we played, against the Jesuits and Clackamases, and we had to make do," Filkins said. "We knew going into that drive that we could run it down their throats, and we were able to do that. All credit to the line. They didn't give up, they just kept fighting."
Coury wasn't surprised.
"The guys have done that all year long. They never quit," Coury said. "There was no doubt, but having them come through was really something to watch."
Sheldon – with one of the nation's top dual threats in Penn State-bound quarterback Michael Johnson Jr. – had plenty of time to respond. And the Irish were in prime position after a pass interference penalty gave them a first down at the Lake Oswego 38 with 1:02 on the clock.
Lake Oswego's defense tightened, however, and forced the Irish into fourth-and-12 at the 40 with 33 seconds left. Johnson threw a pass in the flat to junior Ben Mehlhaff, who was quickly surrounded and lateraled in desperation. Junior linebacker Cody Carlson picked up the free ball and ran to the Sheldon 29 before sliding to the turf, sealing the win.
"It was a little nerve-racking," Laurent said of Sheldon's last drive. "Just knowing his arm, and that he can get it to the end zone on one play. I thought our defense did an amazing job of keeping him in the pocket and just swatting the ball down and making plays."
The loss stung the Irish, who were going for their fifth title.
"No one wants to come this far and lose," Sheldon senior running back Matthew Burgess said. "We were always believing the whole time that we could do it, even when we were down 10. We thought if we just keep fighting, we'll get the outcome we want."
The multitalented Johnson came up short in the final game of his two-year Oregon high school career after moving from California.
"Coach had good plays called. I tried to make plays happen with my feet when things broke down, it just wasn't enough," Johnson said.
Lake Oswego led 20-10 at half as Filkins scored on two three-yard runs and turned a short pass into a 40-yard touchdown. After Johnson ran for a two-yard touchdown to make it 20-17 in the third quarter, Filkins answered with a 13-yard run to push the lead back to 26-17.
Johnson added another two-yard touchdown run on the first play of the fourth quarter to cut the lead to 26-24, and Kartub hit from 40 yards – his second field goal of the game – to put the Irish up 27-26.
Lake Oswego finished with a 388-339 edge in total yards. Laurent completed 14 of 23 passes for 220 yards and one touchdown, his 32nd scoring pass of the season.
Johnson went 9 of 16 for 114 yards and ran for 78 yards and two scores on 22 carries. The Irish rushed for 225 yards, getting 147 yards on 18 carries from Burgess, who ran for a 47-yard touchdown in the second quarter.
Sheldon senior receiver Patrick Herbert caught six passes for 109 yards but did not find the end zone. The Lakers were wary of the 6-foot-5, 235-pound Herbert, who is headed to Oregon.
"He's a Division I athlete, but you know, I took the challenge," said Dukart, who matched up with Herbert. "I was playing him man-to-man the whole game, and we got the W, so I played well, and I feel great about it."
As the Lakers received their state championship trophy and were mobbed by supporters, Filkins said he was "struck with a wave of emotion."
"All of it hit me, these past 14 weeks, just hit me in the face," Filkins said. "And it's over now, but it ended in the best way possible. I didn't know I'd be overcome with this much emotion that I just can't even control right now."
Dukart was excited to win the title before his brother, Jake, Lake Oswego's quarterback last season.
"It's awesome," Dukart said. "Last year we lost in the semifinals on a heartbreaker, which sucked, but having him here to enjoy it with me after the game, it's great."
It is the second title in 27 seasons at Lake Oswego for Coury. He is 2-4 in state championship games, including 2-2 against Sheldon.
"Our coaches deserve it more than anybody," Filkins said. "We just wanted to get back for them, and get them what they deserve. And we earned it, and nobody's going to take this away from us."
With dwindling turnout, Lake Oswego fell on some hard times since appearing in back-to-back finals in 2011 and 2012, losing 22 games from 2013 to 2016. Somehow, though, Coury and the Lakers found their way back to the top.
"You know, I've always feared not getting back, because it's hard to get here," Coury said. "I say it every year that we've been here, 'You never know when you're going to get back, or if you'll get back.' So I'm worried about it every year. This is quite an accomplishment with a great bunch of kids."