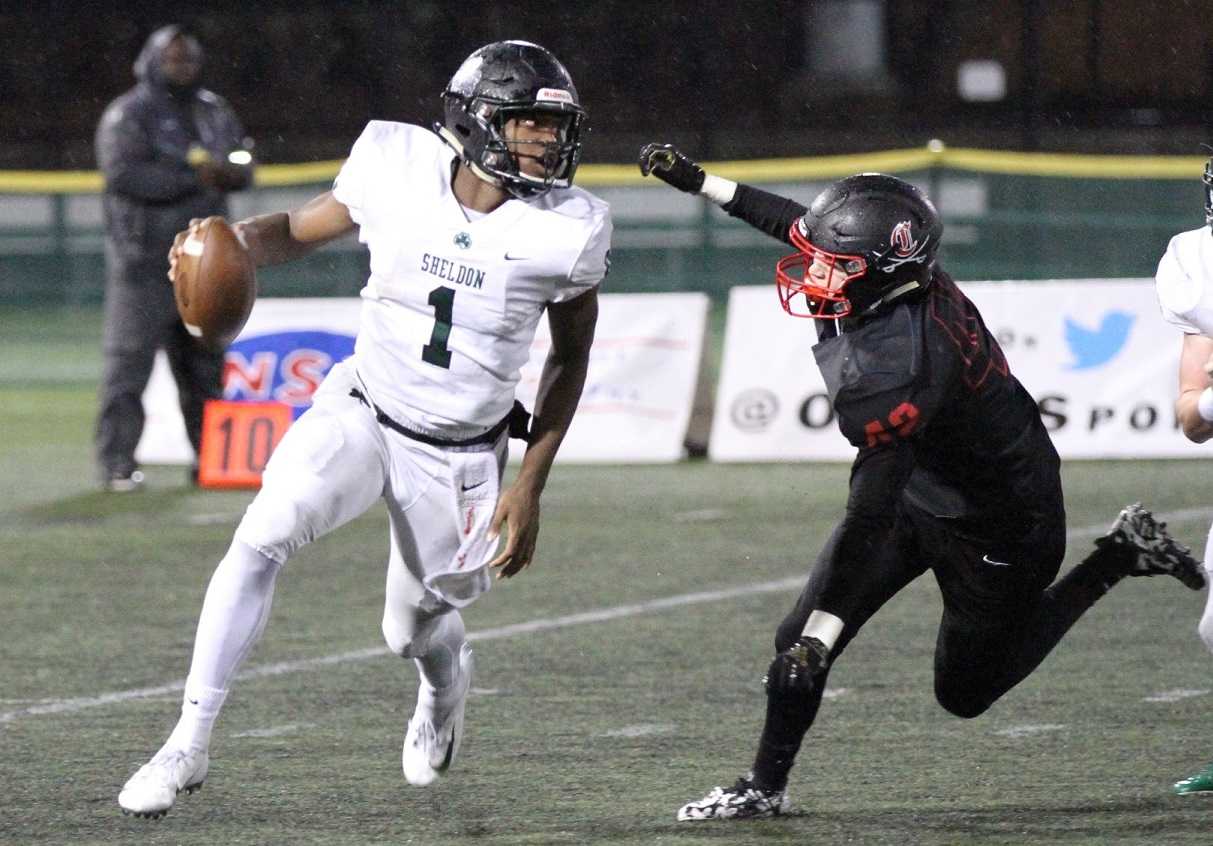 It evolved into perhaps the greatest football playoff rivalry the state has ever seen.
Two schools separated by 100 miles, but they seemingly couldn't get out of each other's way.
As both Lake Oswego and Sheldon rose to prominence around the turn of the century, their playoff showdowns became an annual occurrence. From 2002 to 2012, they met nine times in the postseason, three times in the final.
"It's a credit to both programs," Lake Oswego coach Steve Coury said. "We're not close to the same league, and we don't play close to the same teams. But you go back in history, this is like a rivalry."
The last time they crossed paths, though, was in back-to-back finals, Lake Oswego winning 47-14 in 2011 and Sheldon prevailing 13-6 in 2012.
Neither team has played for the title since. So when top-seeded Lake Oswego (12-1) and No. 3 Sheldon (11-2) collide again Saturday in the OSAA/OnPoint Community Credit Union 6A championship game at Hillsboro Stadium, it will seem like old times.
"Here comes the rivalry again," Coury said. "Play each other one more time, which is kind of a cool deal. It's just a lot of respect. Two good programs, and well coached."
Sheldon has a 2-1 edge over the Lakers in the championship matchups, also winning 31-24 in 2002. Lake Oswego beat the Irish in the second round in 2003 and 2004, and the teams split in four consecutive quarterfinal meetings from 2007 to 2010.
This will be the first time Sheldon faces the Lakers without being coached by one of the Johnson brothers, Marty and Lane. But Josh Line, who replaced Lane Johnson as the team's coach last year, is well aware of the Lake Oswego rivalry.
"A lot of gratitude to be a part of this matchup and part of this rivalry," Line said. "We've got a lot of Sheldon alumni wishing us well, knowing that they were probably part of this rivalry at one point or another."
Line -- who will try to lead the Irish to their fifth state title, all since 2002 -- said he is looking forward to meeting Coury on Saturday.
"I know Lane Johnson and him have become good friends over the years," Line said. "I've never heard anything but good things about him. He does things the right way."
Coury and the Lakers were 0-3 in the championship games before the coach got his only title in 2011 by beating Sheldon. Lake Oswego took a 27-game winning streak into the 2012 final but lost to the Irish. The Lakers felt they left a golden opportunity for a repeat title on the table.
"There's no question about it," Coury said. "Not to take anything away from them. But we had turned the ball over twice all year – two times – and we turned it over five times in that game. So that's where I felt the opportunity was missed."
Lake Oswego enters Saturday's game off a 24-14 semifinal win over No. 4 Jesuit. Senior quarterback Jackson Laurent passed for 246 yards and two touchdowns, one to junior running back Casey Filkins, who also rushed for a score.
The Lakers were less than thrilled with their performance, though, as their offense was out of sync, particularly in the second half.
"The first three playoff games we were pretty close to our max efficiency, but against Jesuit we took a little bit of a step back," Laurent said. "We didn't execute as well as we should have. Next game, we're going to have to play our best."
In the other semifinal, Sheldon was on top of its game in a 35-14 win over No. 2 Clackamas, the reigning champion. Penn State-bound senior quarterback Michael Johnson Jr. left after taking a blow to the head in the third quarter, but junior Griffin Line filled in and led the Irish to three touchdowns as they pulled away.
Johnson, who has passed for 19 touchdowns and run for 16 scores this season, has been cleared to play Saturday. Josh Line said that Johnson's injury "was a lot more minor than we originally thought" and that he was held out as a precautionary measure.
"You just want to be careful and protect kids," the coach said. "He felt good right away, not bad at all. He's good to go."
For the Lakers to have a chance, they need to at least slow down Johnson.
"He looks like a college kid playing with high school kids," Coury said. "He's just in his own little world. He's just got everything. You can see why the Penn States of the world are recruiting him. He can take a play that looks like a two- or three-yard gain, and all of a sudden the PAT team is coming on."
Johnson's main targets are Oregon-bound senior Patrick Herbert (11 touchdowns) and seniors Zach Folsom (seven touchdowns) and Jack Folsom (six touchdowns). Senior Matthew Burgess has rushed for 1,508 yards and 24 scores.
Lake Oswego's Laurent has passed for 2,949 yards and 31 touchdowns with two interceptions. Junior Thomas Dukart has 45 catches for 832 yards and 11 touchdowns.
The Lakers' most dangerous weapon is Filkins, who has rushed for 1,070 yards and 24 touchdowns and caught 42 passes for 789 yards and eight scores.
"He's by far the best player we've played this year," Josh Line said of Filkins. "They put him in different spots and they're very successful in getting him downfield."
On paper, neither team appears to have a distinct advantage.
"Each team poses some problems for each other," Coury said. "The team that's going to win is the team that doesn't turn the ball over. If it goes pretty clean, I think it's going to be a heck of a game."
Josh Line said the game "is shaping up to be a great battle. Penalties and turnovers are probably going to dictate the outcome, just like a lot of championship games when you have two evenly matched teams."
LAKE OSWEGO VS. SHELDON
PLAYOFF HISTORY
(Home team in caps)
2002 – Sheldon 31, Lake Oswego 24 (final)
2003 – Lake Oswego 35, SHELDON 10 (second round)
2004 – Lake Oswego 14, SHELDON 7 (second round)
2007 – Sheldon 28, LAKE OSWEGO 27 (OT) (quarterfinal)
2008 – LAKE OSWEGO 34, Sheldon 13 (quarterfinal)
2009 – SHELDON 44, Lake Oswego 7 (quarterfinal)
2010 – Lake Oswego 45, SHELDON 14 (quarterfinal)
2011 – Lake Oswego 47, Sheldon 14 (final)
2012 – Sheldon 13, Lake Oswego 6 (final)