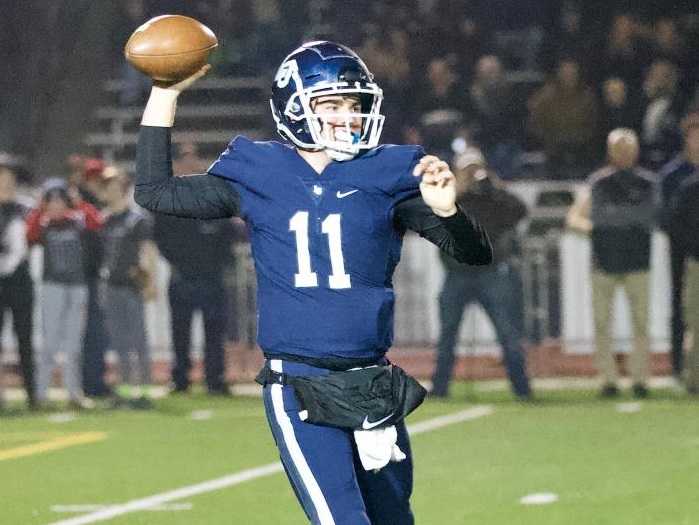 Maybe the biggest mystery man heading into the 2018 football season was Lake Oswego senior quarterback Jackson Laurent.
Everyone knew about the Lakers' impressive collection of experienced athletes, but no one had a clue of what to expect from the 6-foot-1, 200-pound Laurent, who spent his junior year backing up Oregon State-bound Jake Dukart.
None of it was lost on Laurent, who began collecting what was written about him and plastering it on his bedroom wall.
"There are comments like, 'Can a rookie quarterback lead Lake Oswego to a state title? Who is this kid? What's he going to do? How's he going to react? Blah, blah, blah,'" Laurent said. "Every night before I go to bed, I just read it all and take it to heart."
After 13 games, the doubters have faded away. Laurent has played beyond all expectations – even his own – in leading top-seeded Lake Oswego (12-1) to a berth in Saturday's 6A championship game against No. 3 Sheldon (11-2).
"He's not a fluke," Lakers coach Steve Coury said. "He's doing it week in and week out. Jackson's done it all year long. He's the reason we're here. He's the reason we're playing this final game."
Laurent doesn't have a rocket arm and isn't a dynamic athlete, but he's smart, accurate and highly competitive. Simply put, he makes winning plays.
His numbers tell the story. He has completed 65.6 percent of his passes for 2,949 yards and 31 touchdowns with two interceptions.
"He's just been unbelievable," Coury said. "He has invested a great deal of time. There are other guys that maybe had a little bit stronger arm, but this guy is as good as we've had in the program in my 27 years."
Riding a rookie quarterback to the state final is nothing new for the Lakers, who also did it in their last two appearances, in 2011 with Alex Matthews and in 2012 with Justen Ruppe. Matthews, the only Lake Oswego quarterback to win a title, has been a mentor to Laurent.
"He kind of took me under his wing," Laurent said. "I've been kind of following his trail the whole time. I've been friends with him ever since I was in the youth program, and this season I've talked to him a lot, like what it takes to go all the way, and how he handled being a first-year starter. He's been a big help to my success and just my confidence overall."
Laurent admits that sitting for much of his junior season affected his confidence. Looking back, though, he believes the experience benefited him.
"It was really frustrating for me, knowing the type of competitor I am," Laurent said. "At the time I didn't realize what it was doing for me mentally and how it was going to help me overall in the next year. Waiting for my time definitely helped me be a better teammate and person and player."
Knowing that his opportunity awaited helped motivate Laurent, whose father, John, was a high school quarterback at San Ramon Valley in Danville, Calif.
"I had to make the most of it," Laurent said. "I had to buck up. I knew I had to push through it, be confident in myself. I couldn't just give up now."
Laurent said he knew he had the talent to play, but when he finally got his chance to start in the 2018 season opener against West Salem, his heart was pounding.
"It was the most nervous thing I've ever done," he said. "Just seeing a top-10 team against me, and it was my first snap, it was really nerve-racking. But once the game went on, I started getting into a groove. I started realizing that every time I had to step on the field, I just don't think, I just do."
Laurent lit up West Salem in the opener, throwing for 298 yards and five touchdowns. And he hasn't looked back, consistently putting up impressive numbers.
Coury has come to trust in Laurent's instincts.
"He's like one of us," Coury said. "We give him things to do in the game plan and just let him decide what he wants to do with it. He's that kind of kid, and we've never really had that. We've had great players, guys that have gone on and played at the highest level, and this kid is every bit as good as those kids. He just has that intangible thing that makes him better."
Could Laurent have imagined leading the Lakers into the state championship game?
"To be honest, not at all," he said. "I'm not the type of kid that thinks ahead very much. After beating Central Catholic and getting to the semis, I was like, 'Wow, this is actually happening.'
"This is what I've dreamed of for the last four years, and honestly since I was a kid growing up in the youth program."