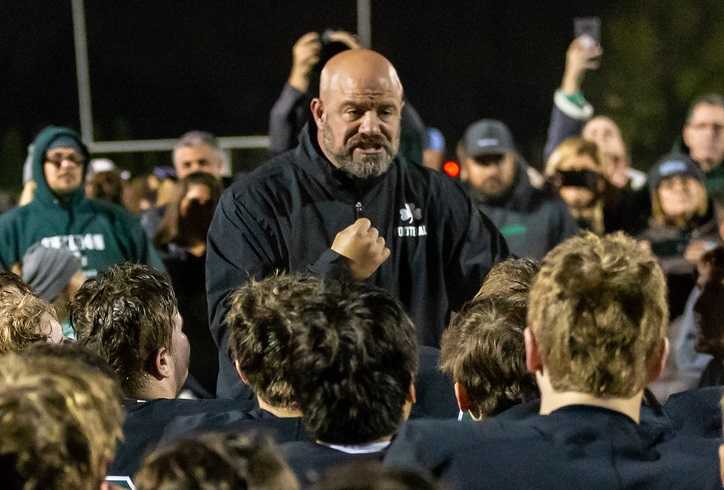 It was all smiles for Sheldon football coach Josh Line on Friday night when the Irish beat Clackamas 35-14 to earn their first berth in the 6A championship game since 2012.
A season ago, though, Line could feel the heat in his first season as the team's coach. Coming over from 4A Marshfield, he inherited a program that had made 11 consecutive quarterfinal appearances and had a deep belief in its winning methods.
"Everyone was uneasy at first, going outside of what the tradition was," senior receiver Jack Folsom said.
Line came under intense scrutiny.
"I don't think it's any secret that there was a transition," said Line, who went 25-21 in four seasons at Marshfield. "There were a lot of things going on behind the scenes that sometimes made it challenging."
Line had a tough act to follow in the Johnson brothers, Marty and Lane. Marty guided the Irish to three state titles in 14 seasons, then Lane moved from assistant to head coach and went 67-10 in six seasons, including the 2012 title.
Lane Johnson pushed for assistant Tyler Martell – a member of the Irish's 2007 title team – to be the next coach. So when Sheldon hired Line, a rift developed in the program.
Lane Johnson said he's had his own "personal boycott" by not attending games, and it has nothing to do with Line, a coach he respects and believes has done an admirable job.
"I've met with Josh 25 times, and I've told him, 'They could have hired Vince Lombardi, and I still would've been upset with the decision that was made,'" Lane Johnson said. "I made my thoughts very, very clear to our administration on the direction I thought we should go."
Once Line took over, it took players a while to adjust to his fiery, emotional approach, which was a departure from the Johnsons. Supporters were wary of tinkering with a winning formula by not hiring from within.
"There was a lot of opposition within the community, and not to Josh personally, just to the change," said Shannon Burgess, the mother of senior running back Matthew Burgess who serves as the parent liaison for Line. "There were a lot of fans and community members that were worried that the program wouldn't stay the same.
"It took that year to learn that Josh was coming in and wanted to continue the program, continue the traditions, and expand on it. I got a lot of emails from parents, and I just kept reinforcing that change is good, and we need to give him a chance. It was his first year."
Coaching with five holdovers from Lane Johnson's staff – including Martell, who remains with the team as defensive coordinator -- Line led the Irish to a 9-2 record in 2017. But their streak of quarterfinal appearances ended in the second round when they failed to hold a 17-0 lead and lost to Central Catholic 28-24.
Line stayed the course, though, and the Irish are back where they believe they belong. No. 3 seed Sheldon (11-2) will go for its fifth title since 2002 when it meets top-seeded Lake Oswego (12-1) in the 6A final Saturday at Hillsboro Stadium.
"To me, it's a reflection of all the support I've had, both with my family and with the Sheldon community," Line said after the semifinal win, clearly moved with emotion. "I don't know that I was at all times the most popular choice, but I worked hard to cultivate relationships, and I've been embraced by the Sheldon community because I think they've seen that I'm willing to work. And it's a community that really values that."
The players have rallied around Line, who played at Springfield and Marshfield before a college career at Oregon.
"Honestly, I couldn't have asked for a better coach, for bringing us intensity every single day," Folsom said. "I think he's the best coach in the state of Oregon. He's literally, like, energy level one thousand. Every single day. He's never tired, always pushing for us. And he loves every single one of us, and we all love him. We all follow his lead."
Burgess said she could see the special connection that Line has developed with the players when she hosted a program-wide barbecue before the season.
"The boys surrounded him and talked about everything, not even football," Burgess said of Line, whose son, Griffin, is a junior quarterback and linebacker on the team. "It was so much fun to watch the way he connects with those boys. He had a captive audience. There was no hesitation in the boys feeling that they could talk to him and share stories."
Burgess said her son "absolutely loves" Line.
"He has a lot of respect for Coach Line, and in turn, I think Coach Line has a lot of respect for his players," Burgess said. "Matthew has responded extremely well to Coach Line. They very much click."
Through it all, Line has developed a relationship with Lane Johnson, who continues to teach at the school.
"He always has an ear for me. I'm always asking him for advice," Line said. "He's been through this so many times. He's a great resource. I consider him a friend. I've come to very much respect what he's created, and his brother Marty, too. I've always admired this program from afar, and now being a part of it, and then being at this point, it's very humbling."
Lane Johnson said he has a "great relationship" with Line.
"I felt bad when I told him that I wasn't going to go to the games," Lane Johnson said. "And he – at least outwardly to me – he said he totally understood. I really like him. He's been appreciative of me trying to help him.
"Bottom line is Josh Line is a good person, and he really cares about kids. It's an outstanding group of young men, and he's done a really, really good job of having them stay the course. The thing is they've gotten better as the weeks have progressed."
Lane Johnson attended one game this season, a home win over Jesuit. On Saturday, when the Irish are playing in the final, he and Marty plan to be on a fishing trip on the McKenzie River.
"I don't agree with what we did, and I don't hold a grudge," Lane Johnson said. "I think the Irish are going to win on Saturday, and I'm going to be cheering for them a bunch."