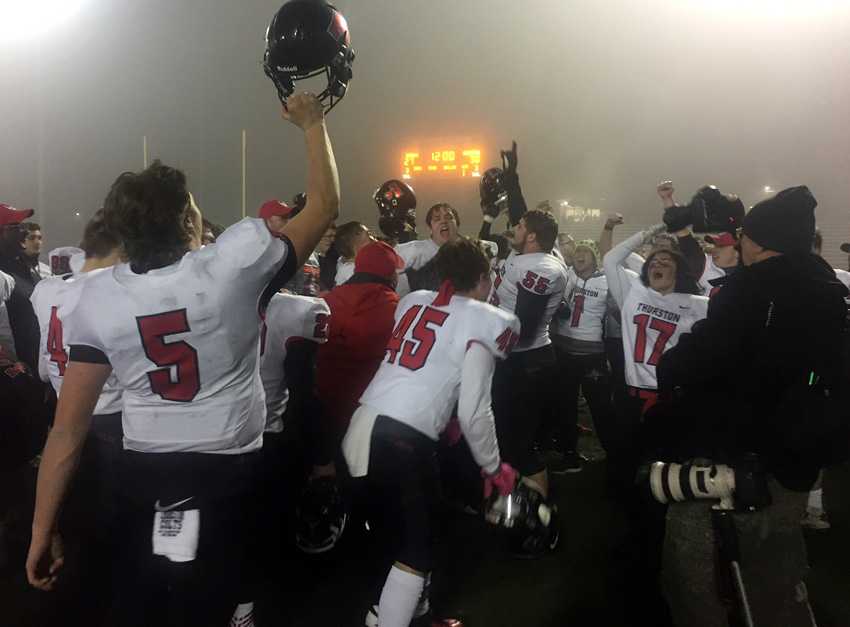 Thurston defeated top-seeded and previously-undefeated Wilsonville, 30-27, on Saturday afternoon in the 5A football final at Hillsboro Stadium. The Colts' first-ever title came only after they survived what might have been the most unusual finish to a championship game in Oregon finals history, a sequence in which they blocked two attempts at a tying kick.
Wilsonville, which never led in the game, fell behind by three with 36 seconds remaining when Thurston freshman kicker Gavin Levesque connected from 24 yards out, splitting the uprights for the third time in the game in as many attempts.
Wilsonville's high-powered offense got the ball back at its own 40-yard line following a 22-yard Trevor Antonson return, but the Wildcats had no time outs remaining and just 30 seconds to work with.
Senior quarterback Nathan Overholt, who earlier in the game broke the Oregon single-season touchdown pass record of 56, used his feet to scamper for 10 yards but the play took nine seconds off the clock. He then passed to Jonah Gomez twice for a total of 25 yards. When Gomez stepped out of bounds following the second reception, just one second remained in the game.
Faced with the choice of a heave into the end zone or a game-tying field goal attempt, Wilsonville coach Adam Guenther sent kicker Jacob Haussermann out to attempt a 42-yard try.
The kick was driven towards the line but was stopped by the big mitt of 6-5 Grant Starck, Thurston head coach Justin Starck's son. The ball ricocheted far behind the scrimmage line as Thurston poured out onto the field to celebrate its first state title in the 54th year of the school's existence.
The only problem was the ball was still live. Because Thurston did not recover and down the ball, happy celebrants were guilty of illegal participation, a 15-yard penalty.
The referee announced that the penalty would be enforced half the distance to the goal and there would be one more untimed down.
The kick this time, from 29 yards out, was pure. The game seemingly was tied!
Wait!
Just before the snap, a Thurston rusher jumped offside. Encroachment in high school football is a dead ball foul. The successful kick would not count.
The officiating crew marched off the five yards and the referee announced the addition of yet another untimed down.
Haussermann lined up for his third field goal try, this time from 24 yards. On the opposite of the scrimmage line to his right was Thurston senior receiver/defensive back D.J. Stedman. Stedman, who caught five passes for 36 yards, made five tackles and recovered a fumble, had also been incredible as the team's punter. He punted seven times for 46 yards on average, none bigger than the 44-yard effort late in the fourth quarter, with the score tied 27-27, that pinned Wilsonville back deep in its end and ultimately led to the field position advantage that helped Thurston take the lead.
Stedman had one more big play in him.
Stedman observed that every time the Wilsonville holder put out his hand, the snap followed immediately thereafter. When the hand went up this time, he took off. His timing was impeccable, his line around left end towards the kicker unimpeded. He laid out in front of the kicker and smothered the field goal attempt.
The ball again bounded behind the line of scrimmage. This time no one came off the Thurston bench, perhaps in disbelief but more likely because the Colts had learned their lesson.
"They made a mistake and gave us an opportunity," said Wilsonville coach Guenther. "Then they made another mistake and gave themselves another opportunity. The third one they made a play."
The referee picked up the ball and put it above his head. The game was over. It was finally official. Thurston (10-3), which lost its first two games of the season, was state champion. The celebration could begin!
"It was a humdinger," said Guenther. "The goal every year is to be playing this weekend. There are only two teams that get to do it and we were one of the two. It didn't work out in our favor tonight. We played a great team. Those guys were absolutely incredible. They kept fighting and fighting and fighting."
"We've been so resilient all year," said Thurston coach Starck. "We started out the way we did to lose those games early and to fight and claw back. It's a pretty hard group to discourage. We just had to keep battling. It's the story of our season."
***
As unforgettable as the finish was, the game was fascinating from start to finish, with key moments throughout.
Thurston may have been the underdog to the top-seeded Wildcats but hardly played like it in a first half filled with offense. Colt QB Cade Crist was 4-4 for 54 yards on Thurston's opening drive, which culminated in a short touchdown run by Wes Kommer, and the junior signal caller matched Overholt play for play for the first 24 minutes as the Colts opened up a 24-14 lead.
The key moment of the half came with Thurston nursing a 17-14 lead and facing a third-and-21 from its own 11-yard line. The Colts had just recovered their own fumble on a botched handoff and were reeling as Wilsonville called time out with 72 seconds remaining, thinking about a stop and the chance for a late go-ahead score. On third down, however, Thurston took back the momentum when Crist, who was 16-18 in the first half for 212 yards, lofted a long pass downfield that hit Santino Stranieri in stride for a 49-yard gain. Now it was Thurston taking time outs thinking of putting late points on the board. Crist completed three more passes on the drive, two to Kommer and the last to Kyle Casley, who eluded two Wildcat defenders to score from 14 yards out with 21 seconds remaining.
The score restored Thurston's 10-point lead, 24-14. It was a margin the Colts had enjoyed twice before: at 10-0 after a 22-yard field goal from Levesque and 17-7 on Kommer's second TD run of the day, a burst up the gut from 14 yards out.
Top-seeded and undefeated Wilsonville scored twice in the first half. The Wildcats dented the scoreboard early in the second quarter when Overholt found Grant Irby running free for a 25-yard touchdown. The scoring toss, Overholt's 57th of the season, broke the Oregon single-season record set by Taylor Barton in 1997. After Thurston went back up 10, 17-7, Overholt capped a 65-yard drive with an eight-yard scoring scramble only two minutes before halftime.
While the second half featured much less offense, it was no less interesting. Wilsonville took the boot to start the third quarter and snuck into Thurston territory but turned the ball over on downs after Overholt's incomplete pass on a fake punt attempt. Thurston moved the ball downfield, getting a clutch 20-yard completion to Caleb Scott on third-and-seven to approach field goal range. Tough running inside by Kommer, a 200-pound junior, paved the way for Levesque's second field goal of the game, a rocket from 36-yards out. Thurston led, 27-14.
Up by 13, Crist admitted that the Colts were "riding high," but it didn't take long for Wilsonville to get back in the game. Two plays after the Levesque field goal, Overholt threw a dime to Zach Rivers on a scoring play that covered 74 yards. The drive took only 39 seconds and cut Thurston's lead to six.
Thurston went 3-and-out on its next possession, as the Colts struggled to find running room inside against a now-engaged Wilsonville front and also struggled to pass with Crist under relentless pressure. This would be the case for virtually the rest of the game. Crist at one point was 18-20 for 236 yards without being sacked. He finished the game with seven straight incomplete passes and was sacked three times.
"They got momentum and did a nice job of bringing pressure," said Coach Starck. "We struggled a bit on the offensive front protecting Crist. It was just a momentum thing. We had to get it back."
Wilsonville, however, was not interested in relinquishing the momentum. The Wildcats, facing third-and-10, scored again four plays later when Irby, playing for injured receiver Sam Westing, one of seven starters who missed the game, shrugged off a defender near the end zone to score on a 43-yard pass play. With almost five minutes still remaining in the third quarter, Wilsonville's offense was finally humming. The Wildcats were an extra-point kick away from taking their first lead of the game.
The boot was hooked left of the upright. The game remained tied.
"That was huge," said Starck. "You're feeling like you just scored. It was a huge psychological advantage."
Still, Thurston could do very little on offense. When Cole Douglas sacked Crist, the Colts were forced to punt yet again.
The game wound into the fourth quarter with neither team able to do anything offensively for several possessions. Stedman halted one Wilsonville drive by stripping a scrambling Overholt and recovering the ensuing fumble. A sack by senior Colton Hallett stopped another. On Wilsonville's side, relentless pressure on Crist produced sacks by Jack Kimball and Caleb Baker. Crist also was hurried into several errant throws.
Wilsonville was first to shake itself from the doldrums. Overholt threw successive incomplete passes from his own 13-yard-line following a 64-yard Stedman punt that flipped field position, but on third-and-10, the senior found Gomez, his top target all season long, for a 38-yard catch and run. Two Antonson runs followed as the Wildcats earned a first down at the Thurston 28-yard-line with 6:26 remaining in the game. After one incomplete pass, Overholt dropped back again on second-and-10 and prepared to launch a deep shot. He was hit hard by Stranieri as he threw, the ball waffling high into the air. It nestled into the arms of Thurston senior backer Cade Harmon, who was playing with a club on his hand because of a broken thumb.
"We just kept battling," Stranieri said. "We knew we needed a big play."
"We wanted to bring pressure," Starck said. "We knew our offense was going to be able to move the ball but we wondered if we were going to be able to slow them down. Thank goodness we got some stops, which is really hard to do against that team."
Taking over on its 20-yard line, Thurston earned one first down but not another. Stedman's punt traveled 44 yards and was downed at the Wilsonville 14-yard line.
The Wildcats were 86 yards away, had 3:23 on the clock and the best touchdown tosser in the history of the state. One had to like their chances.
Only there was a problem. When Overholt was hit on the interception, he did something to the elbow on his throwing arm.
"The inside of my elbow locked my last two fingers," he explained.
Wilsonville ran twice with Cade Edmondson for a total of three yards then called time out.
On the sidelines during the break, Overholt tested his ability to throw. Twice he sailed the ball well over the heads of his intended targets.
"He told me, 'I don't feel comfortable throwing the ball,'" Guenther recalled.
On third down, Overholt attempted to run for the first down on a quarterback draw. He gained just a yard, gang tackled by Strainieri and Colby Howard. Wilsonville's subsequent punt traveled just 15 yards.
Thurston had the ball at the Wilsonville 30 with 98 seconds remaining and immediately got 15 yards closer on one play, as Kommer bounced a run outside before being driven out of bounds at the Wildcat 15-yard line. Kommer, who finished with 137 yards rushing on 34 carries, ran three times more as Wilsonville burned its final two time outs. The third carry, on third-and-one from the six, was stuffed for no gain by Baker and Kody Gray.
"We really, really, really wanted to get a first down there," Starck explained. "Unfortunately, it didn't happen and they made a great play. You've got to give them credit."
Starck summoned Levesque to try to give Thurston the lead with 41 seconds remaining.
"I felt really confident putting him out there," said Starck. "You bet I trusted him. He was 2-for-2 and made the kick against Churchill."
Before Saturday's game, Levesque had attempted only two field goals all season, but one, from 21 yards with nine seconds remaining in the quarterfinals against a Churchill team that had twice beaten Thurston during the regular season, gave the Colts a 49-48 win.
"My teammates are always telling me, 'Just do what you do," the freshman explained. "That's what I listened to. It was definitely a nerve-wracking moment but I felt calm."
The kick went straight down the middle to give Thurston a 30-27 lead.
"It's nothing I could ever imagine as a freshman," he said. "It's definitely one to remember."
By the time Wilsonville got the ball back, Overholt's elbow discomfort had lessened and he was able to make quality throws to give his team a chance. That is, before Stedman and the Thurston Colts blocked Wilsonville's path to the title once and for all.
"When you can be in position on literally the last second of the game, that's pretty epic," said Guenther, whose team lost to Lebanon in the 2016 championship game. "The goal was to win this thing but only one team gets to do that. It doesn't diminish what these guys have done. I tell everybody at every football function I go to that if you measure us by wins and losses you're measuring the wrong thing. I look at these guys 10-20 years down the road when they're husbands and fathers, employers and employees, and then you can gauge my football program. You learn just as much on a football field as you do in a classroom. I believe that in my heart. This is a great group. They have fun playing the game. That's what it's about."
Overholt finished 22-37 for 356 yards. His three touchdown passes gave him 59 on the year, a new standard that may take years before it's broken.
"We have a lot to be proud of as a team," he said. "The ending was really tough but we were able to climb back in after starting off slow. There's not much you can do about a block."
The second block punctuated the win for Thurston and rescued what might have been a disastrous finish for the first-time-champion Colts.
"That's tough, to think maybe you blew it, you gave it away," Starck said. "But the kids found a way again."