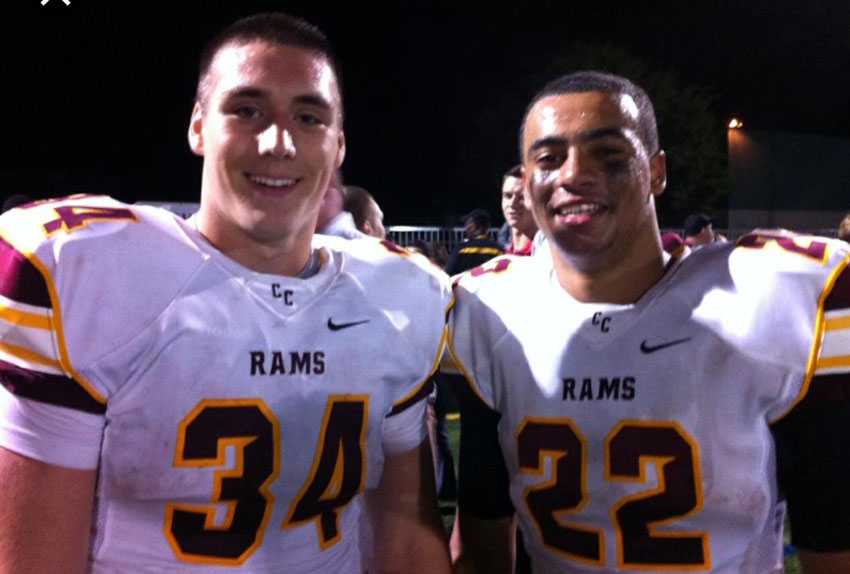 It was the last Saturday of November 2013, two days after Thanksgiving, and it was cold outside. Many people were at the malls preparing for the coming holiday season. Others hunkered down in their homes, perhaps in front of a warm fire, trying to get the chill out of their bones. It was not the kind of day to be spent outdoors.
Unless you were a high school football fan...
The 6A semifinal at Jeld-Wen Field in downtown Portland between undefeated Central Catholic and undefeated Tigard was a must-see event. Central, in search of its first state title in 60 years, boasted an offense that was averaging 58 points per game. Tigard put a defense on the field that yielded less than 12.
Eight thousand people layered up to witness this epic clash, which kicked off at four in the afternoon. Would Central Catholic's prolific ground game, featuring a massive offensive line and the backfield tandem of senior Ryan Nall and junior Cameron Scarlett, light up the scoreboard? Or would Tigard's fly-to-the-ball run defense, which yielded just over 100 yards per game, impose its will?
Something had to give.
Central Catholic recovered an early fumble and was on the scoreboard less than three minutes later, when Nall took a swing pass from QB Aidan Wilder and found the end zone from 16 yards out. The drive covered 42 yards and took two minutes and 10 seconds off the clock.
It would be the longest scoring drive of the afternoon for the Rams, who put up 12 touchdowns in the 83-49 victory, the highest scoring 6A semifinal in Oregon history.
Nall scored four more times for a total of five. Scarlett found the end zone five times also. The duo combined for 676 yards rushing on only 29 carries, an average of more than 23 yards per tote. Nall found pay dirt from 67, 79, 96 and 29 yards out. Scarlett had scoring runs covering 84, 80, 67, 51 and 29 yards. Seven drives lasted just one play.
It's a game the players, coaches and fans will never forget.
Jerry Ulmer of OSAAtoday covered the contest for The Oregonian.
"It was clear to everyone in attendance that Nall and Scarlett were athletes that belonged on another level," he recalled. "Yes, that team had a great offensive line, but they were toying with a Tigard defense that was considered one of the best in the state that season. Tigard had lots of good athletes, but no one that could match the speed and size of Scarlett and Nall. It was the most impressive one-two punch I've seen in my years of covering high school football."
"I remember we were ranked less than Tigard," said Nall, now a running back with the Chicago Bears. "Nobody thought we were going to beat them besides us. We were pumped and ready to get after it and wanted to prove to everyone that we were the best team in the state.
"We wanted to run the ball and stop their run. We wanted to expose them."
"As the game got started, Ryan ripped off an early run," recalled Scarlett, now a feature back for the Stanford Cardinal. "I thought, 'I'm going to have to get one, too.' We just went back and forth. It was probably my favorite game of my high school career."
The game was not one of Craig Ruecker's favorites. Ruecker, who's been a head football coach in Oregon for 42 years, the past 10 with Tigard, had a good view as Nall and then Scarlett, and then Nall again, and then Scarlett again, zipped by him for touchdown after touchdown.
"We had played good defense all season but had no answer for their remarkable offensive line," he said. "A feel a little better when I see Scarlett run 40 yards for a touchdown playing for Stanford and the Nall kid's playing for the Bears. Maybe our high school kids had a little trouble with those two guys behind that O-line but who wouldn't?"
Central Catholic coach Steve Pyne said that the Rams' big running day started with a motivated offensive line, consisting of future collegians Blake Brandel, Riley Gallant, TJ Salu, Connor Humphries and Joe Wilson.
"Our offensive line coach, Chris Butterfield, told me that this would be his last year with us," recalled Pyne, who's been the head coach at Central the past 16 years. "Prior to the game I put the challenge to the offensive line to get him one more game. I had no expectation of scoring 83 points, but I really feel like the line along with our tailbacks internalized and made it happen to give him an opportunity to coach one more game with us."
"It was the most unbelievable game I've ever been a part of," said Nall. "I just remember all the runs, one after the other after the other. You came to expect that the next run would be like the others; you expect that the next run will be 80 yards."
"My brother [Brennan Scarlett, currently a linebacker for the Houston Texans] drove up from Cal," said Scarlett. "I tried to do something special for him."
"I was going to leave it all on the table," said Nall. "It turned out way better than I anticipated."
"There was so much energy on the sideline," said Scarlett. "It was really cold but everyone was having a lot of fun. Every time Ryan would rip one or I would, we would try to one up each other."
"Everyone was going nuts," added Nall. "Cam breaks off a run. We're all going nuts. I go for another one. He goes for another one. I thought, 'This is ridiculous!' I couldn't believe it was happening. It was like a track meet running 100-yard dashes the entire time."
Lost amidst all of the highlight runs from Nall and Scarlett is the fact that Tigard piled up 668 yards of offense itself and put 49 points on the board.
"It would take us five plays to score," Ruecker recalled. "We'd kick it in the end zone and they'd take it at the 20 and score in one play. We had 668 yards of offense; they had 4 gazillion."
"I don't know that the score was indicative of Tigard's ability level," said Pyne. "That was a team that could have won it all. We just caught lightning in a bottle on that day."
Turnovers, as it turned out, played a big factor in the outcome. Tigard lost four fumbles and QB Jett Even, who threw for 306 yards, was picked off once. Central Catholic did not turn the ball over.
"We had only turned the ball over eight times in the first 12 games and turned it over five times that game," said Ruecker. "We fumbled one time as we were running into the end zone. It was recovered for a touch back. We fumbled on the 10 going in to score. The first play of the game, we had a 20-yard-run, got hit and fumbled. If we had not turned it over five times it probably was going to be 80 something to 80 something."
"It wasn't like those guys just coughed up the ball," said Pyne. "It was forced turnovers, all five of them. Our defense rose up and our dudes were ball hawking and being physical on the tacklers."
"Their offense was much, much better than their defense and vice-versa," said Ruecker. "The two previous games we'd given up three points total. All year long we relied on our speed on defense. They matched our speed and had much bigger players. We weren't going to stop them, but we were not going to be stopped. It would have been interesting to see what would have happened had we not turned the ball over five times. It was remarkable; it was crazy."
"It will forever be etched in my memory as one of those crazy, video-game type games," said Pyne. "We had so many explosion plays. I remember my defensive coordinator begging the offense to put a drive together to keep his guys off the field. We had 2-3 touchdown leads at times and never felt comfortable."
The win got Central Catholic over the hump of losing in the quarterfinals or semifinals in the recent past and put the Rams into the championship match against fellow Catholic school power Jesuit, a team they'd defeated, 45-31, earlier in the season. Even after that amazing performance against Tigard, Pyne said it wasn't hard to get his team focused on playing the Crusaders.
"For our kids it was Jesuit that was their focus," he said. "It had been 60 years since Central Catholic had been in the finals and we get the chance to face Jesuit. Our kids were dialed in and focused. They knew it was going to be hard to beat them twice in a year."
One week after hanging 83 on Tigard, Central Catholic capped the highest scoring season in Oregon 11-man history by putting 38 points on the board against the Crusaders and winning the state championship by 10. Scarlett had 78 yards rushing and broke off a 47-yard touchdown run. Nall ran for 196 yards and scored from 49, 90 and 24-yards out. Each player finished the 2013 season with more than 1,600 yards rushing and 22 touchdowns.
For many, however, the Central Catholic/Jesuit game will forever be a postscript to a semifinal game that Nall described as "something out of this world."
The day Ryan and Cam could not be stopped.