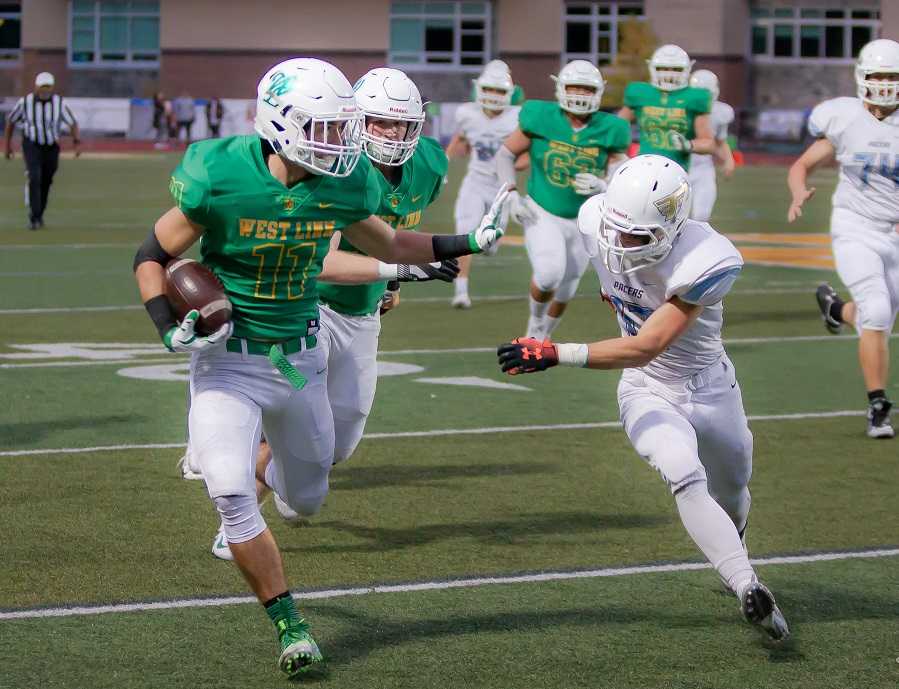 The bar remains high for West Linn football. The margins, though, have narrowed.
"They're a little bit thinner than they've been in the past. Less margin for error," said coach Chris Miller, who is 51-11 in five seasons with the Lions.
So if the sixth-seeded Lions (7-3) are going to beat No. 11 Lakeridge (7-3) in a 6A second-round game Friday to advance to the quarterfinals for the fifth year in a row, they know they can't afford another bout of crippling turnovers.
"That's kind of been our nemesis," Miller said. "We're been our own worst enemy at times with self-inflicted wounds. I continue to preach that."
Turnovers proved costly in a Three Rivers League loss to No. 1 seed Lake Oswego and were the Lions' undoing in a 23-21 league defeat to No. 5 Tigard. Against the Tigers, they threw five interceptions, four by Arizona State-bound quarterback Ethan Long and one by junior Ethan Coleman after they had moved in position to kick a game-winning field goal.
Likewise, Lakeridge has learned hard lessons about the importance of ball security. In a 45-28 loss to West Linn on Sept. 21, the Pacers committed five turnovers, including four in the first quarter that contributed to a 21-0 deficit.
"We just came out of the gate very sloppy. It was pretty ugly early," Lakeridge coach Elvis Akpla said.
Lakeridge stabilized and made a game of it, pulling within a touchdown three times before West Linn iced it late. The Pacers have gone 5-1 since then, the only loss to Lake Oswego.
"Our loss to West Linn is what spurred our run for the rest of the season," Akpla said. "We just realized the opportunity we had missed with how sloppy we were. Our kids battled and got a lot of confidence, and they felt that if they played them again, they could definitely beat them. And they kind of got their wish."
Lakeridge has not beaten West Linn since 2013. The Pacers have made steady progress under Akpla, from 1-8 in his first season to 2-7, 4-5 and now 7-3, and can make the quarterfinals for the first time in five years by beating the Lions.
Lakeridge features Jalen John, a 5-foot-11, 205-pound junior running back who has bounced back from an injury-plagued 2017 to rush for 1,577 yards and 22 touchdowns.
"He's healthy and they've been feeding him the rock a lot," Miller said. "He's explosive. He can take it to the house on any play. And he's tough between the tackles. You've got to hit him and gang-tackle him. That'll be our goal."
West Linn also has a dynamic backfield threat in senior running back Dawson Jolley (1,267 rushing yards, 16 touchdowns). The 5-9, 155-pound Jolley, who sat out the win over Lakeridge, seems to have found another gear late in the season, rushing for 481 yards and seven touchdowns in the last two games.
"We need to do whatever we can to contain Dawson Jolley," Akpla said. "That's going to be our No. 1 priority. He's their best offensive player. He's the one that gives them all their energy."
It's been an up-and-down season for Long, who has thrown for 2,810 yards and 28 touchdowns but also has 15 interceptions. In a 70-35 first-round win over McMinnville, Long completed 15 of 20 passes for 263 yards and five touchdowns, with one interception, and ran for a score.
Miller said Long has rebounded strong in the two games since struggling against Tigard.
"He didn't play his best against Tigard. I've been there. I've been in the pocket," said Miller, a former NFL quarterback. "I've had nights like that when things don't go your way. But I'm proud with how he's responded. I'm proud of his resiliency. These were great lessons that he'll be able to apply this Friday and into the future."
In the win over Lakeridge, Long threw for 376 yards and four touchdowns with two interceptions.
A look at other playoff games of note this week:
6A
No. 12 Barlow (7-3) at No. 5 Tigard (9-1): The Bruins nearly pulled off a major upset in the first round of the playoffs last year, when they led sixth-seeded Tigard in the fourth quarter, but fell 42-35. Tigard beat Barlow 58-14 in Week 2 this season, but the Bruins were shorthanded and still trying to find their identity. Now they are full strength and coming off their first playoff win in 12 years. The game features two of the state's top senior running backs in Tigard's Malcolm Stockdale and Barlow's Jobadiah Malary.
No. 9 Tualatin (7-3) vs. No. 8 Central Catholic (6-4) at Hillsboro Stadium: Tualatin is 0-5 in the second round since making the state final in 2010, and the Rams present an imposing obstacle. The Timberwolves ended a three-game losing streak last week by scoring the last 35 points in a 49-20 first-round win over Mountain View. Central Catholic rolled up 482 yards in beating Lincoln 42-28. The winner will face either No. 1 Lake Oswego or No. 16 Oregon City in the quarterfinals.
No. 10 Sunset (7-3) at No. 7 Liberty (8-2): Sunset beat Liberty 70-36 in 2016 and 35-25 last year, but the Falcons are much improved this season. Liberty, which rushed for 343 yards in last week's 65-26 win over Roosevelt, gets a bigger challenge against a Sunset defense that yielded 30 rushing yards in a 40-7 first-round win over Bend. Sunset hasn't made the quarterfinals since 1998; Liberty made the 5A quarterfinals in 2014 and 2015.
5A
No. 5 West Albany (9-1) at No. 4 Silverton (9-1): The 5A quarterfinals feature four rematches, including this one between the Mid-Willamette Conference co-champions. Two weeks ago, Silverton won 17-14 at West Albany, building a 17-0 halftime lead and holding off a second-half rally. Expect defense to dominate again.
No. 6 Scappoose (8-2) at No. 3 Pendleton (9-1): Scappoose will be looking for payback against Pendleton, which went on the road to beat the Indians 47-27 on Sept. 21. In that game, the Buckaroos fell behind 14-0 in the first quarter but overpowered Scappoose with its rushing attack. Pendleton is coming off its first playoff win since 2002. Scappoose, which moved up to 5A this season, has a chance to make the semifinals, something it hasn't done since finishing as the 4A runner-up in 2015.
4A
No. 5 Mazama (7-1) at No. 4 Marshfield (8-1): The game between the Vikings, semifinalists a year ago, and the Pirates, last year's state runners-up, promises to be a defensive struggle. Marshfield is allowing 12.1 points per game, tied with Banks for the lowest in 4A, and Mazama is giving up 12.8. The Vikings held Woodburn to 156 yards in a 30-21 first-round win.
No. 7 La Grande (7-2) at No. 2 Gladstone (7-2): How good is La Grande? It's hard to tell because the Tigers play two rounds in the four-team Greater Oregon League, and one of their losses came against 5A Pendleton. They lost to No. 10 Ontario 35-14, then got payback with a 49-12 win in the second meeting. The game against the Gladiators, who have played one of the toughest schedules in 4A, will be telling.
3A
No. 5 Vale (6-4) at No. 4 Burns (9-1), Saturday: The Vikings and Hilanders, teams that finished in a three-way tie for first place in the Eastern Oregon League, meet for the second time in three games. On Oct. 26, Burns went to Vale and won 26-6, holding the Vikings to 241 yards and a season-low in points. Burns quarterback Mick Winn ran for 186 yards and two touchdowns.
2A
No. 11 Lost River (6-3) at No. 3 Neah-Kah-Nie (8-1), Saturday: Neah-Kah-Nie has come a long way since 2015, when it canceled its last four games due to lack of players. The Pirates won the Special District 1 title and are making their first quarterfinal appearance since 1990. With a win, they can reach the semifinals for the first time in 33 years, but it won't be easy against surging Lost River, which has held opponents to 32 points during a four-game winning streak.
1A
No. 5 Adrian / Jordan Valley (7-3) at No. 4 Hosanna Christian (8-0), Saturday: Hosanna Christian has not lost since falling to Dufur in last year's state final, and with a win over Adrian, could get a rematch with top-seeded Dufur in the semifinals. Adrian, with freshman quarterback Conley Martin, will be the best test yet for Hosanna Christian.