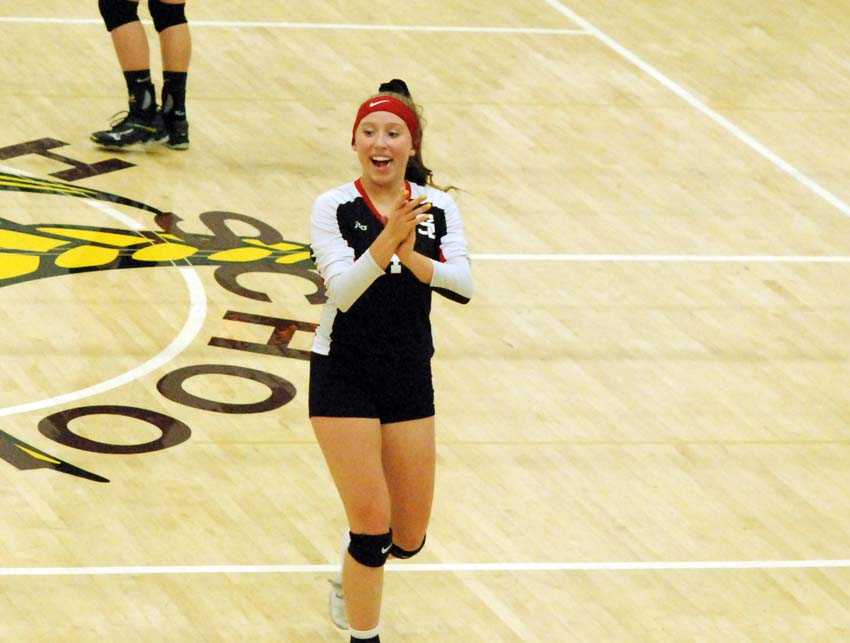 Santiam Christian captured its first volleyball title since 2014 by defeating two-time defending champion Cascade Christian, 25-23, 23-25, 25-16, 25-17, in the OSAA 3A final on Saturday evening at Forest Grove High School. A rematch of last year's finale, the teams engaged in a high-intensity battle that only went four sets but sure felt like five.
The match turned Santiam Christian's way because it had two strong hitters on the outside and had opportunities to score in every rotation while the reigning champs had only one.
"We needed to touch more balls," lamented Cascade Christian coach Rob Kleker. "We didn't block their outsides well enough."
Those outsides, sophomore Emily Bourne and junior Kassie Staton teamed for 38 kills, while adding 36 digs and several timely blocks for Santiam Christian, a team with no seniors on the roster and the talent to win titles next year and beyond.
"I sure hope so," said Staton, who had the final two kills of the match. "I wanted to be back here. I didn't expect it but we worked hard and we got it."
Bourne, Staton and sparkplug setter Josie Risinger were the only returning starters from last year's state final team. The Eagles not only graduated a lot of talent, but the team's leaders departed as well.
"I had hopes to get to state but I didn't think we could get to the finals being such a young team," said Eagles head coach Kelli Fitzpatrick. "I wasn't really sure how this team would come together but they bonded as friends and fought for each other."
Santiam Christian (24-3) began to believe in early October, when it defeated Cascade Christian at home in five sets, revenge for the five-set state finals loss the previous November.
"I felt like we had more strength than we thought we had," Fitzpatrick noted.
The team's confidence grew when the Eagles swept a South Umpqua team considered one of the favorites in the semifinals on Friday evening.
"Our confidence went through the roof after we shut them down in three," said Fitzpatrick.
Cascade Christian, meanwhile, had to fight and claw to get by Blanchet Catholic in a tough five-set semifinal. Kleker worried how that win might affect his team going into the final.
"I wasn't so much worried about our legs," Kleker noted. "It was whether we'd be able to come out emotionally and play. I thought we did a good job of that. I thought the kids played well given the circumstances."
Santiam Christian broke on top first in the match, using a 6-1 closing run to take the first set, 25-23. The Eagles led early, 8-6, as Bourne contributed three of her team-high 21 kills. Cascade Christian battled back to tie at 8-8 and the teams weren't separated by more than a point the rest of the way until late, when Cascade Christian got an ace from Kaylee Cannon as part of a 5-2 run that put the Challengers seemingly in control. But a back row swing from Staton was mishandled by Cascade's otherwise reliable defense and it sparked Santiam Christian's closing run, which was capped by a perfect pass of a tough serve by libero Lauryn Penner, a terrific set from Risinger and an even better swing from Bourne, her fifth kill of the set.
The skill set of Cascade Christian's dynamic senior OH Caroline McMahon was on full display in a riveting second set, a 25-23 win for the Challengers that evened the match at a set apiece. Santiam Christian took control of the set early behind Bourne's serving and extended the lead throughout. It grew to as much as six, at 21-15, on Staton's sixth kill of the set. But Cascade Christian would not quit. Setter Taylor Cave made great decisions and served a couple of tantalizing short serve aces to get the Challengers back into it. McMahon, the 2017 Oregon 3A Player of the Year, who had 42 kills in last year's championship match, took over from there, both from the left side with shots and power and behind the service line, where her back-to-back aces capped a 10-2 closing run.
Staton said she wasn't too worried after Cascade Christian's Game 2 comeback.
"You're always going to lose some games," she noted. "It's how you focus and regain confidence for the next game. During that game we lost a few runs but we focused on getting that back."
Santiam Christian answered Cascade Christian's challenge by breaking Game 3 open with a 6-1 run midway through the set, which went 25-16 in the Eagles' favor. Santiam Christian's cause was aided by 13 Cascade Christian errors in the set, including four on serve. Not even the six-rotation brilliance of McMahon could save Cascade, which also struggled with ball control and to hit the ball over the net. Penner did a terrific job of digging attacks that did find their way onto Santiam Christian's side of the court and the Eagles also were strong behind the service line, getting late aces from Bourne and Aliyah Atkins in pulling away for the decisive win.
"We made too many mistakes," said Kleker. "We had 16 service errors. It's tough when you're giving them freebies."
"We continued to stay on the offensive," said Fitzpatrick. "We did our best to shut down Caroline as much as we could. We tried to do a good job keeping the ball up so that we could attack right back."
When Cascade took an 11-9 lead in Game 4 on a slide kill from Cannon, there were few people at Forest Grove High School who would have believed that this match would end in four sets. After all, these teams are destined to play five-set classics. But as Cascade appeared to tire and struggled to find someone other than McMahon to put the ball away, Santiam Christian picked up its offense and defense. Bourne and Staton were constants on the left offensively; Allaire Gilder and Risinger were stunning defensively. Santiam Christian outscored Cascade Christian 9-2 over the match's final 11 points, getting a block and two seam shots from Staton for the final three points immediately preceding the dogpile that confirmed the Eagles as champions.
***
Players of the Match: Bourne (21 kills, 21 digs, three aces) for Santiam Christian; McMahon (24 kills, 22 digs, three aces) for Cascade Christian.
Team Sportsmanship Award: Blanchet Catholic
All-Tournament First Team
Santiam Christian: Bourne and Staton
Cascade Christian: McMahon
South Umpqua – Sydnie Johnson, Shaylin Gray
Blanchet Catholic – Shelby Halfman
All-Tournament Second Team
Cascade Christian – Cannon
South Umpqua – Jenna Whitmore
Blanchet Catholic – Ally Jones, Kayla Neidigh, Kalea salang
Horizon Christian – Lauren Eyerly