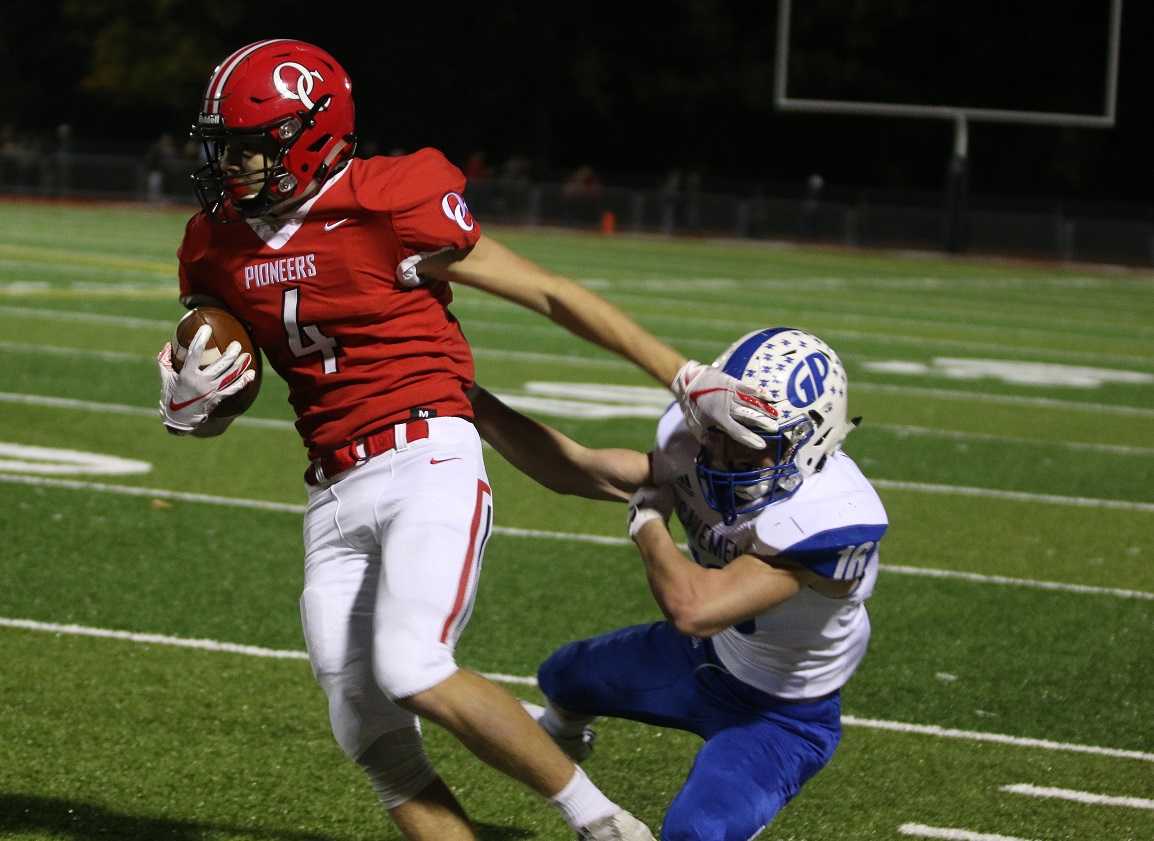 OREGON CITY -- The absence of one of the state's top playmakers couldn't slow down Oregon City's offense Friday night.
The No. 16 seed Pioneers – playing without do-everything senior running back Zakhayas Dennis-Lee, who was out with a foot injury – got contributions all around to pull away for a 60-35 win over visiting Grants Pass in a 6A football first-round playoff game.
Senior quarterback Colby Iverson directed the show, completing 21 of 25 passes for 358 yards and four touchdowns and running for 66 yards and one score on 12 carries as Oregon City (5-5) amassed 601 total yards.
"Colby had a heck of a night," said Oregon City coach Dustin Janz, whose team will face No. 1 Lake Oswego in the second round. "I'm just so proud of our effort all the way across."
It was a similar outcome to when the Pioneers won at Grants Pass 64-41 on opening night. In that game, though, Dennis-Lee ran for 323 yards and four touchdowns and returned a kickoff for a score. To advance Friday, the Pioneers knew they had to pick up the slack for Dennis-Lee.
"It was a question mark all week whether he was going to play or not," Iverson said. "I think we all were just kind of ready to ball out. A lot of our seniors, they just didn't want to end the season at home. We just want to keep battling and see what we can do."
The Pioneers, who lost at Lake Oswego 63-17 in their third game, know they need Dennis-Lee to have a fighting chance against the Lakers. He is dealing with a tendon injury in his foot, suffered in last week's loss to West Linn.
"They don't know if it's torn. It's a possible sprain, maybe it's torn, we don't know," Janz said. "He's in a boot. We're hopeful to have him back for next week, but we'll see. It's a day-to-day situation."
Without Dennis-Lee, Oregon City's skill players came up big against No. 17 seed Grants Pass (6-4).
Junior receiver Calvin Green had a breakout game with seven catches for 150 yards and two touchdowns. Juniors Austin Canchola and Matthew Petersen caught touchdown passes. Sophomore Jahleel Heath hauled in four passes for 52 yards. Senior Wyatt Lovell scored on two 10-yard runs. And 5-foot-6, 160-pound senior Hunter Manassero rumbled for 92 tough yards and one touchdown on 21 carries.
"The guys did step it up," Iverson said. "Our receivers did a great job of getting open and catching the ball. Our line protected amazingly.
"It comes down to the receivers. They made a lot of plays after the catch. They were playing man-to-man, and our receivers won, so that helped out a lot."
Iverson, a transfer from West Linn, has been putting in extra time working with the receivers after practice. They all appeared to be on the same page Friday.
"It says a lot about him," Janz said of Iverson, the son of former Oregon City coach Dane Iverson. "He came in his senior year, and he's trying to learn a new offense. He's such a smart kid, such an amazing leader. For him to come out like this, it just shows that he's been paying attention. It had to click eventually."
The 6-2, 180-pound Green was outstanding, turning a short pass into a 37-yard touchdown in the first quarter and getting behind the defense for a 56-yard touchdown catch in the second quarter.
"Calvin Green is breaking out, starting to step on the scene and becoming a guy," Janz said. "Our receivers are all growing up. They were all new at the beginning of the year."
The game's turning point came late in the first half after Grants Pass had scored to take a 28-27 lead. Iverson went deep for a 42-yard touchdown pass to Canchola with nine seconds left in the half, putting the Pioneers up 34-28.
It was the first of five consecutive touchdowns for Oregon City, which built the lead to 60-28 midway through the fourth quarter on a 23-yard run by sophomore Zachary Woods.
Grants Pass junior quarterback Chase Coyle, who threw for a school-record 474 yards in the first meeting against Oregon City, completed 21 of 31 passes for 286 yards and four touchdowns. All of his scoring passes went to senior Randy Clark, who caught nine passes for 169 yards.
The Cavemen had 240 yards in the first half but were limited to 95 yards in the second half as Oregon City's defense tightened. The Pioneers finished with five sacks. getting two each from senior Anthony Treadwell and junior Hayden Miller. They also got an interception from junior Cole Lundmark and a fumble recovery from Green.
"We went into halftime and we drew at the boards," Treadwell said. "They didn't run what we practiced, so we had to look at it and think about it more. When we came out in the second half, we just perfected it. We worked harder."
Oregon City's defense will need another big effort next week against explosive Lake Oswego.
"We've just got to play with the same intensity as today," Treadwell said. "They're No. 1 in state, but we can't treat them like they're the best team of all-time. We've just got to play how we play."