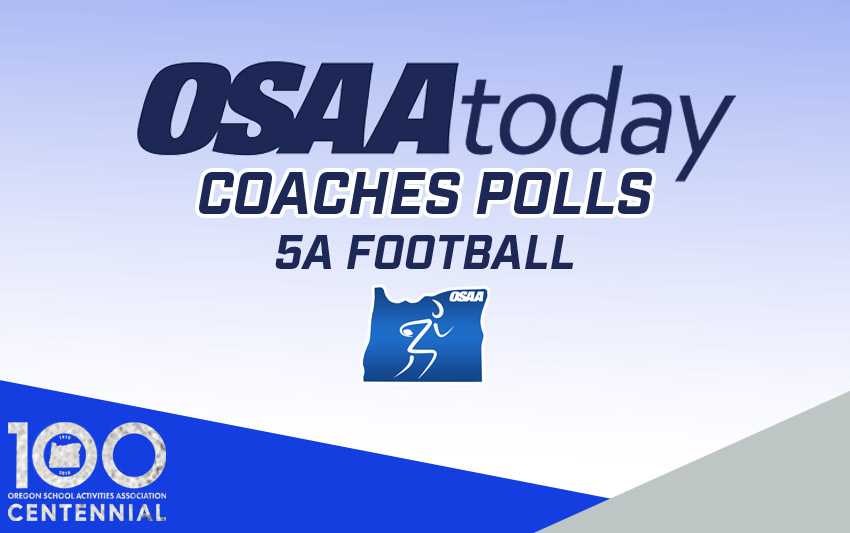 Week 6 Statewide Football Coaches Poll 5A
OSAAtoday presents its weekly 5A Football Coaches Poll. Thanks to all the coaches who took the time and had the expertise to contribute their opinions to this endeavor.
Please note: these polls are for generating interest and discussion only and have no impact on the OSAA's RPI and Colley ratings that form the basis of the OSAA's rankings for playoff purposes.
5A Football
1. Wilsonville (15) [1] 6-0 150
2. Churchill [3] 5-1 124
3. West Albany [2] 6-0 115
4. Pendleton [5] 6-0 110
5. Silverton [4] 6-0 95
6. Lebanon [6] 4-2 53
7. Scappoose [7] 4-2 45
8. Thurston [9] 4-2 39
9. North Bend [8] 5-1 31
10. Crater [nr] 4-2 21
First-place votes in parentheses
Last ranking in brackets
Record listed is what's posted on www.osaa.org
Others receiving significant votes: Eagle Point [17]
Notes: Hunter Crosswhite ran for 103 yards and Cassius McGinty returned a fumble 99 yards for a touchdown to lead West Albany past North Salem 34-0. … Lebanon beat Central 41-21, getting three touchdown runs from Keith Brown. … Crater beat Ashland 41-13, outgaining the Grizzlies 473-182 as Trever Davis passed for 225 yards and two touchdowns and ran for 91 yards. … Churchill's Demontre Thomas II ran for four touchdowns and threw for a score – all in the first quarter -- in a 61-40 win over Eagle Point. Deonte Jones rushed for 214 yards and four touchdowns for Churchill. The Eagles got big games from Devin Bradd (228 rushing yards) and Noah Page (seven catches, 122 yards, two touchdowns). … Wes Kommer rushed for 262 yards and four touchdowns in Thurston's 61-0 win over Willamette. Avery Jaramillo scored three touchdowns on three carries for Thurston, which ran for 379 yards. … Pendleton throttled La Salle Prep 62-14 behind Aiden Patterson, who ran for 92 yards and four touchdowns. Shawn Yeager ran for 112 yards on three carries for Pendleton. … Nathan Kuenzi rushed for 216 yards and two touchdowns on 49 carries to lead Silverton past Dallas 23-8.