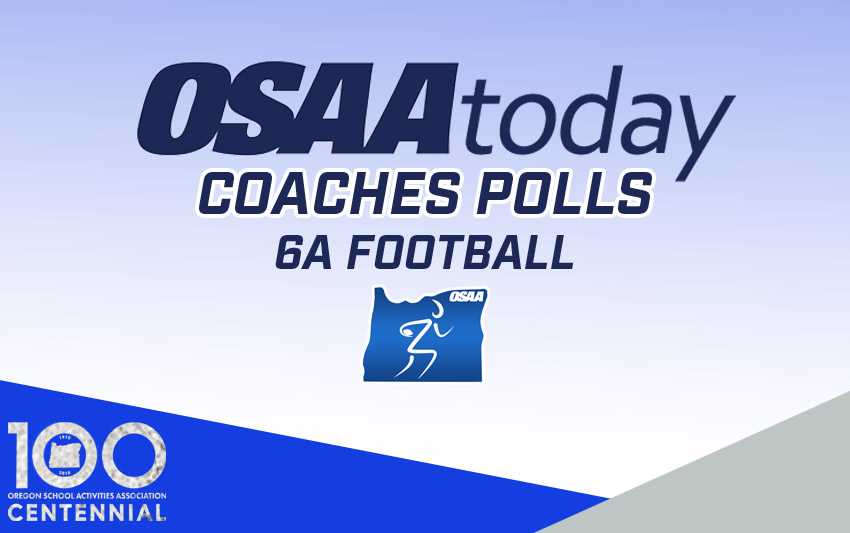 Week 6 Statewide Football Coaches Poll 6A
OSAAtoday presents its weekly 6A Football Coaches Poll. Thanks to all the coaches who took the time and had the expertise to contribute their opinions to this endeavor.
Please note: these polls are for generating interest and discussion only and have no impact on the OSAA's RPI and Colley ratings that form the basis of the OSAA's rankings for playoff purposes.
6A Football
1. Clackamas (9) [1] 6-0 169
2. Lake Oswego (7) [2] 5-1 159
3. Tigard (2) [5] 6-0 127
4. Jesuit [4] 5-1 123
5. Sheldon [3] 4-2 103
6. Tualatin [6] 6-0 87
7. West Linn [7] 4-2 72
8. Central Catholic [8] 3-3 33
9. South Medford [nr] 5-1 22
10. Liberty [nr] 4-2 17
First-place votes in parentheses
Last ranking in brackets
Record listed is what's posted on www.osaa.org
Others receiving significant votes: Bend (15), West Salem (15), Beaverton (14), Sunset (11)
Notes: Jackson Laurent completed 16 of 23 passes for 245 yards and three touchdowns, two to Marshall McGuire, in Lake Oswego's 41-28 win over West Linn. Casey Filkins rushed for 175 yards on 32 carries and Thomas Dukart had eight catches for 135 yards for the Lakers. … Richard Kennewell caught two touchdown passes and returned an interception for a score as Clackamas beat Gresham 51-8. … Tigard defeated Oregon City 62-27 as Drew Carter threw four touchdown passes and Malcolm Stockdale ran for three scores. … Central Catholic got a 46-yard run and a 52-yard punt return for touchdowns by Elijah Elliott in beating Centennial 42-19. … Jesuit went on a 16-play, 60-yard drive – capped by an eight-yard touchdown run by quarterback Will Spitznagel with 2:25 left – to overtake Sheldon 36-32. Jesuit's Cody Hart had a 49-yard touchdown catch and the game-clinching interception off Sheldon's Michael Johnson Jr., who passed for 233 yards and ran for 111 yards.