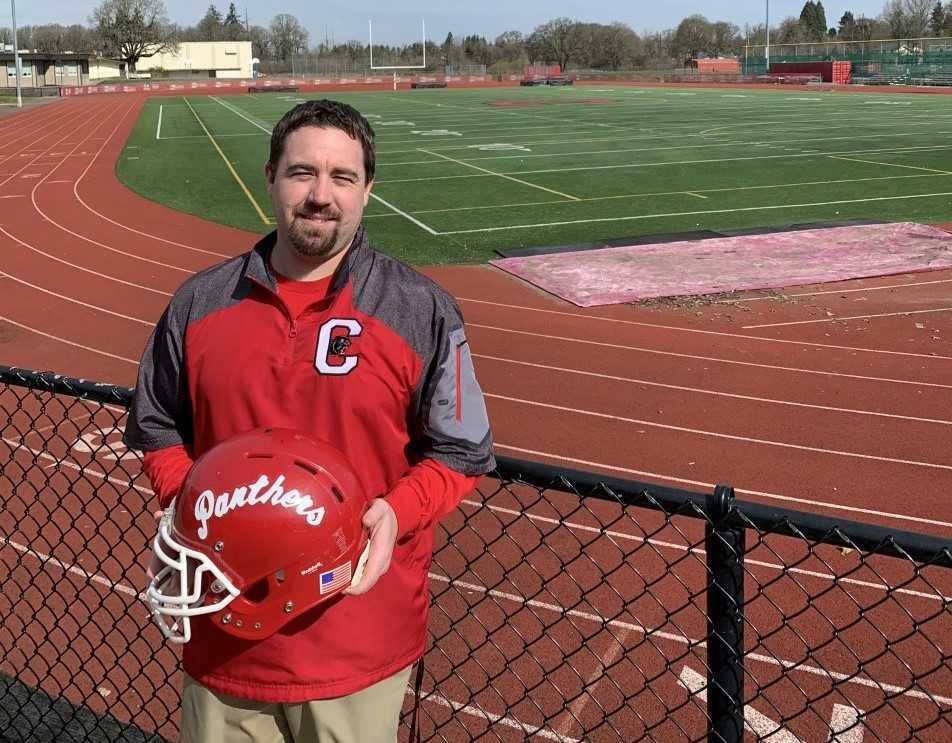 The 2019 season was an anomaly for Central's football team.
The inexperienced Panthers – with a handful of sophomore starters, including at quarterback – finished 2-7, their fewest wins in 40 years, in their first season after the resignation of highly successful coach Shane Hedrick.
But Central believes it has the building blocks for a bounce-back season in the tough 5A Mid-Willamette Conference, and putting them together now is the job of Joel Everett, who has replaced Jeff Centoni as coach.
"We've got a good group coming up, just good kids, so I'm excited about what's coming up in the next few years," said Everett, an assistant in the program for the past 10 seasons.
"I feel bad because Jeff kind of came into a tough situation. Central doesn't really do down years, but it was going to be a little more of a tougher year to lose a staple like Coach Hedrick, who's been with the program for so long."
Everett, who grew up in Beaverton, assisted at Forest Grove for two seasons before spending eight years in the Army. He attended Western Oregon University and landed at nearby Central, where he teaches history and government.
"I never thought I would stay in the Independence area, I'll tell you that," Everett said. "But I met my wife at Western, and she's from Lebanon, and she didn't want to go much farther north. It worked out. I love the area."
Everett became Central's defensive coordinator in 2018, and when Centoni took over last year, Everett switched to coaching the freshman team, which went undefeated.
"What I love about that class is they play for each other," Everett said of the freshmen. "They have a little bit more talent, but everyone says that they've got an edge to them. It's so fun to watch. It's not something you get at the varsity level all the time."
Everett was assisted on the freshman team by Rob Kassebaum, who coached Nyssa to state titles in 2005 (2A) and 2006 (3A). Kassebaum came aboard the staff in 2018 as the assistant defensive coordinator and joined the freshman staff last year at Everett's request. Everett coordinated the freshman offense and Kassebaum ran the defense, the same roles they will have this year for the varsity.
"Me and him are kind of hand-in-hand when it comes to running Central," Everett said. "I might have the title, but he's every part of it as I am."
Everett said he plans to keep the same pistol offense installed by Centoni last season, a strategy that was so successful on the freshman level. He is eager to work with 6-foot-5 quarterback Brooks Ferguson, who started as a sophomore last season.
"Brooks is a great athlete," Everett said of Ferguson, the son of Western Oregon University coach Arne Ferguson. "The kid is football smart. He's got good size, and he's still growing into his body.
"Right now he's just working on putting on some weight to build up that frame. He's got really good athleticism. He's got a head for the game. I would love to be able to plug Brooks into more of a read-option type scheme and let him be the athlete that he is."
With a 3-year-old son and another baby on the way, Everett said he initially was reluctant to pursue the head coaching position. But his wife, Barbie, encouraged him to do so, allaying his family concerns.
"I didn't really have aspirations to take over at Central," Everett said. "There's a whole lot of stuff that comes with that. But it was my time. I've been there long enough and I think a lot of people are looking at me.
"I'm just excited to put my stamp on Central football, and take over for a community that does everything it can to support athletics. It's just a great place to be."