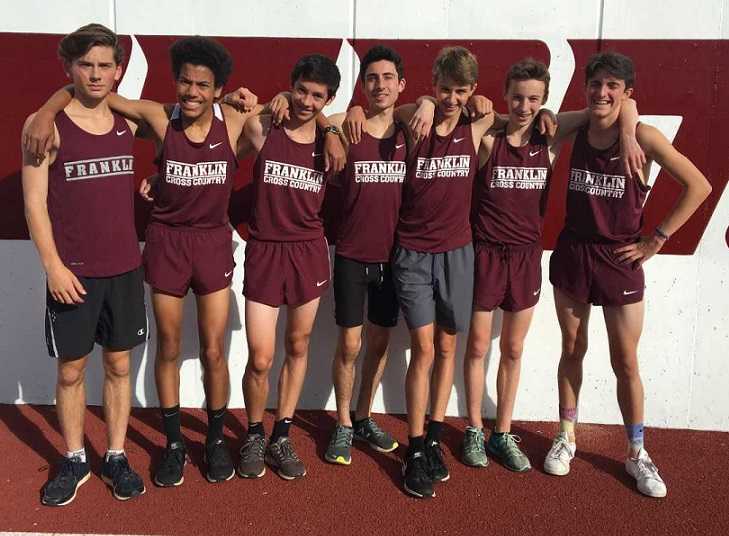 Despite its No. 1 ranking in the OSAAtoday 6A coaches poll, Franklin's boys cross country team has yet to show what it can do this season.
"I'm actually trying to hold them back a little bit because everything has to do with peaking at the right time," coach Jacob Michaels said. "Emotionally, we're very much holding back."
The Quakers brought back only two runners from last year's 6A meet, where they finished third. They aren't as deep this season, but have some intangibles that could propel them further.
"They're a lot more feisty than any team I've coached," Michaels said. "That's the most exciting part for me. These kids really like to race. They kind of relish it. That's a little different than what we've had before.'
Franklin finished behind Jesuit and Central Catholic in the state meet last year, a disappointing showing that has motivated the team this season. Still, Michaels sees the Quakers as underdogs to deeper teams such as No. 2 Central Catholic, No. 3 Jesuit and No. 4 West Linn.
"Our margin of error is much smaller," Michaels said. "Everybody has to put it together."
Franklin's nucleus includes three former soccer players in sophomores Charlie Robertson and Danny Fajardo and junior Aidan Palmer. Robertson and Fajardo played both sports last fall but have committed to cross country this year. Palmer is in his second year of full-time cross country.
Robertson and Palmer have set the pace so far for the Quakers, ranking 15th and 19th, respectively, in 6A. Behind them are seniors Solomon Duke (28th) and Jackson Hartigan (33rd) and sophomores Jackson Buffonge and Fajardo. Duke is the highest returning placer from last year's state meet, where he was 24th.
Robertson, who set the school's freshman record in the 3,000 meters in the spring, oozes potential. He won the Portland Interscholastic League's junior varsity district meet last year.
"I knew that watching him run as a freshman, he was going to be a great runner," Michaels said. "He's a really feisty racer. He's extremely talented."
Palmer, who competed in cross country for the first time as a sophomore, "has taken it to a completely different level this year," according to Michaels. "It's exciting to see what he can do. He has a tremendous drive to the finish, one of the best I've ever seen, and I've coached kids with amazing finishes over the years."
The Quakers will get their first big test of the season Saturday in the Nike Portland XC meet at Portland Meadows.