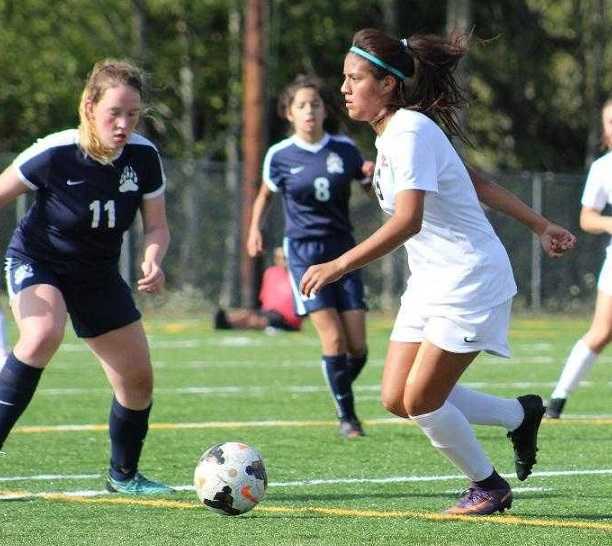 Coming off a 3-9-1 season, expectations were modest for South Albany's girls soccer team in 2018.
It seemed clear that the RedHawks, who graduated eight starters and added six freshmen to the roster, would need some time to develop chemistry.
During the team's 9-1 season-opening win over Crook County, though, South Albany started to click.
"Our passing was on target. It was like, 'OK, I think they've got it,'" coach Staci Rogers said. "They were so excited, and they really built on that. I think it's their own adrenaline that's keeping them going."
The RedHawks haven't stopped yet, outscoring their opponents 27-2 in a 5-0 start that has shot them to No. 2 in the OSAAtoday 5A coaches poll. For a team that scored 14 goals last season and hasn't made the playoffs since 2003, that's heady stuff.
"At first it was like, 'This could be very interesting,' when they started winning, the excitement, and it just kept going and going," Rogers said. "It's a positive environment, and I think that makes a huge difference, the camaraderie."
South Albany also has benefited from the return of senior midfielder Chanel Garcia, who missed last season while recovering from meniscus surgery. She has scored a team-high seven goals.
"She's just a naturally gifted athlete. She just stepped right back in," Rogers said of Garcia, who has experience in the Olympic Development Program.
Four freshmen have cracked the starting lineup in defender Addie Watts, midfielders Angela Garcia and Emma Poris and forward Adreana Whitebird. Chanel Garcia and junior defender McKenna Platt are helping to show them the way.
"Their leadership, having so many freshmen, is outstanding," Rogers said. "The girls are eager to learn."
Seven different players have scored at least two goals for the RedHawks. After Chanel Garcia's seven, three other players have scored four goals in Platt, Whitebird and sophomore Lillyan Marchand.
The defense – which gave up 50 goals last season -- has been solid with Platt, junior Faith DeVyldere and junior goalkeeper Marianna Jones.
South Albany ends an unusual two-week layoff Tuesday when it opens Mid-Willamette Conference play at home against Central (2-4). The RedHawks play North Salem (0-5) and Dallas (0-4) before a key home game against No. 5 West Albany (4-1-1) on Oct. 4.
"I think definitely we can pull out some wins, but we don't want to put the cart before the horse," Rogers said. "The coaches, we just look at each other and go, 'Huh, this is going well.'"