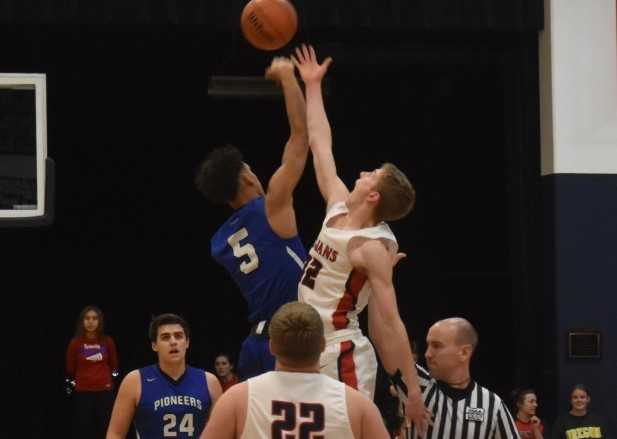 MT. ANGEL – The buzzsaw that is Western Christian awoke in the third quarter and rolled to a 70-58 win at Kennedy in a 2A Tri-River Conference boys basketball game Monday night.
Kennedy, ranked 10th in the OSAAtoday 2A coaches poll, was riding high after beating No. 4 Columbia Christian 62-61 on Saturday, and led by as many as nine points in the second quarter.
But top-ranked and reigning state champion Western Christian (5-0) took control in the second half, turning a six-point halftime deficit into a 52-41 lead after three quarters.
Western Christian held on from there behind senior wings Payton Richardson and Alex Nicoli, who scored 16 points apiece. The Pioneers also got 12 points from sophomore wing Austin Sladek and 10 points from senior post Ethan Halgren.
"In the first half we weren't swinging the ball at all and we had no energy on defense," Richardson said. "But in the second half, we came out and pressed, got steals and had energy.
"We started moving the ball, getting rebounds. All the effort that most teams don't…that's not their normal formula, that's how we play."
Kennedy made a late run after Richardson fouled out midway through the fourth quarter, pulling to within 61-55 with two minutes left, but couldn't get any closer.
"They're a good team," Richardson said of the Trojans (3-2). "We've got to realize that every time we go out, we have to come out ready to play. We've played them so many times over the years that it's, 'Oh, it's Kennedy.' … But they're going to give it their best every time."
Kennedy got 24 points from senior guard Luke Hall, who lamented the team's slow start to the second half.
"We've got to put it in our brains at halftime, coming into a lead, we've got to come back in the second half, staying hungry," Hall said. "We've got to keep the floor spacing up, keep passing, moving the ball around. … We were stagnant."
Senior guard Bruce Beyer scored 12 points and junior post Brady Traeger and sophomore guard Riley Cantu added eight points each for the Trojans, who have a different look from last year's state quarterfinal team after losing 6-6 Rocco Carley and 6-4 Nick Suing to graduation.
"We've been finding our identity with our three-point shooters," Hall said. "We lost a lot of bigs, so we need to start nailing those shots this year."