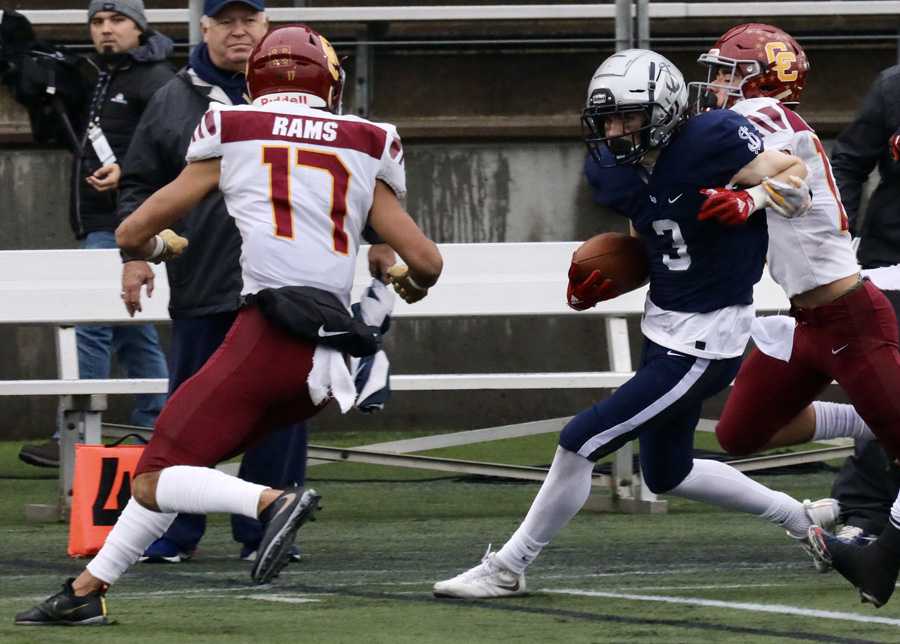 HILLSBORO: Casey Filkins took the shotgun snap, followed a lead blocker left of center, waited for the hole to open and then shifted into high gear. The 2019 Oregon Gatorade Player of the Year raced, untouched, 58 yards for a touchdown. Lake Oswego, which trailed Central Catholic, 28-14, at halftime of the OSAA / OnPoint Community Credit Union 6A state championship football game, had roared back with two touchdowns in the first seven minutes of the third quarter to tie the score. The Lakers had trailed in the second halves of the three previous playoff games before rallying to win. Did they have another comeback in them?
"We were thinking about it," Filkins said afterwards. "We'd been down many times this season and found ways to come back."
Central Catholic answered LO's score with one of its own. The Rams did it by converting three third down plays, something Steve Pyne's team did again and again and again on Saturday afternoon at Hillsboro Stadium in Central's 49-28 win.
"Their third down efficiency was unbelievable," said Lake Oswego head coach Steve Coury. "That's why they're the champs."
Truth be told, Lake Oswego probably had no business playing for a state title in 2019. The defending champions had twice been blown out during the regular season and avoided a third loss on literally the last play of the game.
The playoff path to the final was equally perilous, even after making a switch late in the season to install Filkins, the team's workhorse back, as its quarterback. The Lakers won their first-round game by 22 over Grants Pass when the other top seeds were winning by 42 points on average. They trailed 28-14 in the third quarter in Round 2 to West Salem, were behind 14-7 at the half to Lakeridge in the quarterfinals and were down by eight points, 21-13, to Jesuit late in the second quarter of their semifinal. Each time, Lake Oswego's players remembered their motto, "LO48," played 48 minutes of football and fought their way to victory. It was rational to assume they could do it again one more time.
"That's what we've done this whole year," said Filkins. "We were fortunate to get to this point. It says a lot about the resilience of this group."
"I think we overcame a lot of things," added Coury. "Injuries. Switching things around. Different combinations. Trying to figure out what's best. That's really a credit to our coaching staff. What a great job those guys did. And our kids. Believing. The kids kept on playing. We got behind in most games and they figured out ways to come back. Even this one. But we just didn't have enough firepower to compete with those guys. They were really good. They made plays. They didn't make mistakes."
The biggest change came after the Tualatin loss at home in Week 8, when Lake Oswego made Filkins, a running back bound for Stanford, the team's quarterback.
Coury explained:
"The staff felt like we couldn't win against the really good teams doing what we're doing so what do we need to do? Casey had carried us to that point so it was a natural transition. They really bought into the changes. A lot of the credit for that is Casey. He's a leader and great player. It made the transition a little easier."
The changes produced five wins in a row, including the game against Lakeridge where LO did not complete a pass. The Lakers opened the offense up a little bit last weekend against Jesuit but trying to move the ball through the air against a Central Catholic team with Division I defensive backs is tough enough for a seasoned signal caller and tougher still for a running back playing quarterback trying to rally a team from a late deficit.
"He's not a true quarterback so we get in a spot where we're 14 down and have to do some things; that's really rough," said Coury. "We were moving the ball, but then you drop a first down and you're behind the sticks. We were not real good in that situation. We tried not to [be in that situation]. Had we gotten a couple of stops maybe things would have been different."
Coury was quick to remind his team after the game that Lake Oswego football was so much more than the score when the clock hits 00:00.
"The memories you made, the lessons you learned, that's what the season is all about; that's what we're all about," he told them in the post-game huddle. "Leave this field with heads held high and take all those great memories with you. Don't forget the lessons; they are life lessons."
"I owe a lot to his program." Said senior Joe Hutson. "This is a great program. The coaches taught me a lot of life lessons."
One by one the players lined up to embrace one another, Coach Coury and ALS-afflicted Coach Jeff Young, who has been such an inspiration to the team and the greater community. No one was in a hurry to leave the field.
"These relationships are life changing," said Filkins. "I hope they'll last forever."
"I'm just so proud to be a member of this team and blessed to be here," said senior Marshall McGuire. "We made it here. It's been tough and not the outcome we wanted but I'm so proud of the boys for how hard and how long we fought."
"When you look at it through my glasses, on the losing end, and I've been on a lot of these, it's a shame in a sense that you forget all the great things that happened and fun times and lessons in life – I mean, only one team's happy at the end of it," said Coury. "It's life but it's too bad that your kids can't walk off the field just as happy. I just hope our kids will remember all the great things."