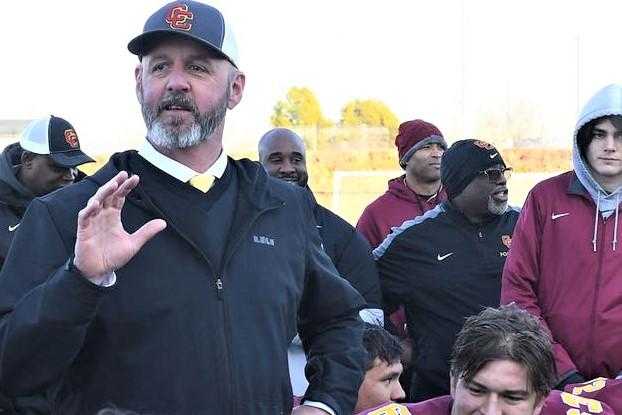 In the 2000s, Central Catholic had arrived at the doorstep of the state's elite football programs.
The Rams were amassing impressive collections of talent and winning conference titles. But they couldn't seem to break through in the playoffs, often exiting in the second round or quarterfinals.
So Steve Pyne, who took over as Central Catholic's coach in 2003, began to research the traits, habits and culture of the perennial title contenders. He zeroed in on Lake Oswego, coached by Steve Coury.
"It was like, 'What are we doing wrong?'" Pyne said. "Steve's program was doing a lot of things that I really thought were pretty cool. He was nice enough back in the day to share some of those things with us, and we've tried to put our own spin on it."
Central Catholic finally smashed through the barrier, winning titles in 2013 and 2014. And when the Rams (11-2) go for another title in the 6A final at noon Saturday at Hillsboro Stadium, they will line up opposite of reigning champion Lake Oswego (11-2).
"Obviously, we're not Lake Oswego, and they're not us," Pyne said. "But I think there are a lot of similarities in terms of their approach and our approach. It's something bigger than just the results of the game. I think we're probably more alike than we're different."
The programs aren't exactly mirror images, but Central Catholic certainly has used the Lakers as a blueprint by borrowing some of their culture-building methods.
Like Lake Oswego, the Rams started having senior retreats before the season to inspire seniors to take more ownership in the program. They have seniors fill out "pledge sheets" before the season and display them in the locker room. And they adopted Lake Oswego's tradition of inviting alumni to attend Thanksgiving practices.
Coury has continued to be a sounding board for Pyne over the years, in particular during Central Catholic's first championship run in 2013.
"I called him the day after the semifinals, and I said, 'Hey, can I take you out to breakfast on Sunday morning? I've never been here. I want to pick your brain,'" Pyne said. "I got some good insights on how to deal with the pressure of it."
Coury has won four of his six meetings against Central Catholic during Pyne's tenure, including their first playoff matchup last year, when the Lakers beat the Rams 35-24 in the quarterfinals. Now, for the first time, Pyne and Coury will go head-to-head for the state championship.
Both teams are loaded with playoff experience. Lake Oswego has a handful of seniors that will suit up for their 17th playoff game. Among Central Catholic's 33 seniors are fourth-year starters who played in the 2016 final, when the Rams lost to West Linn 62-7.
"It's going to take everything we've got and more to hang in there and have a chance to beat them," Coury said. "They've got the ingredients it takes to win the whole thing. There's a lot of experience on the field, for sure, guys that have been there."
Pyne said his seniors are "hungry and dialed in."
"I anticipate it being a really good football game, but you never know," he said. "I said that going into the West Linn game in 2016, and that was wishful thinking."
No. 4 seed Central Catholic is led by fourth-year starters in quarterback Cade Knighton and Stanford-bound receiver Silas Starr. Knighton has completed 71.5 percent of his passes for 3,022 yards and 34 touchdowns with four interceptions. Starr has 50 catches for 1,118 yards and 11 touchdowns.
The Rams also have big-play threats in running back Elijah Elliott, who has rushed for 982 yards and 14 touchdowns and caught six scoring passes, and senior receiver Kalvin Souders (35 catches, 537 yards, 10 touchdowns).
Central Catholic is passing for 265 yards per game.
"The quarterback is really good," Coury said. "He's got great guys around him. Those athletes on the outside, and the running back, those guys are special high school kids. The quarterback throws the ball on time, and he knows his guys. It just looks like a veteran group."
A key factor will be how Lake Oswego matches up with Central Catholic's receivers, in particular Starr and Souders, who both stand 6-foot-3. The Lakers have good size in their secondary with 6-2 senior Thomas Dukart and 6-1 senior Joe Hutson.
"They probably have a better chance to match up than most teams," Pyne said. "We feel like our receivers can match up against anyone in the state."
No. 3 seed Lake Oswego has the reigning 6A offensive player of the year in Stanford-bound tailback Casey Filkins, who has spent the past five games at quarterback as the Lakers reconfigured their offense.
The 5-11, 195-pound Filkins was the star of last year's final, when he rushed for four touchdowns and caught a scoring pass in a 34-27 win over Sheldon. He has rushed for 2,272 yards and 38 touchdowns this season.
Filkins threw sparingly in his first four starts at quarterback – only one pass in the quarterfinals – but broke out in a big way in a 28-21 semifinal win over Jesuit when he completed 13 of 27 passes for 225 yards and one touchdown with one interception.
With Filkins taking the snaps, the Lakers are "way different now," according to Pyne.
"He's a threat to take it to the house anytime he touches the ball," Pyne said. "That makes them an absolute bear to try to prepare for. You can't pin your ears back on passing downs because he can pull it down and make you miss. He's not a classically trained quarterback by any stretch, but he does enough to keep you honest."
Lake Oswego also has dangerous receivers in Dukart, Hutson and junior Malcolm Williams. In the semifinals, Dukart caught eight passes for 170 yards, including a 69-yard touchdown.
The Lakers have appeared in six finals, winning titles in 2011 and 2018. The Rams have made it to five finals, prevailing in 1952, 1953, 2013 and 2014.