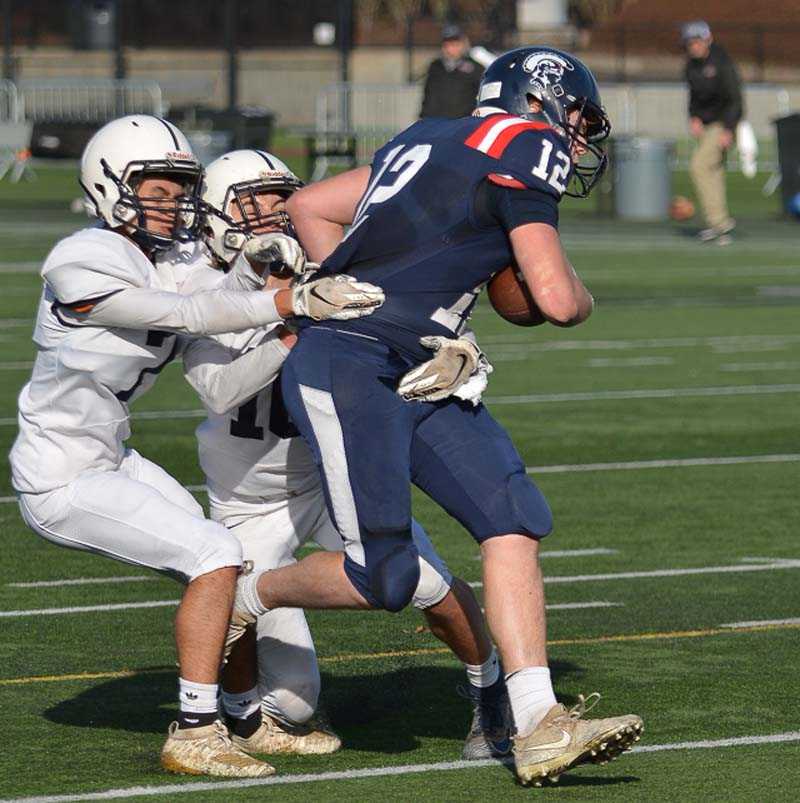 HILLSBORO – Defending 2A champion Kennedy scored a go-ahead touchdown with 41 seconds remaining to stun Monroe, 15-12, in a 2A semifinal contested Saturday afternoon at the OSAA / OnPoint Community Credit Union State Football Championships.
Dylan Kleinschmit was just 3-for-11 throwing the ball with two interceptions when he dropped back with 47 seconds remaining and Kennedy's season on the line. The Trojans trailed 12-7 at the time and were facing second and 10 from the Monroe 27-yard line.
The play was intended to go to standout back Bruce Beyer going up the sideline, but when the safety rotated over, Kleinschmit saw TE Brady Traeger and delivered a strike.
"I don't care who I throw it to as long as it gets caught," the junior signal caller said.
Traeger, who weighs 210 pounds, caught the ball around the five-yard-line and bulled his way into the end zone.
"No one can tackle him," Kleinschmit said. "He's so much bigger than everyone. I thought, 'He's going to score!' I was so relieved because I didn't have a good game and that made me feel so much better."
The touchdown capped a nine-play, 59-yard drive, which also included a 22-yard completion on third-and-10 to Riley Cantu. Kleinschmit finished with just 69 yards through the air, but 49 came on that final, critical drive.
Kennedy's game-winning drive answered a similar Monroe drive, which had given the Dragons their first lead of the game, 12-7, with just 2:59 to play. That drive was extended thanks to a fake punt run by Zach Young on fourth-and-four good for nine yards. It also was aided by a facemask penalty on Kennedy and Trenton Bateman's recovery of FB Dylan Irwin's fumble, which he wrested away from Kleinschmit. QB Brody Ballard capped the 54-yard drive with a short keeper.
Before those two scoring drives, turnovers and failed opportunities were the story of the game played in cold but sunny and windless conditions at Hillsboro Stadium. The first half was a turnover fest, with the teams combining for five giveaways. Kennedy's first drive ended when Kleinschmit was intercepted in the end zone by Young. Monroe's second drive ended deep in Kennedy territory when Ruben Ramirez picked off a Ballard fourth-down toss.
Indeed, the only score before halftime was set up by a turnover. With a second-and-six from the Kennedy 45-yard line and 1:37 left on the second-quarter clock, Ballard's pass was picked off by Kleinschmit and returned 47 yards to the Monroe 21-yard-line.
"All week the coaches have said they're going to fake the dive and throw it to 10 [Bateman] and I needed to pick it off," Kleinschmit explained. "I told them I'd be ready for it."
With the clock winding down towards halftime, Kennedy converted a third and 10 on a Kleinschmit pass to Isaiah Basargin, then used power running by Beyer and Cantu to get the ball to the one-yard-line. Eleven seconds remained but the Trojans were out of time outs. The play called, a QB sneak, was successful, with Kleinschmit powering over from the one for the lone score in a half where Monroe outgained Kennedy, 136-117, but also had one more turnover, three to two.
Monroe opened the second half by recovering a daring onside kick. That drive stalled but the Dragons scored on their next drive when Ballard kept on the option right on fourth-and-1 and ran 47 yards for the touchdown. A high snap threw off the timing of the conversion and Beyer was able to block the kick, preserving Kennedy's one-point lead.
Kennedy (10-1) tried to answer Monroe's score with one of its own but a sustained drive highlighted by Beyer's 29-yard run was thwarted by a fourth-down stop inside the Monroe two-yard line.
Monroe (10-2) had the statistical edge in the game, 297-222. The Dragons rushed for more than 300 yards from its Power-I, including 167 by Young on 25 totes; but Ballard completed only 2-of-10 passes for 16 yards.
Beyer had 117 yards rushing to lead Kennedy, which also operated from the I-formation. Traeger had 14 tackles in addition to his game-winning touchdown.
Kleinschmit said that Kennedy has the talent to repeat its 2018 title.
"We just have to go out and play our best football," he said. We didn't start off too hot today but the way we finished, we have the talent to bring another blue trophy home."