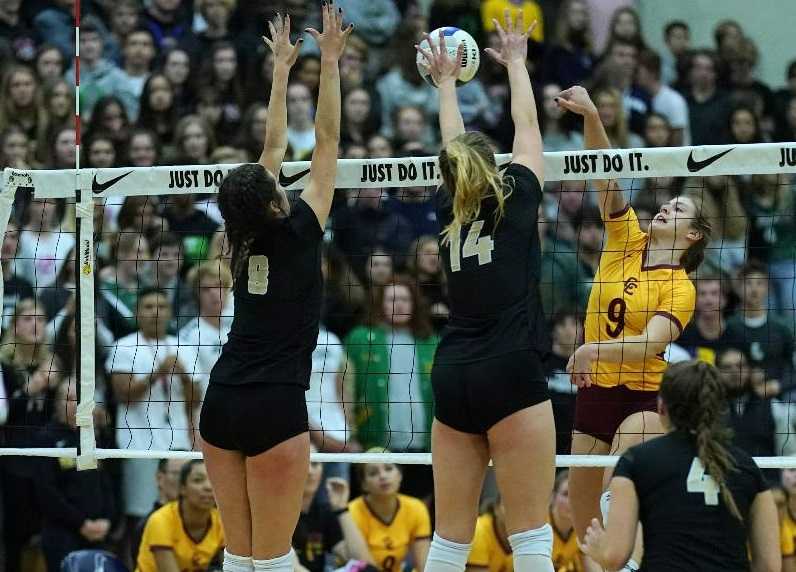 HILLSBORO -- This wasn't supposed to be Jesuit's year.
Coming off their third 6A volleyball title in five seasons, the Crusaders were gutted by graduation. And once the season got started, they had to deal with layers of adversity.
Somehow, though, it all came to a glorious end Saturday night when top-seeded Jesuit outlasted No. 2 Central Catholic in an epic five-set, two-hour, 15-minute cage match in the final of the OSAA/OnPoint Community Credit Union 6A tournament at Liberty High School.
"We were doubted from the beginning," Jesuit junior outside hitter Maddy Dowdall said. "Nobody thought we could do this. We lost our whole starting lineup. I think the doubt of everybody pushed us. We kept going."
In a back-and-forth match that featured 34 ties and 19 lead changes, Jesuit (25-4) emerged with a 25-21, 24-26, 27-25, 23-25, 15-13 win. It marks the sixth state championship for Jesuit, all of them under coach Teresa Zimmerlee. And it might be the most unlikely title of the lot.
"Their goals were to win the Metro and make it to Liberty," Zimmerlee said. "And of course they had to reassess their goals when they got here."
Jesuit was in command of the fifth set at 14-10 before nearly letting it slip away. But 6-foot senior middle blocker Ella Masingale put away the Rams with a kill.
"It was crazy. Tons of fun," Masingale said of the match, which was played at a fever pitch before a raucous crowd. "A little stressful, but definitely fun. I was just on edge the entire time."
Delivering the winning blow was a perfect ending for Masingale, who does not plan to play in college.
"I'm really grateful," she said. "Sad, a little bit, but mostly happy."
Central Catholic (27-4) was the sentimental favorite for many because it marked the last match of the 44-year career of Hall of Fame coach Rick Lorenz. It was the 24th state final for Lorenz, who will retire with 11 state titles.
"To get to 24 finals, I would've liked to have evened it up at 12 and 12," Lorenz said. "But hey, I had a great run. The 1,344 wins, that'll never be broken. No one is going to be foolish enough to stick around 44 years, I'll tell you that."
Zimmerlee said of Lorenz stepping away: "That's kind of heartbreaking. End of an era, kind of."
Jesuit won with a balanced attack. Dowdall had 19 kills and the Masingale sisters, senior Ella and 6-3 sophomore Tess, had 17 and 16 kills, respectively. The Crusaders also got key contributions from juniors Amanda Henry (11 kills), Alison Buchholz (31 assists) and Peyton Griffin (29 assists) and sophomore Maisie Alexander (34 digs).
"This was the best match we've ever played, like together," Dowdall said. "We've never done that before, in this big crowd. … We just believed in each other."
Zimmerlee lauded her team's resiliency.
"It could've gone either way," Zimmerlee said. "They played really well and we just answered. I really thought we let Game 2 slip away from us, though, when we led 24-21. But the kids came right back. This team never quits. When they're down, they just keep playing."
Central Catholic got a monster match from senior middle blocker Mia Jordan, who had 28 kills. Senior Marianna Payne added 12 kills, but the lack of firepower from the outside proved costly for the Rams.
"We battled. That's how we played all year," Lorenz said. "We'd get behind and we'd scrap back. We didn't serve-receive real well. Jesuit outserved us and outblocked us, and that was the difference."
From the start of the season, Jesuit seemed to be fighting an uphill battle.
Dowdall suffered a torn abdominal muscle. Buchholz dislocated her shoulder and missed three weeks. Tess Masingale -- who wears protective foam on her right hand, which did not heal properly when she broke it last season -- suffered from patellar tendinitis and left the lineup last month, not returning until two weeks ago.
The Crusaders lost to McMinnville in a tournament at Liberty on Oct. 12 and to 4A Valley Catholic and Mountainside at the West Linn Tournament on Oct. 19.
"Everybody was like, 'They're done,'" Dowdall said. "No. We came out to play, and we stuck together and we played as a family, and we did it. I think it was confidence, honestly."
The loss of Tess Masingale was crucial.
"We were worried when she first got hurt," Dowdall said. "We didn't know how well we were going to do. She's a big help to our team. We need her. Thankfully she was able to come back."
Her big presence at the net (six blocks) was key against Central Catholic.
"It was good," Tess Masingale said. "I'm definitely not in top shape. My knee hurt a little bit this game, but I just kind of pushed through."
It was that kind of season for Jesuit. The team's belief and tenacity showed up in a big way Saturday night.
"I honestly think just by sticking together, and reminding each other we could do this, it helped us win," Dowdall said.