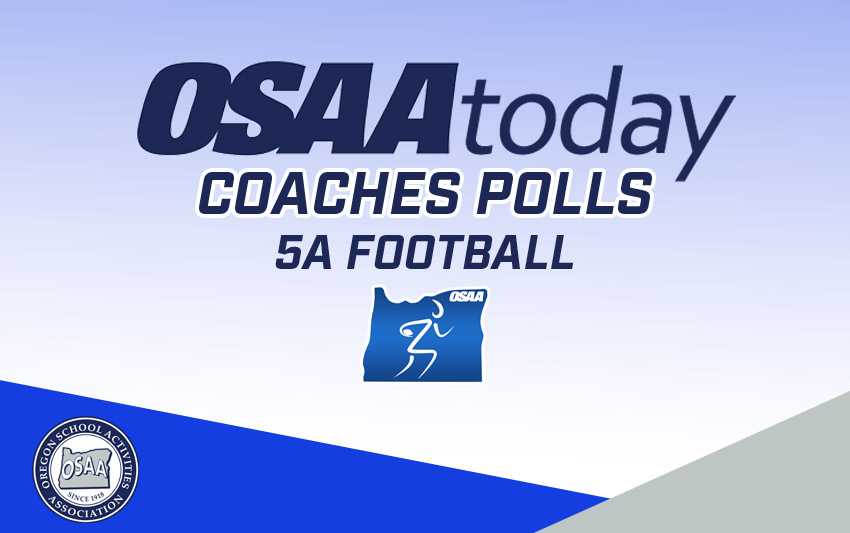 Nov. 5 Statewide 5A Football Coaches Poll
OSAAtoday presents final weekly 5A Football Coaches Poll of 2019. Thanks to all the coaches who took the time and had the expertise to contribute their opinions to this endeavor all season long.
Please note: these polls are for generating interest and discussion only and have no impact on the OSAA's RPI and Colley ratings that form the basis of the OSAA's rankings for playoff purposes.
1. Thurston (12) [1] 9-0 138
2. West Albany (2) [2] 9-0 130
3. Crater [3] 8-1 104
4. Silverton [4] 8-1 97
5. Parkrose (1) [9] 6-2 75
6. Ashland [6] 8-1 74
7. Wilsonville [5] 7-2 55
8. Pendleton [7] 6-2 39
9. Lebanon [8] 6-3 33
10. Dallas [nr] 6-3 16
First-place votes in parentheses
Last ranking in brackets
Record listed is what's posted on www.osaa.org.
Others receiving significant votes: Hillsboro (14); La Salle Prep (13); North Bend / Powers (11); Redmond (10); Scappoose (10)
Notes: Parkrose beat Wilsonville 28-19 as Tre Singleton passed for two touchdowns and ran for one score and Jay Jay Hudson threw a 40-yard touchdown to Dale Scott on a halfback pass. ... Porter Phillips ran for 226 yards and two touchdowns on 30 carries to help West Albany ward off Silverton 28-21 for the Mid-Willamette Conference title. ... Crater got three touchdown runs from Gavin Acrey and held Churchill running back Deonte Jones to 39 yards on 14 carries in a 48-0 win. … Ashland cruised past South Eugene 42-21 behind Rieger Sayre, who completed 23 of 28 passes for 366 yards and three touchdowns and ran for a 59-yard score. … Walker Camp had 131 receiving yards and two touchdown catches as Pendleton turned back Scappoose 41-21, the Buckaroos' fourth win over the Indians in the last two seasons. … North Bend rushed for 522 yards, 245 from Divenson Willis, to overcome Willamette 68-35. … Thurston led 52-0 at half in a 59-7 win over Ridgeview. Wesley Kommer rushed for 137 yards and three touchdowns for the Colts.