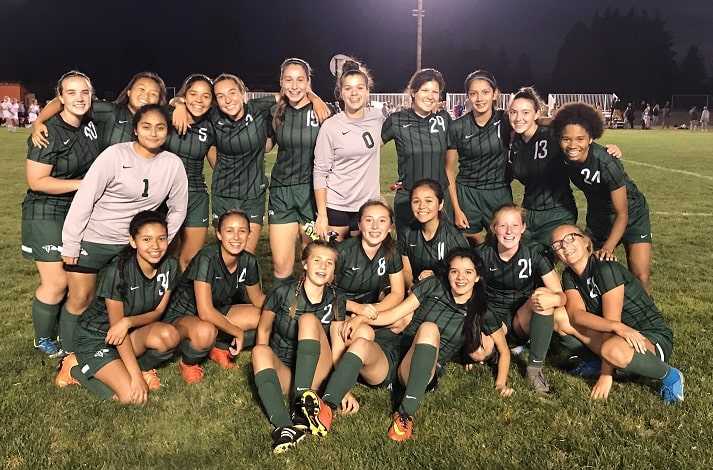 North Marion's girls soccer team made a giant leap by going from two wins in 2016 to the 4A quarterfinals last season.
The big question now is whether the Huskies are ready to vault to the next level.
No. 2 North Marion showed that it may have arrived as a state contender last week when it went on the road and played top-ranked and reigning state champion Valley Catholic to a 3-3 tie.
"I was excited to be able to play against a strong team," Huskies coach Ben Bonser said. "It was a much faster pace than we've been playing against, so it was good to see our girls step up and be able to play up to that level."
North Marion (2-1-1) led the Valiants 2-1 and 3-2 but couldn't put them away. The Huskies took their final lead with 10 minutes left and Valley Catholic quickly came back with the equalizer.
"We were looking at maybe sliding another defensive player back, but they came off hot right off that and got another quick goal," Bonser said. "It would've been nice to not concede a couple of those goals. Just clean up a few mistakes here and there."
North Marion suffered its first loss of the season Tuesday when it fell 2-1 at home to 5A Scappoose (3-0).
The Huskies hadn't won more than three matches in a season for four consecutive years until 2017, when they went 13-2-1, ran away with the Oregon West Conference title and advanced to the quarterfinals, where they lost to Hidden Valley 2-1 in overtime.
They broke out last year with six freshmen playing key roles. The experience gained by that class -- midfielders Mya Hammack, Dani Christenson and Hailey Welch, defenders Katie Zapata and Marissa Colby and goalkeeper Alex McArthur – is paying dividends this season.
"We're a better team than we were last year," said Bonser, who is in his fourth season as the team's coach after assisting at Rainier and Riverside. "We had a very good team last year, a lot of quality players, but we're a year older.
"Those freshmen have gotten better. They're a little stronger, a little more skilled. And there's the experience of being able to go to a playoff and knowing what that higher level of play is going to be like."
Senior Mar Del Sol Verastegui scored nine goals as North Marion opened the season by beating Woodburn 8-1 and Junction City 11-0. Hammack scored in each of the first three matches, including two against Valley Catholic. Freshman Dominique Huapeo added some scoring punch with two goals.
North Marion, which won a boys soccer title in 2014, might have a deep enough lineup to push for the school's first girls title this season.
"We had some players come in with a little more club experience and a little more quality, and we added those to the girls who have been working hard," Bonser said. "It's a more competitive group."