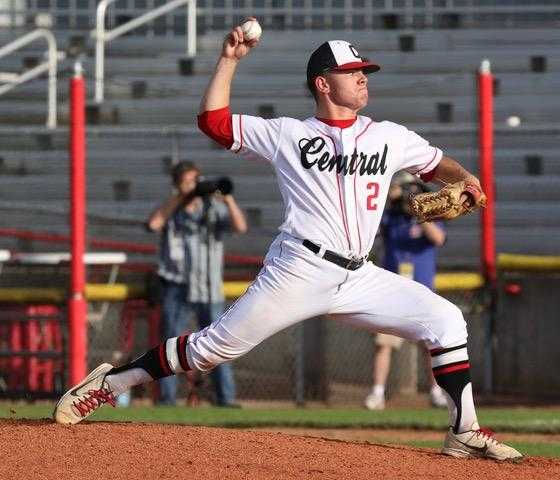 By Norm Maves Jr./OSAAtoday
KEIZER — Central won its first state baseball championship since 1958 Saturday night on familiar turf: Volcanoes Stadium.
No, this isn't really the Panthers' home field. That's back behind the school back in Independence.
But Central coach Tom Roberts made sure back in March that his team was familiar with the surroundings when they got back here for the OSAA/OnPoint Community Credit Union 5A championship.
The key word there is "when," not "if."
"We played three games here," Roberts said while his players went into the stands to celebrate with their fans. "I had a lot of faith that they would be back here for this."
This time, Central did it the easy way. The top-seeded Panthers (25-4) jumped on two Pendleton pitchers for nine runs in the first two innings on their way to a relatively easy 11-4 victory.
In the quarterfinals, the Panthers had to fight off a late La Salle surge to save the win. In the semis, they beat Thurston 1-0. Nuff said.
This time, they dominated.
"This is not how we normally win games," Roberts said. But he wasn't going to go as far as to say that the nine-run burst allowed him to sit back and enjoy the luxury of a big lead.
"There's still a lot of stressing involved. Pendleton (18-9) has a heck of a team over there, and we couldn't afford to take our foot off the gas."
He was right about the Buckaroos. They eliminated Wilsonville, then dropped two teams from Central's own league — Crescent Valley and West Albany — to make it to Keizer.
But after the first two innings, it's a surprise the Panthers had any gas left at all. In the first inning, they smacked four harsh singles in a row and five overall; Pendleton contributed two errors, and by the time they got back to their dugout, they were down 4-0.
It was still doable — for another inning. Then Central batters went right back at it. They chased Pendleton starter Cooper Roberts, then abused his reliever, Chris Large, just as badly. Six more hits and five more runs later — whether Roberts liked it or not — the Buckaroos were good and finished.
Central starter Ruben Cedillo loved the cushion he got from the big lead.
"It was great having all those runs up there," he said. "But I also got kind of wild. Then again, this was way more fun."
For everybody. The Panthers rocked the three Pendleton pitchers for 16 hits; all but one starter got at least one base hit.
Four different Central hitters had two hits each: Conner Laeng, Brendan Lesmeister, Emiliano Alarcon and Brandon Lopez.
Cedillo had four all by himself, including two doubles. That won for him the honor of being Central's game MVP.
It was the Panthers' pitching and defense that got them to Keizer, though. They gave up only 57 runs in 29 games — by far the stingiest in the state at any level.
"No question," Roberts said. "Pitching and defense was the backbone of our season. Night in and night out we had it. We league we played in, it really helps us learn how to win tight games."
Not so in the championship game on Saturday, when the Panthers lowered the boom.
And, more than any other team in Keizer this weekend, they had the right to declare Independence Day.