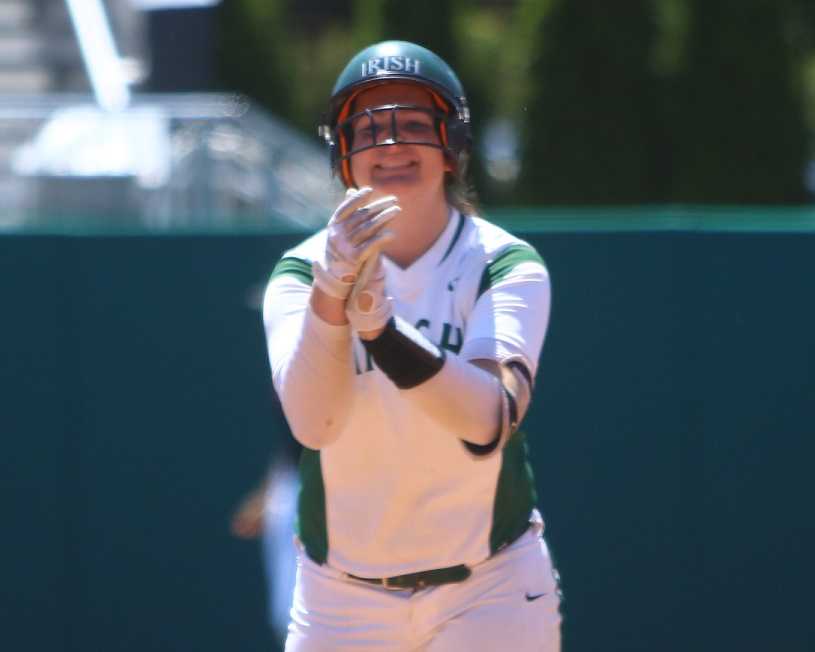 EUGENE -- As Emma Neuman walked to the plate with the bases loaded and two outs in the bottom of the sixth inning Saturday, it was clear that Sheldon's softball season had come to a defining moment.
If the Irish were going to win their first state title, they needed a big hit from the heavy-hitting senior catcher against reigning champion Tualatin in the OSAA/OnPoint Community Credit Union 6A final at the University of Oregon.
"They just looked at me and they were like, 'Have fun. We want you to be up in this spot. Go and do it,'" Neuman said of her teammates.
Neuman responded with the biggest hit of her life, rapping a double into the gap in right-center field on the first pitch to clear the bases and lift the third-seeded Irish (25-6) to a 5-4 win over the fourth-seeded Timberwolves (25-6).
"I didn't want to be aggressive on my first pitch up, but when I saw that it was something I could hit well, I was like, 'OK, you have to go for it. This is the best pitch you'll probably see,'" Neuman said.
The three-run double gave Sheldon a 5-3 lead heading into the top of the seventh. Tualatin got an RBI double from junior pitcher Tia Ridings with one out to make it 5-4, and had runners at first and third with two outs.
But Irish junior pitcher Camille Leach got freshman Leanna Rosenbaum to fly out to senior right fielder Olivia Schmidt to end the game.
The title punctuates the dramatic improvement Sheldon has made in its five seasons under coach Mike Faulconer. Until this season, the Irish had never won a league title or played in the state championship game.
"It's amazing," Faulconer said. "Just a few short years ago, when I took over as coach, this seemed like an impossible dream."
Said Neuman: "In the past, I never thought we'd get to this level. My freshman year, we were getting killed by everyone."
Tualatin, going for its third title in five seasons, jumped in front in the first inning on a two-run homer by senior Emily Johansen and held a 3-1 lead from the second inning until the sixth as Ridings held the Irish in check.
"I realized that we really needed to get our bats going," said Leach, who pitched a complete game, allowing seven hits. "I had full confidence in our lineup, though. I knew it was a matter of time. We were on their pitcher pretty good."
Finally, the Irish offense began to stir in the sixth. Junior Jordan Henderson led off with an infield single -- her third hit of the game -- and Schmidt and freshman Ella Swangard singled, the latter driving in a run to make it 3-2.
With two outs and runners on second and third, freshman Tori Leyba -- the No. 9 hitter and the daughter of former Churchill coach and current Oregon State assistant Eric Leyba -- worked a walk, setting the table for Neuman.
"Huge. Great at-bat by that kid," Faulconer said of Leyba.
Leyba said her thought process "was just to stay calm, just really focus on where the pitch is, because before in my at-bats, I was leaning up at bad pitches. I was just trying to stay in the moment, but I always knew that I had someone like Emma coming up."
The Sheldon crowd erupted as Neuman stode to the plate, sensing the moment.
"We turned to each other and we were like, 'This is it. It's going to happen,'" Leach said.
For Neuman, it was a chance to make up for a baserunning error in the fifth inning, when she slid past second base and was tagged out.
"It bothered me. I know better," Neuman said.
Neuman was 0 for 2 with a walk before her big hit.
"I knew if we could get some runners on, turn it over again, she was going to come through for us," Faulconer said. "We just had to string a few together. We finally got a few put together."
It was a heartbreaking loss for Tualatin. After a fast start, the Timberwolves couldn't get their offense going against Leach, who at one point retired 10 in a row.
"We started off well, but one of the most important things is just to keep it going, and we kind of got a little bit stuck," said Ridings, who went 3 for 4 with two RBIs. "Pushing through being stuck like that is what would've gotten us this game."'
Photos of state championship events are available from Northwest Sports Photography at 4nsp.com