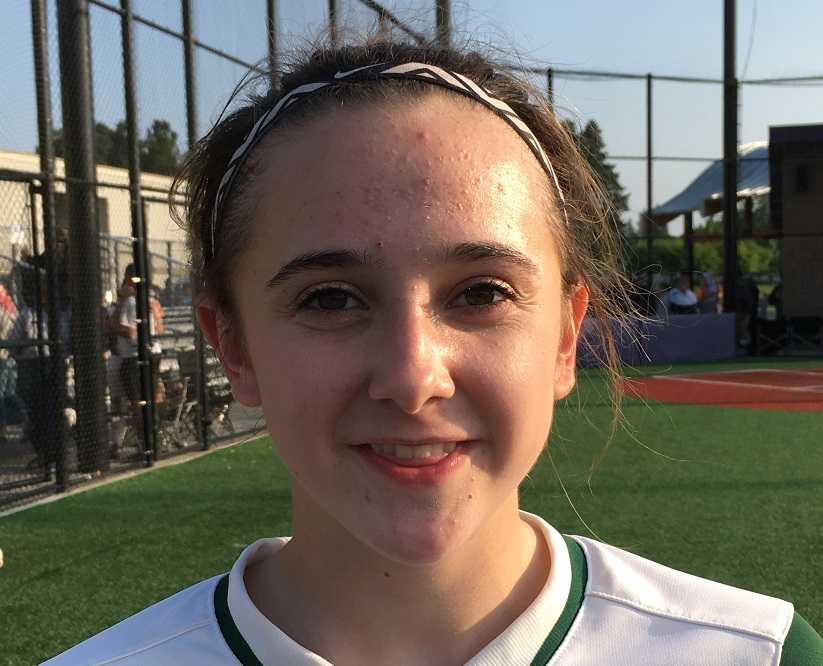 BEAVERTON – The real Camille Leach continues to stand tall for Sheldon in the 6A softball playoffs.
Slowed for the first part of the season by a quadriceps injury and illness, the junior right-hander has become more effective late in the year as she gradually regains her form.
She came up big again Tuesday, tossing a two-hit shutout as the third-seeded Irish won 2-0 at No. 2 Sunset to earn their first-ever trip to the state championship game. Sheldon (24-6) will play No. 4 Tualatin on Saturday at the University of Oregon.
"She was absolutely outstanding," Sheldon coach Mike Faulconer said. "We had a lot of confidence that the best was yet to come. She never really got her feet under her until the latter part of the season. We just felt like she was getting stronger and ready to peak at this time of year."
After giving up a two-run homer in the first inning of a first-round game against Oregon City, Leach has not allowed an earned run in four playoff games.
"I feel like it's been my best pitching, definitely, throughout the season," said Leach, who struck out seven Tuesday. "I was injured a little bit toward the beginning, so I've been building up. I have a lot of trust in my catcher (Emma Neuman) at this point."
Leach made an impression on the Metro League champion Apollos (24-6), who fell short in their bid to reach the semifinals for the first time in nine years.
"Hats off to her," Sunset coach Montana McNealy said. "She threw a really good game and had us on our toes. She's probably one of the best pitchers we've seen all year. On our end, we couldn't make adjustments late in the game like we should have. Tough one.
"Typically when we hold people to one or two runs, we take care of business. But we just couldn't get the bats going."
Sheldon got all the offense it needed in the third inning against Sunset junior Grace Kimball. With two outs, juniors Kelsi Sorenson and Jordan Henderson delivered RBI singles for a 2-0 lead.
All the Apollos could muster was a pair of doubles by senior shortstop Abby Wingo. The first one came to lead off the fourth inning, but Leach escaped unharmed with two strikeouts and a groundout. Wingo doubled again with one out in the sixth but once again was stranded.
Sheldon finished with six hits off Kimball, with half of them coming from the bottom one-third of the order, including doubles by freshman Ella Swangard and senior Anna Boyd.
"Our balance is pretty good," Sorenson said. "Most teams, the bottom of the lineup is their weak part, but all through our lineup, everyone can produce."
After working their way to the top of the 6A coaches poll three weeks ago, Sheldon suffered a mini-slide. The Irish dropped a doubleheader at Roseburg and a tuneup game against 4A Junction City. They needed to refocus heading into the playoffs.
"That was a good wakeup call for us," Faulconer said. "We talked about remembering who we are. We're a good team. We've played hard all year and beat a lot of good teams. We knew we could do it, it was just a matter of getting our confidence back and getting it done."
Sorenson said the losses were "pretty rough. We pushed through it. We had to do some team bonding. I feel like we weren't all playing together in those games. Playoffs, we're playing together."
Now Sheldon, which won its first league title this season and appeared in the semifinals for the first time since 2008, will play in the final for the first time.
"I feel like we thought it could happen, but we didn't really see the reality of it until now," Leach said.