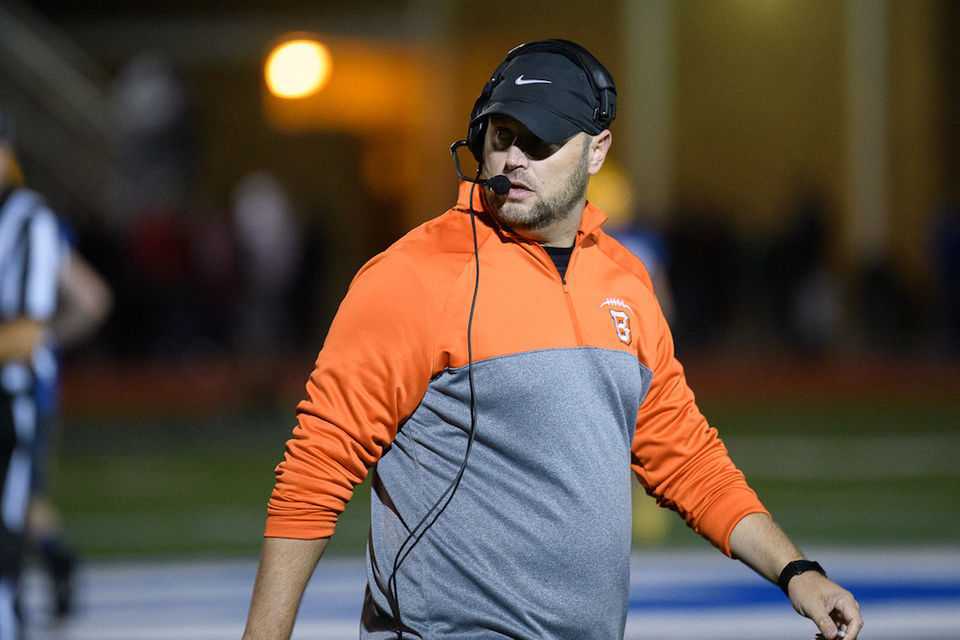 Beaverton football has been a big part of Jimmy Joyce's life.
He was the starting right tackle on the Beavers' 1999 state championship team, and in his 12 seasons of coaching, 11 have been as an assistant at his alma mater.
But he no longer will be wearing the orange and black. Joyce has been hired as the coach at Canby, where he will replace Mike Vaught.
"I'm excited about it," said Joyce, the Beavers' offensive coordinator for the past seven seasons. "Obviously, Beaverton is near and dear to my heart. I love the place. But at the same time, it has felt like it's time for me to branch out a little bit."
Joyce, who said he has pursued other head coaching positions in recent years, was a late applicant for the job. But after contacting Canby athletic director Ben Winegar early last week, the process went quickly.
"It happened super fast. It's been a whirlwind few days," he said.
"One of the things that really drew me to Canby is the community. It's a close-knit community. It's a place where people are going to be passionate about it. You don't have the distractions of a six-school district. That's very challenging in the Metro area at times."
Joyce was an offensive lineman at Linfield, where he was a member of the 2004 national championship team. He became an assistant at Beaverton in 2007, left in 2010 to assist at Sunset and returned to the Beavers in 2011 as the offensive line coach. He became offensive coordinator the following year.
Joyce, 35, takes over a Canby team that finished 0-9 last season, the Cougars' first winless season since 1975. The school opted not to renew the contract of Vaught, who went 33-59 in nine seasons, including 9-37 since leading the team to the 6A semifinals in 2013.
Canby has a long history of success, making the big-school semifinals five times from 2002 to 2013, but has fallen on hard times of late. The Cougars have struggled to compete in the Three Rivers League, widely regarded as the state's toughest league.
"There's such a strong sense I'm getting from the community that they want to be proud of their football team again," Joyce said. "Once pride starts to flip, it's a snowball effect. It's probably a little bit of a confidence issue, as well.
"I'm not going to hide behind the fact that Canby's in the toughest league in the state, going against powerhouses. It's easy to lose yourself in that. Before we do anything about on the field, it's all going to start with culture and getting them proud to be Canby Cougars again."
Joyce becomes Canby's fourth coach in 40 years, following Erv Garrison (1979-1990), Mike Doty (1991-2009) and Vaught. Garrison went 90-36 before handing off to Doty, who went 144-66 with 10 conference titles and four semifinal appearances.
The Cougars, who have run the wing-T offense for four decades, will have a new look in 2019 as Joyce plans to install the spread. Joyce admitted that the thought of scrapping the wing-T made him a bit apprehensive about the Canby job.
"You think of Canby, for many years, you think of Coach Doty and Coach Vaught and the wing-T," Joyce said. "The good thing about it is, in my opinion, the one offense that translates the best from the wing-T is the spread."
Joyce has a familiarity with Canby considering the Cougars have had their spring football camp with Beaverton and Sunset for about 25 years.
"I've been spending time at Canby High School. For years, I felt like I was coaching against them twice a year," Joyce said. "I saw what was capable there. It seemed like an opportunity where, when it came down to it, I couldn't pass it up."
Joyce recalled the 2013 playoffs, when a confident Beaverton team – with Colorado-bound quarterback Sam Noyer – lost 31-7 at Canby in the second round.
"We ran into a buzzsaw," Joyce said. "It was one of the most physical games I've ever been a part of. And they dominated us for 48 minutes. And that's not that long ago, really."