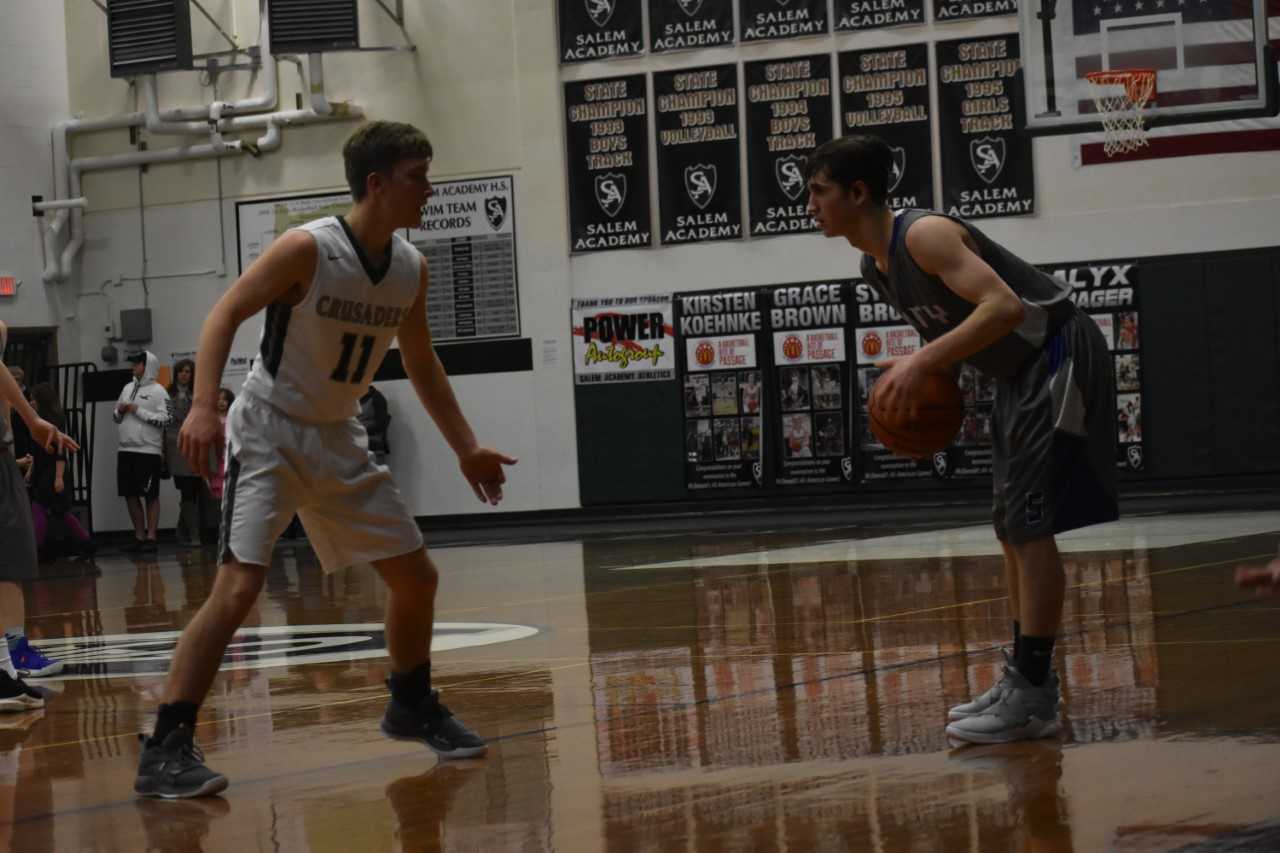 SALEM -- It's always difficult to beat a team three times in a season, and mix in some league playoff pressure, and anything is possible.
No. 9 Salem Academy learned that lesson the hard way Wednesday night when it fell to No. 8 Amity 63-51 in a 3A PacWest Conference boys basketball playoff game on its home court.
The Warriors (16-7) – who lost to Salem Academy by 16 and nine points in conference games -- trailed by eight points early before slowing it down and looking inside to their big man, 6-foot-5 sophomore Josh Wart.
"Personally, I just sit there, slow the pace because you don't want to get too worked up. That leads to turnovers," Amity senior guard Michael Duncan said. "I just wanted to slow it down and making sure that we're feeding Josh for easy layups."
Amity shot 60 percent in the second half to take control of the game. The Warriors led 40-34 after Duncan beat the third-quarter buzzer with a layup, pushed the lead to 10 points early in the fourth quarter and turned back a late push by the Crusaders (13-12) with an 11-4 finishing run.
Wart had 18 points and 13 rebounds for Amity, which secured the PacWest's No. 2 berth to the state playoffs. The Warriors will meet PacWest champion Dayton in a conference seeding game Saturday. Amity won at Dayton 70-64 last week, handing the third-ranked Pirates their only league loss.
"We're definitely going to have a game plan for (Braeden) Nowlin and (Lukas) Findley, trying to lockdown Jaysen (Howard) on my end," Wart said of facing Dayton. "Just bring out the intensity and hope for the best."
Salem Academy, which finished second in the PacWest standings, will play Blanchet Catholic in a conference playoff game Saturday as it remains alive for an at-large bid. The Crusaders know they will need to improve on Wednesday's performance to keep going.
"We were not ourselves. We were not playing like ourselves," Salem Academy junior forward Cole Hardy said. "Shots weren't falling. A couple of shots fell in the first quarter, but our shots weren't falling. It was rough. We weren't running our offenses. Me and everyone else were forcing a lot, but we weren't ourselves tonight."
Hardy had 13 points and 10 rebounds for Salem Academy.
"The whole season we've been playing with a chip on our shoulders because we've had such a tough preseason, and we've always been the underdog," Hardy said.