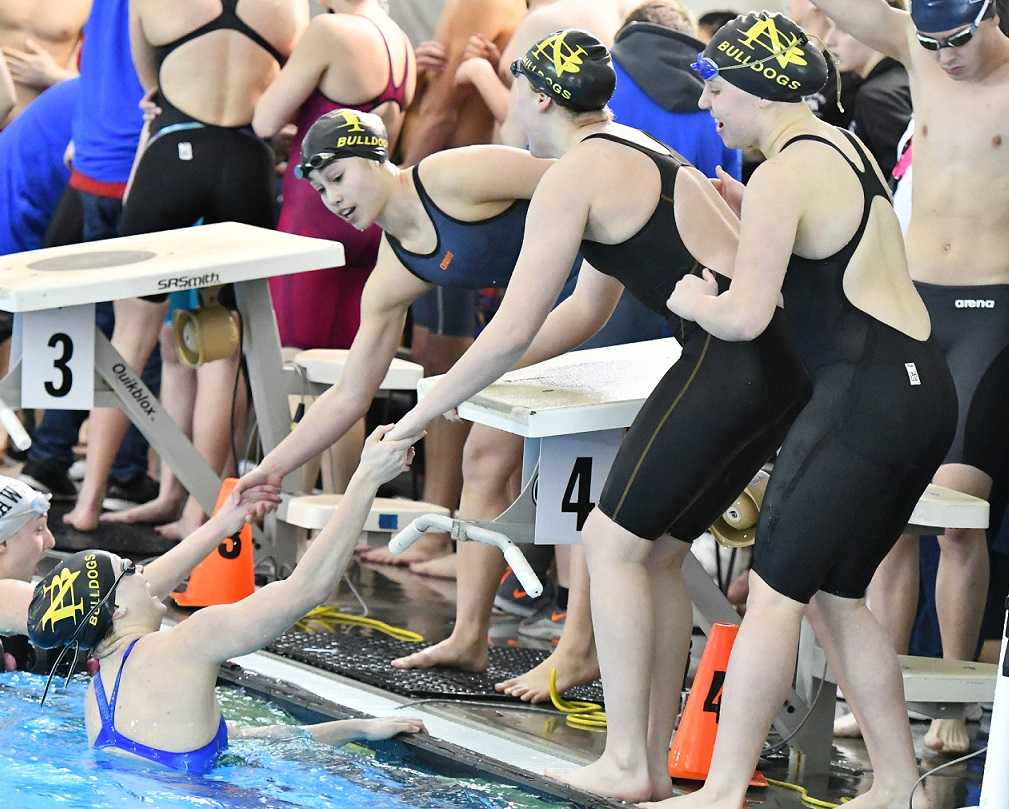 Much has changed this season for North Bend swimming.
The Bulldogs have moved up to 5A from 4A/3A/2A/1A, where last season the girls won their third state championship in six years and the boys finished as runners-up.
Sasha Trichler, who coached both teams the last two years, moved to Arizona with her family, including her junior son Ryan Trichler, the state champion and school record-holder in the 200-yard individual medley.
Also gone is six-time state champion Vianka Hoyer, who is at Linfield, and a state placer in senior Sarah Kuykendall, who returned to the Philippines.
Stepping onto the deck is first-year coach Bruce Rasmussen, 68, who has never been a high school head coach. His primary experience as a swim coach came as a member of the Air Force in Guam, Florida and England, about three decades ago.
"I think one of the reasons they hired me is I'm pretty even-keeled. I'm not going to knee-jerk reaction to anything," said Rasmussen, who retired from teaching two years ago at Taft, where he helped swimmers in a limited capacity. "And I know quite a bit about stroke mechanics."
Rasmussen swam in college at the Air Force Academy and spent 25 years in the military, moving 11 times. He went on to teach at a private school in northern Idaho and at a public school in Charleston, S.C., where he coached the softball and tennis teams.
He learned of the opening at North Bend this year while visiting his daughter, who works for the Coast Guard in Coos Bay.
"I just said, 'Well, why don't I come out of retirement and coach swimming again?'" Rasmussen said. "I've had my hand in swimming all my days. It's been a while since I've coached. I've been coaching my grandchildren. That's the way I've gotten my coaching fix."
Rasmussen said the Bulldogs have "some gifted athletes." In the OSAAtoday 5A preseason coaches poll, the boys were ranked fifth and the girls seventh.
The boys return four state placers in seniors Logan Lampe (third-100 backstroke) and Kenneth Shepherd (third-200 freestyle), junior Craig Hoefs (sixth-100 breaststroke) and sophomore Zachary Holt (fourth-100 breaststroke).
Sophomores Bella Jones and Natalie Cheal were part of a 200 freestyle relay team that set a school record last season. Jones placed third in the 100 freestyle and fifth in the 200 freestyle. Cheal was third in the 100 butterfly and fifth in the 200 individual medley.
Junior Annika Strasman, who placed third in the 100 backstroke as a freshman but missed last season with a shoulder injury, also will provide a boost.
Rasmussen credited South Coast Aquatic Team coach Heather Perry with developing the team's swimmers. He also said he is getting good support from the team's assistant coaches, KayLee Kocher and Alyssa Bennett, a former North Bend state champion.
Photos from state championship events are available from Northwest Sports Photography at 4nsp.com