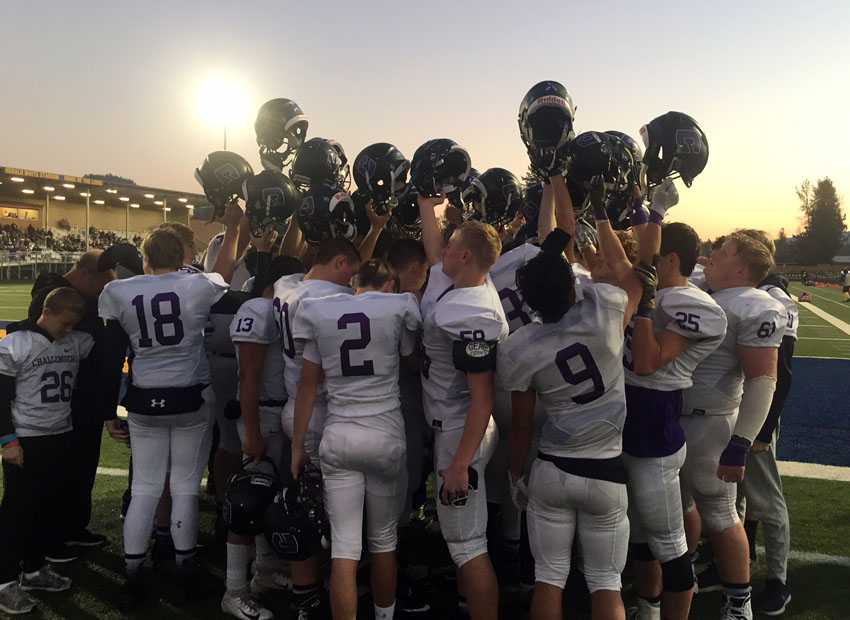 COTTAGE GROVE -- Cascade Christian trailed prolific Amity by 11 points with less than five minutes remaining before halftime but scored two touchdowns in a four-minute span before the break to seize the lead.
The defending champion Challengers never looked back, rattling off 36 unanswered points to win going away, 49-24, in a 3A football semifinal on Saturday afternoon at Cottage Grove High School.
No. 3 seed Cascade Christian (11-1) will go for a repeat title in the final against No. 1 Rainier, which beat No. 5 Vale 40-13 in the other semifinal.
Running its potent wing-T offense, Amity (10-2) gashed the reigning champs early, as West Streeter and Jon Mather found room both up the middle and on the edge. The Warriors, who led all of 3A in scoring, averaging more than 50 points per game, scored on a 10-play drive to open the game and scored twice more, including Mather's 72-yard sprint around right end, to build a 24-13 lead with 4:32 remaining before the half.
Cascade Christian, the second-highest scoring team, also couldn't be stopped – QB Kiegan Schaan was passing with flawless precision and had scoring strikes to Ian Fralich and Cade Sample – it's just that Amity was adding two-point conversions to its TDs while Cascade Christian only had one point-after to show for its two scores.
Down by 11, Cascade Christian needed something big to happen and got it on the ensuing kickoff. John Fralich, one of the Challengers' biggest playmakers, scooped up the bouncing kick, found a seam and sprinted down the left sideline 62 yards to pay dirt.
"There was great blocking on the edge," John Fralich explained. "I found a hole and hit it. It was a really important moment. The coaches were stressing that we shouldn't give up and stick to what we can do. Everything worked out all right."
The electrifying return also energized the Cascade Christian defense. The Challengers forced an Amity punt on the Warriors' next possession, took over at midfield with 1:32 remaining and marched down the field, scoring the go-ahead touchdown on a two-yard dive from Luke Smith with 28 ticks to go before the break.
The second half was all Cascade Christian, which had not played a wing-T this season, but began to figure out how to defend it.
"I think it was a matter of our guys getting a feel for it," Challenger coach Jon Gettman explained. "They definitely had us on our heels here and there. Once you get that one stop before halftime, it gave us some momentum."
Cascade Christian outscored Amity 23-0 over the final two quarters but only put the game away with 2:46 remaining, when Ethan Hoffman's 37-yard field goal made it a three-score game.
"It's not always going to be pretty; it's not always going to be easy," Gettman told his team afterward. "What it comes down to is your job, your talent."
Schaan finished the game with 313 yards of total offense to lead the victors. The junior signal caller completed 20 of 25 passes for 250 yards and three scores and rushed nine times for 71 yards and another score. Luke Smith rushed for 55 yards and two touchdowns. Ian Fralich had 70 yards receiving and a score, but left the game in the second half with a collarbone injury.
Mather (167 yards) and Streeter (125 yards) combined for almost 300 yards rushing for Amity, which had 389 yards of offense to 391 for Cascade Christian, but did not have the quick-strike ability once it fell behind by more than one score.
After the game, Gettman recognized all of his seniors for their great effort and leadership. He talked openly about the brotherhood the team members enjoyed and he reminded them that this was just a step.
"It's about the journey," he said. "We've got one more week."
Rainier 40, Vale 13: The top-seeded Columbians (12-0) remained unbeaten by cruising past the No. 5 Vikings (7-5) at Hermiston High School.
Senior quarterback Joey Tripp ran for 204 yards and two touchdowns on 27 carries and junior David Katon ran for 94 yards and two scores for Rainier. Tripp also threw a 26-yard touchdown pass to Katon.
Vale led 7-0 on a 19-yard touchdown pass from junior Colton Kesey to senior Tanner Hamilton, but Rainier scored the next 40 points. The Columbians led 24-7 at half and 40-7 after three quarters.
Kesey ran for 123 yards and one touchdown on 14 carries and completed 16 of 33 passes for 206 yards and one touchdown with one interception. Hamilton caught four passes for 75 and one score.
Rainier held a slight edge in total yards (363-358) but Vale had 17 penalties for 167 yards.
The Columbians, who lost in the semifinals last year, will go for their first title since 2010. Vale has not made the final since winning titles in 2014 and 2015.