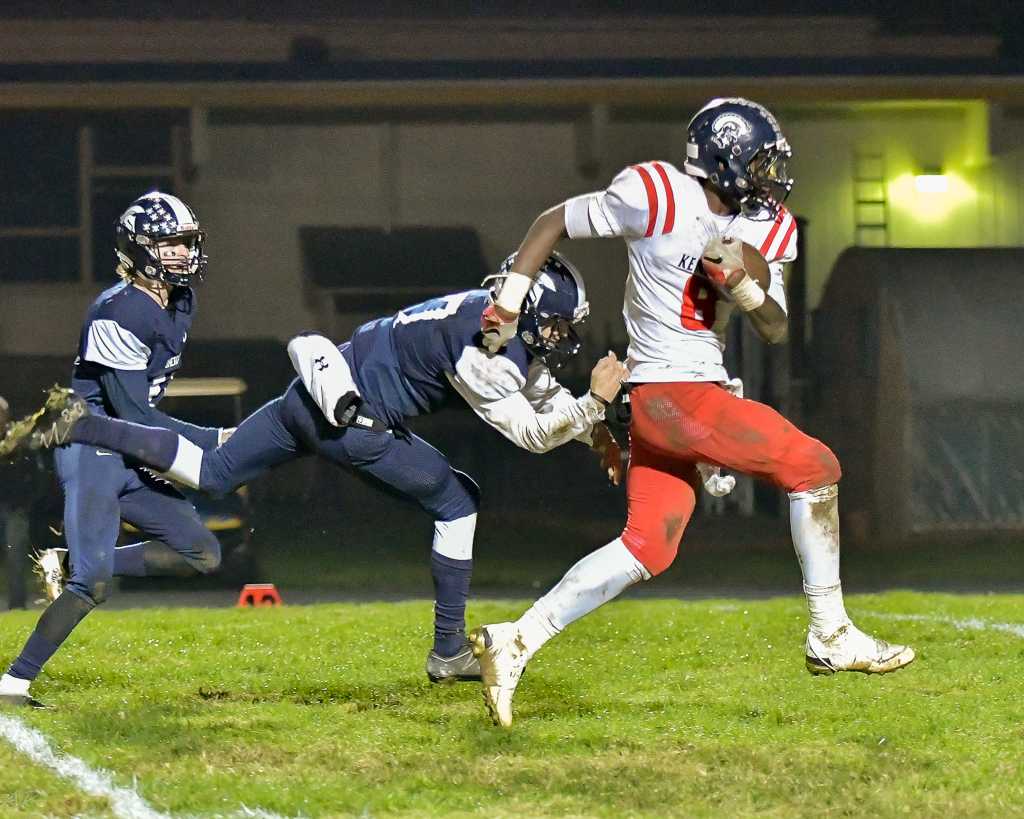 Two months ago, Kennedy's football season was on shaky ground.
The Trojans were rocked by a rollover car accident involving two players, and the team – which had gotten off to a promising start – was struggling on the field, losing back-to-back games to Santiam and Sheridan by a combined score of 88-7.
"We were kind of emotionally drained those couple weeks," coach Joe Panuke said.
But things are looking up lately for Kennedy.
The 10th-seeded Trojans (9-2) closed out the regular season with five consecutive wins and have been at the top of their game in the 2A playoffs, going on the road for two convincing wins. They smothered No. 7 Heppner 34-0 in the first round and turned the tables on No. 2 Sheridan in Friday's quarterfinals, winning 27-6 to avenge a 44-7 loss.
"We're a different team," junior linebacker Bruce Beyer said. "We played them a long time ago, and we knew we could beat people. We knew they hadn't seen us. We changed our defense. We changed a lot."
Said Panuke: "We were hoping to have a chance at a little redemption against Sheridan. So we were happy about that."
Since those losses to Santiam and Sheridan, Kennedy's defense has been lights out. During the seven-game winning streak, the Trojans are allowing 5.7 points per game, recording three shutouts.
Shuffling positions has strengthened the defense. Beyer and sophomore Cole Boen moved from inside linebacker to outside linebacker, and 6-foot-3, 210-pound junior Emorej Lynk, the team's best athlete, switched from rover to outside linebacker.
"It allowed Emorej to play sideline to sideline," Panuke said. "Cole was a really good outside linebacker for us last year, and when we moved him there, he just blew up. He's making all kinds of plays for us. And Bruce is doing a great job of covering. He's getting picks."
Boen was one of the players involved in the accident. The other, senior lineman Anthony Barboza, sustained a head injury and has not returned.
Lynk is having an outstanding season on both sides of the ball. He is the team's top weapon on offense, rushing for 191 yards against Heppner and 177 against Sheridan. Colleges are watching him.
"Portland State really likes him, and he's getting stuff from Utah," Panuke said of Lynk, also a standout basketball player. "He has the size and he runs like a deer. He has great vision running the ball, and he has incredible hands when we split him out to receiver."
Kennedy will appear in the semifinals for the third time in four seasons when it meets No. 11 Lost River (7-3) on Saturday at Summit High School in Bend.
The Trojans have never won a title. They reached the final in 2015 but lost the Heppner 48-0, a defeat that fueled their first-round performance this year. According to Panuke, they would have another score to settle if they reached the final.
"Hopefully we can take care of this one and get a little redemption against Santiam, who beat us this year, or Monroe, who beat us in the quarterfinals last year," he said.
Gladiator 'madness'
Tied with visiting La Grande in a final seconds of a 4A quarterfinal Friday, Gladstone knew that having sophomore Mateo Burgos try a 47-yard field goal was worth a roll of the dice.
After all, Burgos made a 40-yard field goal in a game this season and has connected from beyond 50 yards in practice. So as soon as Burgos hit it, a good feeling washed over Gladiators coach Wayne Harris.
"To me, it felt like I was watching a guy shoot a half-court shot, and you know it's going in," Harris said. "It kind of felt like March madness. It was awesome."
The school-record kick gave No. 2 Gladstone a 30-27 win over No. 7 La Grande and a berth in the semifinals. The Gladiators (8-2) will play No. 3 Seaside (9-1) -- a team they lost to 70-46 in a nonleague game -- Saturday at Hillsboro Stadium.
La Grande rallied to tie 27-27 on a touchdown pass with 49 seconds left, but Gladstone responded by driving 35 yards in seven plays to get in position for Burgos to kick on fourth down with 4.9 seconds remaining.
"I went to him and said, 'Can you make this?'" Harris said. "And he said, 'Coach, I can make it from 60.'"
The kick was executed flawlessly, from the snap by Jack Foss to the blocking to the hold by Jaxon Jedrykowski.
"When he kicked the ball, and when I heard that 'boomph,' I knew it was good," Harris said. "I said, 'It's over, we won.' It kept going and going. It had 10 more feet on it when it went through."
The kick set off a wild celebration.
"Anytime you do something like that, it brings the community together," Harris said. "It even makes the community tighter-knit as a family."
Third time charm
Thurston coach Justin Starck isn't necessarily buying the cliché about it being difficult to beat a good team multiple times.
His team had lost to Churchill 42-23 and 28-20 in Midwestern League games, so when the teams matched up again in the 5A quarterfinals, the task seemed daunting.
"With a team that talented, sometimes the more you see them, the more impressed you are, and the more stressed out you are," Starck said. "They're just so talented, it's hard to contain everything."
But two weeks after losing to Churchill for the league title, the seventh-seeded Colts (8-3) finally found a way to take down the No. 2 Lancers (9-2), prevailing 49-48 on a 21-yard field goal by freshman Gavin Levesque with nine seconds left.
The situation appeared bleak for Thurston when it trailed 48-40 after a Churchill touchdown with 1:39 left. However, the Colts got a touchdown pass from Cade Crist to Caleb Scott with 41 seconds to go, and after failing on the two-point conversion, Austin Watson recovered an onside kick.
That led to the winning kick by Levesque. Thurston botched the blocking on the kick, and Churchill's Jack Blackburn came clean on the right side, but was unable to get his hand on it.
Levesque is the brother of senior Wyatt Levesque, the team's other kicker. Wyatt usually kicks the extra points, but Starck went with the freshman for the winning field goal.
"He's just been a little more consistent in warm-ups and practice," Starck said. "We trust both of them. If he hadn't been there, we would've definitely been confident to put the older one in, too."
Keeping up with Jones
Thurston's comeback overshadowed a big night from Churchill junior running back Deonte Jones, who rushed for 340 yards and six touchdowns on 30 carries.
In the six games since transferring to Churchill from Gadsden City, Ala., the 6-0, 185-pound Jones rushed for 1,353 yards and 19 touchdowns, averaging 14.7 yards per carry.
Jones started the season as the backup at Gadsden City before moving to Eugene, where his father has been living. He filled a gap for Churchill, which lost starting running back Jaiden Pasillas to a torn ACL in the team's third game.
Lancers coach AJ Robinson said it took Jones a while to adjust to the team's practice habits.
"He's from Alabama, and life moves a lot slower in the South," Robinson said. "Throughout the course of being with us, he figured out the speed and intensity you need to practice with. He kind of realized that he's a pretty good player. I don't know that he believed that about himself."
Robinson said colleges are just starting to catch on to Jones. Local small colleges and Portland State have shown interest, and Oregon State is the first Pac-12 school to get involved.
"I expect it to pick up pretty quickly," Robinson said. "I don't think a lot of people know him."
Robinson said Jones compares to Lakeridge junior running back Jalen John, who has offers from Oregon, Oregon State and Utah. He said that Jones is "the best I've been around" in Oregon, including his time at West Albany with the LaCoste brothers.
"Deonte is a little more of a speed guy," Robinson said. "He's just a real natural runner. He's real physical for his size. He just runs at another speed than kids in this area. He's the best I've been around."
Thurston's Starck raved about Jones.
"He's phenomenal," Starck said. "He's an all-purpose back with breakaway sprinter speed, tremendous vision and strength. He makes guys miss. The total package. He is by far the best back I've seen since Thomas Tyner."
Tyner was a five-star recruit out of Aloha in 2013.
Record alert
Wilsonville senior quarterback Nathan Overholt took a big step toward a state record Friday in the team's 78-45 quarterfinal win over Crater.
Overholt completed 28 of 42 passes for 438 yards and six touchdowns, giving him 54 scoring passes this season, third on the all-time state list behind Beaverton's Taylor Barton (56, 1997) and West Linn's Tim Tawa (55, 2015).
The 6-3, 190-pound Overholt can break the record Saturday when top-seeded Wilsonville (11-0) meets No. 5 West Albany (10-1) in a semifinal at Hillsboro Stadium.
For the season, Overholt has completed 71.2 percent of his passes for 3,265 yards. He has thrown two interceptions.
Wounded Buck
Pendleton's excitement at making the semifinals for the first time since 1977 was somewhat dampened Friday with a knee injury to starting quarterback Trent Sorey.
The senior went down in the first quarter of the third-seeded Buckaroos' 21-14 quarterfinal win over No. 6 Scappoose and did not return. He is scheduled for an MRI on Tuesday, according to coach Erik Davis.
"Right now the best-case scenario, it's MCL," Davis said. "Worst case, it's ACL and MCL. We'll hope for the best. I don't expect to have him this week."
Assuming Sorey is out, Pendleton (10-1) will go with the backup quarterback, junior Cooper Roberts, in the semifinals against Thurston on Saturday. Roberts played the final three quarters against Scappoose.
"We really threw him into a situation," Davis said. "It took a quarter or two to get Cooper going with the speed of the game. But by the end, man, he was really managing the game well.
"I've got to fit 11 weeks into one week to get him dialed up and ready to go."
Roberts (6-3, 190) is more of a true passer than Sorey (6-1, 170). The team will need to modify its read running game to suit Roberts, Davis said.
The coach said the vibe in Pendleton is "absolutely electric" with the team reaching the final four.
"I think they're just excited to have something to cheer for," Davis said. "They kind of needed this. It seems like every week, another business or another family provides a meal or a donation. It's really a cool atmosphere right now."