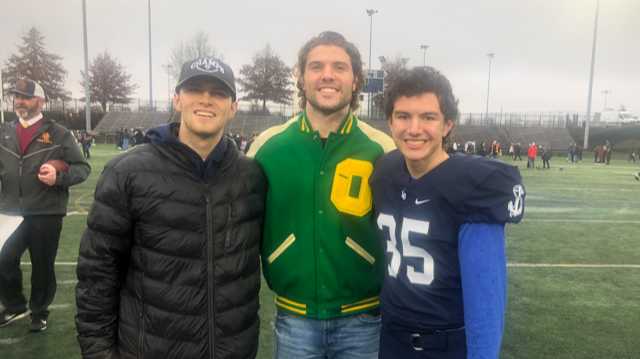 HILLSBORO: There was at least one Lake Oswego fan wearing a broad smile Saturday afternoon despite the 49-28 loss at the hands of Central Catholic in the OSAA / OnPoint Community Credit Union 6A state championship game. And it wasn't just because he was Player of the Game for Oregon on Friday night in the Pac-12 championship game.
Brady Breeze, whose career-high nine tackles, interception and pass breakup sparked the Ducks to a 37-15 win over No. 5 Utah in Santa Clara, couldn't go wrong whether Central or Lake Oswego raised the blue trophy at Hillsboro Stadium. Breeze graduated from Central Catholic in 2015 and was part of the 2014 Ram team that went 13-1 and trounced Tigard, 49-0, to repeat as state champions. Breeze's two younger brothers, Bryson and Brock, bleed Laker blue. Bryson graduated last year with a state championship of his own. Brock, a sophomore, was in uniform for Lake Oswego in the Lakers' quest to win again. The game could have gone either way before two late Ram touchdowns sealed Central Catholic's third state title this decade.
Breeze, a junior at Oregon, got only a few hours' sleep last night before rising early to make the drive to Hillsboro.
"It was definitely worth it," he said. "I couldn't miss it."
Breeze spent the first half of the game on Central's sideline and much of the second half hanging out with his brother on LO's side. Short of wearing one of those "divided loyalty" shirts that parents sometimes where when they have dual rooting interests, that's about as neutral as you can get.
"I've been trying to talk to both sides," Breeze said. "I was just rooting for a close game and wanted both teams to be happy. I kind of got what I wanted. I thought both of these teams would be able to play each other in the championship. I've been watching them the whole season and seeing how things have been going. It's cool to be seeing them playing each other."
Hillsboro Stadium holds fond memories for Breeze. It was where his Central Catholic team celebrated winning state.
"Winning the state championship was fun but to win the Pac 12 championship, with all the work you put in and going 4-8 my freshman year, that one felt pretty good," he explained. "It was definitely something special."
The junior said there have been some difficult times in Eugene hunting for playing time.
"Last year I was riding the bench waiting for my opportunity," he said. "It was really hard mentally but I had long talks with my parents; they told me to be patient. This year I started to get some opportunities and made the best of them."
Just like Central Catholic did with the state championship on the line.