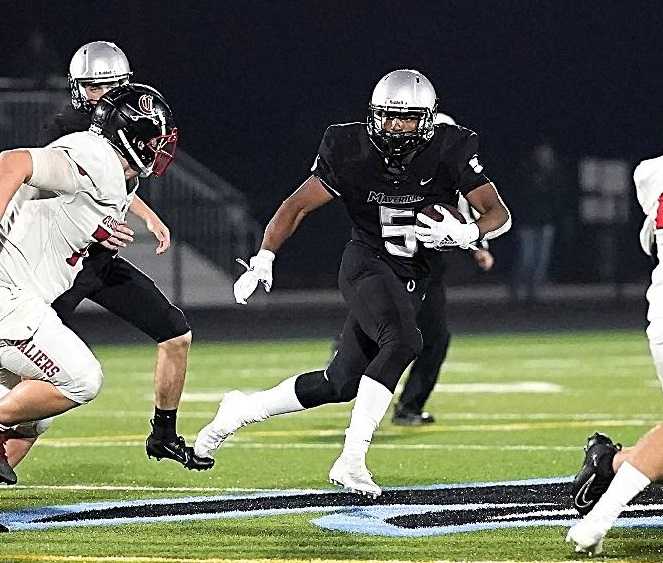 BEAVERTON – Two years ago, the fledgling football program at Mountainside could only have dreamed about beating state powerhouse Clackamas in a playoff game.
Much has changed in two years, though, and Friday night the Mavericks made school history with a 17-7 win over the visiting Cavaliers in a 6A first-round contest.
Sophomore quarterback Brian Mannion, in his third varsity start, threw two touchdown passes to junior Andrew Simpson and the defense came up with several big plays to subdue the Cavaliers (4-5). The 16th-seeded Mavericks (7-3), who went 3-6 in their first varsity season last year, advance to a second-round game at No. 1 seed Tigard (10-0).
"If I was told as a sophomore, 'Oh, we'll be making the playoffs, and we'll go to the second round,' I'd be like, 'I don't know about that,'" senior receiver and defensive back Carlos Montero said. "Now I feel like anything is possible."
Junior running back and linebacker EJ Broussard said the win "means everything" to Mountainside.
"It's never been done, so to be out here, second year in the history of the program, winning the first round of the playoffs, it's unbelievable," Broussard said. "It's definitely earned, definitely worked hard for. I'm just excited, living in the moment right now."
Mountainside coach John Mannion, who left 5A Silverton to start the program, acknowledged that the game "wasn't the prettiest" he has seen, but he took great pride in what his players had done.
"Two years ago, just having to rally together, coming from different schools, these guys from Day 1 have been fantastic," he said. "They set the standard as far as how we work and how we try to compete hard every week. So for them to be validated with winning a playoff game, I couldn't be more happy for a group of guys. They deserve that."
It was a much different story on the other side of the field.
The Cavaliers, who won the 6A title in 2017 and made the semifinals last year, struggled this season in their transition from coach Joe Bushman to Terry Drake. And they were thrown a curveball before their regular-season finale when Drake announced he was taking season-ending medical leave, which put the team in the hands of offensive coordinator Randy Fisher.
"Just the whole setting of our team has changed because we lost Bushman," senior receiver Richard Kennewell said. "Bushman was a big part of us. … This year has definitely been strange, for sure. It's not been a normal year, whatsoever. I just wish it could've been different."
No. 17 seed Clackamas lost despite owning a 380-255 edge in total yards. Senior quarterback Austin Atkeson completed 24 of 36 passes for 354 yards and one touchdown, but threw two interceptions in the red zone and lost a fumble that led to a field goal in the fourth quarter.
Clackamas had several bad breaks in the first half.
Atkeson drove the Cavaliers down the field on the game's first series and appeared to connect with Kennewell on a nine-yard touchdown pass, but Kennewell was ruled out of bounds. On the next play, Atkeson was intercepted by Simpson.
Clackamas drove into the red zone again on its next possession and was facing fourth-and-9 at the 16-yard line. But officials lost track of downs during the series and ruled that the Cavaliers had turned the ball over.
In the final minutes of the first half, Clackamas was called for a personal foul for running into the punter. Two plays later, Mannion lofted a 22-yard touchdown pass to the 6-foot-1 Simpson, who won a jump ball against Clackamas senior JeanEllie Fleck in the end zone.
"We had height on them, so we felt like we could jump over them," said Simpson, who had five catches for 105 yards.
On the first series of the second half, Mannion connected with Cordero on an inside screen pass for what appeared to be a 77-yard touchdown pass, but an illegal block brought the ball back to the Clackamas 30. Mannion then hit Simpson for a 29-yard touchdown pass on a fade route to make it 14-0.
The 6-1, 170-pound Mannion, the brother of NFL quarterback Sean Mannion, finished 10 of 17 for 197 yards and two touchdowns without an interception. In three starts, he has thrown eight touchdown passes.
"I'm a lot more confident out there," he said. "Just looking back at the first quarter of my first game, I was rushing things, I wasn't waiting for people to get set. It's a lot better now. There's a lot of room for improvement, though."
John Mannion said his son "is maturing and growing into the position. There's still a ton of room for growth, but you get a playoff win, it's a big deal."
Said Montero, who had four of Mannion's touchdown passes: "I feel like he's stepped up majorly. That's a lot of pressure to just step up, especially late in the season."
Midway through the fourth quarter, Mountainside senior defensive lineman Marlon Sawhill-Barrios sacked Atkeson and forced a fumble at the Clackamas 14, leading to a 32-yard field goal by junior Tyler Dahlback to make it 17-0.
Atkeson scrambled and threw an 80-yard touchdown pass to junior Nick Kennewell to cut the lead to 17-7 with 5:45 left. The Cavaliers drove to the Mountainside 9-yard line in the closing minutes, but an Atkeson pass was tipped by Broussard at the line and intercepted by junior Carson Willner, sealing the win with 1:23 left.
John Mannion marveled at his team.
"We've been underdogs all the way through," he said. "And Clackamas, they've had nine playoff games the last two years, so I knew that was going to count for something."
The Mavericks' confidence is building.
"We know what we can do," said Broussard, who came back after missing two games with a shoulder injury to rush for 64 yards on 23 carries. "We're capable of battling any team in the state, it doesn't matter. We're going to prove that next week. Win or lose, and the rest of how the playoffs go, we're going to show people that we're here to stay."