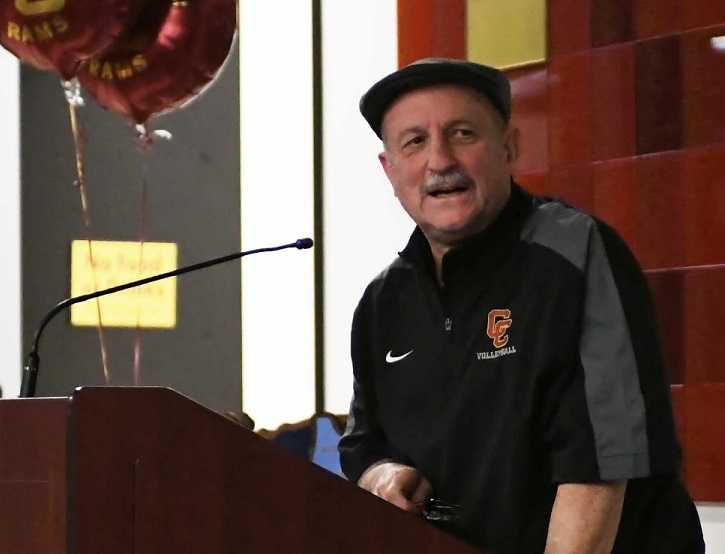 Rick Lorenz never played volleyball. And until he interviewed for a teaching position at St. Mary's Academy in 1976, he certainly had never considered coaching it.
But the way it was explained to him, it was too good to pass up.
"The sister said, 'You're going to win the state title. You've got 10 seniors back, and they just barely lost last year, so if you lose, it's your fault,'" Lorenz recalled. "So I said, 'Well, I'll take it.'"
The newbie guided the team to the big-school championship in 1976, and so began a Hall of Fame coaching career. Between St. Mary's Academy (1976-86), Lake Oswego (1987) and Central Catholic (1988-present), Lorenz has a record of 1,343-204 with 11 state titles and 12 runner-up finishes in 44 seasons.
It all comes to an end Friday and Saturday when Lorenz, 70, takes his second-seeded Central Catholic team into the OSAA/OnPoint Community Credit Union 6A tournament at Liberty High School. The coach said he feels good about his decision to step away.
"It's time. I've had a great run," he said. "There's been a lot of coaches who haven't been as blessed with the talent I've had. I fell into the right place at the right time. I've been given a lot and I expect a lot.
"We've won some titles that I didn't think we were going to win and we lost some that I thought we should have won. But our motto has always been, 'We want to be in the hunt.'"
The Rams (25-3) should be in the thick of things this weekend. They have a deep, experienced squad that features senior Mia Jordan, a Cal State East Bay commit who has a team-high 378 kills, and senior outside hitter Julia Carr, the Mt. Hood Conference player of the year. They also have a motivational edge in their sendoff for Lorenz.
Central Catholic last won the title in 2016, losing in the final in 2017 and the quarterfinals last year. But the Rams appear to have as good of a chance as any team in a balanced 6A field.
"I think it's a pretty wide-open tournament," Lorenz said. "There's no dominant team, and I think that's pretty fun. I look at the eight teams that are left, and gosh, any one of those teams can get hot. I just hope it's us."
It will be the 24th consecutive state tournament for Lorenz, who has gained a new perspective on the event over the years.
"I don't get as hyped up. I kind of don't get nervous," he said. "I kind of enjoy it a little bit more."
Lorenz played basketball at Bishop Blanchet High School in Seattle and for one season at Seattle University. He had designs on being a basketball coach, but after one season as an assistant at St. Mary's Academy, he committed to volleyball.
His first volleyball team at St. Mary's Academy had a "ton of talent," he said, led by a dominant hitter in Anna Maria Lopez and a top-notch setter in Mo Clifford. He leaned on the players' expertise early.
"I told them, 'You're going to teach me. I will get you in condition,'" Lorenz said.
Lorenz coached the Blues to state titles in 1976, 1977, 1982, 1984 and 1985. After moving on to Central Catholic, he struggled to break through against powerhouse Gresham and Barlow teams in the Mt. Hood Conference, finishing as state runner-up four times from 1992 to 1996.
Then-West Linn coach Jim Kirby teased Lorenz by giving him the football card of Buffalo Bills coach Marv Levy, who lost four consecutive Super Bowls in the early 1990s. Lorenz got back at Kirby in 1997 when Central Catholic beat West Linn in the state final.
"I gave him back his Marv Levy card," Lorenz said.
There would be more second-place finishes for Lorenz, but also titles in 2000, 2009, 2010, 2011 and 2016. Still, he said, it would be hard to find one that was more satisfying than his first in 1976.
"I was still in my learning process," he said. "The girls I had – the 10 seniors and two juniors – just had great team chemistry."
He said that the Central Catholic teams that won three consecutive titles from 2009 to 2011 – featuring standout hitter Martenne Bettendorf – were comparable to his first St. Mary's Academy squad.
"They were different types of teams because the game was different, but talent-wise, they were about equal," he said. "The '09, '10, '11 teams were probably the most balanced. We had everything we needed."
Central Catholic gave Lorenz a send-off party following a playoff match Oct. 30, with about 300 attending. Lopez and Clifford were among those taking turns speaking about the coach as it turned in a roast of sorts. Lorenz got his turn on the mic, though.
"I got the last shot in," he said.
Next season, the Rams will try to maintain Lorenz's high standard without him. Assistant Kayla Hambley will take over as coach, and longtime assistant Malcolm Doi will stay on to help.
As for Lorenz, he will continue to run the team's Rose City Volleyball Club feeder program.
"So I'll be around," he said.
A look at the state tournaments, set for Friday and Saturday:
6A, at Liberty High School
Jesuit (22-4), going for its second title in a row and fourth in six seasons, enters as the No. 1 seed. The Crusaders have a balanced attack led by 6-0 junior Maddy Dowdall (261 kills, 33 blocks) and junior setter Alison Buchholz (682 assists). Two of Jesuit's losses came against No. 3 Mountainside (22-6), which has an outstanding all-around player in 5-8 senior setter/outside hitter Izzi Szulczewski (10.5 kills per match). It is the first state tournament for Mountainside, which opened in 2017. No. 2 Central Catholic (25-3) has lost only to Jesuit, No. 4 Sheldon (23-6) and No. 5 West Linn (22-5). West Linn, a semifinalist the last two years, has a collection of dangerous hitters led by 6-2 junior Audra Wilmes, who has committed to Washington. Upstart Canby (15-6), the No. 11 seed, could surprise behind junior hitter Daley McClellan (471 kills, 977 attempts). No. 8 Summit (19-6), which made the semifinals last year, is back with the return of coach Jill Waskom, who is coming off a one-year hiatus. She guided the Storm to 5A titles in 2011 and 2015. No. 7 Sunset (20-6), playing in its fifth tournament in six years, has senior middle blocker Krista Santos (229 kills).
5A, at Liberty High School
Reigning champion Corvallis (17-4), led by University of Portland-bound senior hitter Ryann Gregg (.464 hitting efficiency, 4.9 kills per set), enters seeded fourth. Corvallis split two Mid-Willamette Conference matches with No. 3 West Albany (22-3), the only losses the teams have had against 5A competition. West Albany, a 5A semifinalist last year, has senior libero Sydney Backer (6.6 digs per set). Top-seeded Ridgeview (22-4), last year's runner-up, is led by senior outside hitter Rylee Troutman, who has committed to Corban University. Ridgeview's only losses this season came against 6A teams Sheldon and South Eugene. No. 2 Wilsonville (21-2), a quarterfinalist last year, has the two-time Northwest Oregon Conference player of the year in 6-1 senior outside hitter Lindsey Hartford (.359 hitting average). The Wildcats won two of three 6A tournaments and did not drop a set in the NWOC. Senior middle blocker Kenna Woodward (345 kills, 48 block kills, 43 aces) leads No. 5 Crook County (20-8, which reached the quarterfinals last year. No. 6 North Eugene (16-5) has junior Alexis Hobie (242 kills, 171 digs, 24 aces), the Midwestern League player of the year.
4A, at Forest Grove High School
Valley Catholic (23-3), which won the title last year and finished as runner-up in 2017, is seeded first. The Valiants, whose only loss to a 4A team this season was against No. 10 Philomath, have the Cowapa League player of the year in 6-0 senior setter Allie Merz (763 assists) and 6-1 junior middle blocker Maddie Klopcic (236 kills). They defeated 6A No. 1 seed Jesuit on Oct. 19. No. 2 Sisters (24-3) and No. 3 Sweet Home (19-2), semifinal teams last year, split two matches in the Oregon West Conference this season. Sisters has made it at least as far as the semifinals the last six years, winning titles in 2014. 2016 and 2017. No. 6 Hidden Valley (18-4) is appearing in its sixth consecutive tournament. No. 12 North Marion (18-6) knocked off fifth-seeded Astoria 3-2 to make the quarterfinals for the first time in 29 years. Philomath (15-10) is in its first tournament since 2013.
3A, at Forest Grove High School
Top-seeded and reigning champion Santiam Christian (23-0), the state's only unbeaten team, will be going for its seventh title since 2009. The Eagles won 64 of 71 sets this season behind 5-11 senior Kassie Staton (292 kills, 266 digs, 56 aces, 24 blocks), 6-0 junior Emily Bourne (281 kills) and 5-7 senior Josie Risinger (754 assists, 44 aces). The No. 2 seed is Salem Academy (17-7), which took Santiam Christian to five sets at the Eagles' tournament Oct. 12. Salem Academy has the PacWest Conference player of the year in 6-1 senior outside hitter Chloe Baker (327 kills). Teams returning after losing in the quarterfinals last year are Salem Academy, No. 3 Creswell (19-8), No. 6 Burns (25-6) and No. 7 Horizon Christian (13-6). No. 5 South Umpqua (18-7) is back after reaching the semifinals a year ago. No. 13 Vale (15-11) surprised No. 4 seed Catlin Gabel 3-1 to make the tournament. Vale's only 3A loss is to Burns. No. 8 Sutherlin (18-9), behind the Far West League player of the year in senior outside hitter Alyssa Fox (319 kills), will appear in its first state tournament since 2015, when it played in 4A.
2A, Ridgeview High School
No. 1 Kennedy (30-1), which has lost only to 4A Sweet Home, goes for its first title after losing in the semifinals two years in a row and four of the last five seasons. The Trojans have a dominant middle blocker in 6-0 senior Sophia Carley. Like Kennedy, No. 2 Central Linn (20-3) also has lost in the semifinals the last two years. The Cobras, who fell to Kennedy 3-0 on Sept. 5, are led by 5-11 senior outside hitter Sydney Northern (18.1 kills, 15.8 digs, 2.5 aces per match) and senior libero Josie Nealon. No. 4 Portland Christian (25-3), last year's champion, enters on a 23-match winning streak. Royals senior setter Madeline DeLucia was the Northwest League player of the year and senior libero Maddy Files is a three-time, first-team all-league pick. No. 12 Grant Union (14-16), the 2017 champion and last year's runner-up, has made the final four the last five years. The Prospectors made it back to state despite losing nine of their first 10 matches. They won at No. 5 Monroe 3-1 in the playoffs. No. 3 Union (23-3), which has not lost to a 2A team this season, has made the tournament for the first time since 2014.
1A, Ridgeview High School
A field chock-full of contenders should produce an entertaining tournament. No. 3 St. Paul (26-5), which lost only its libero from last year's undefeated champion, is a force. The Buckaroos' only Oregon losses are to 2A powers Kennedy and Portland Christian. They have a diverse attack that features senior middle blocker Erin Counts (124 blocks) and high-flying 5-8 senior Belle Wyss (354 kills). No. 1 Powder Valley (32-1), last year's runner-up, has won 26 in a row since losing to 4A La Grande. Junior setter/outside hitter Brooke Allen is the Old Oregon League player of the year. The Badgers suffered a blow, however, when first-team all-league junior middle blocker Belle Blair went down with a season-ending ankle injury three weeks ago. No. 2 Days Creek (27-2), tripped up in the quarterfinals the last three years, is another serious threat with junior Ashtyn Slater (308 kills, 126 aces) and seniors Moriah Michaels (293 kills, 231 digs) and Joleen Crume (260 kills). The Wolves' only 1A loss was 2-0 to Powder Valley on Aug. 31. Watch out for No. 4 Country Christian (24-10), which won four titles in a row before missing the tournament last year. The Cougars lost their first three matches to No. 9 Damascus Christian (27-3) this season, but defeated the Eagles 3-0 in the Valley 10 League playoffs.