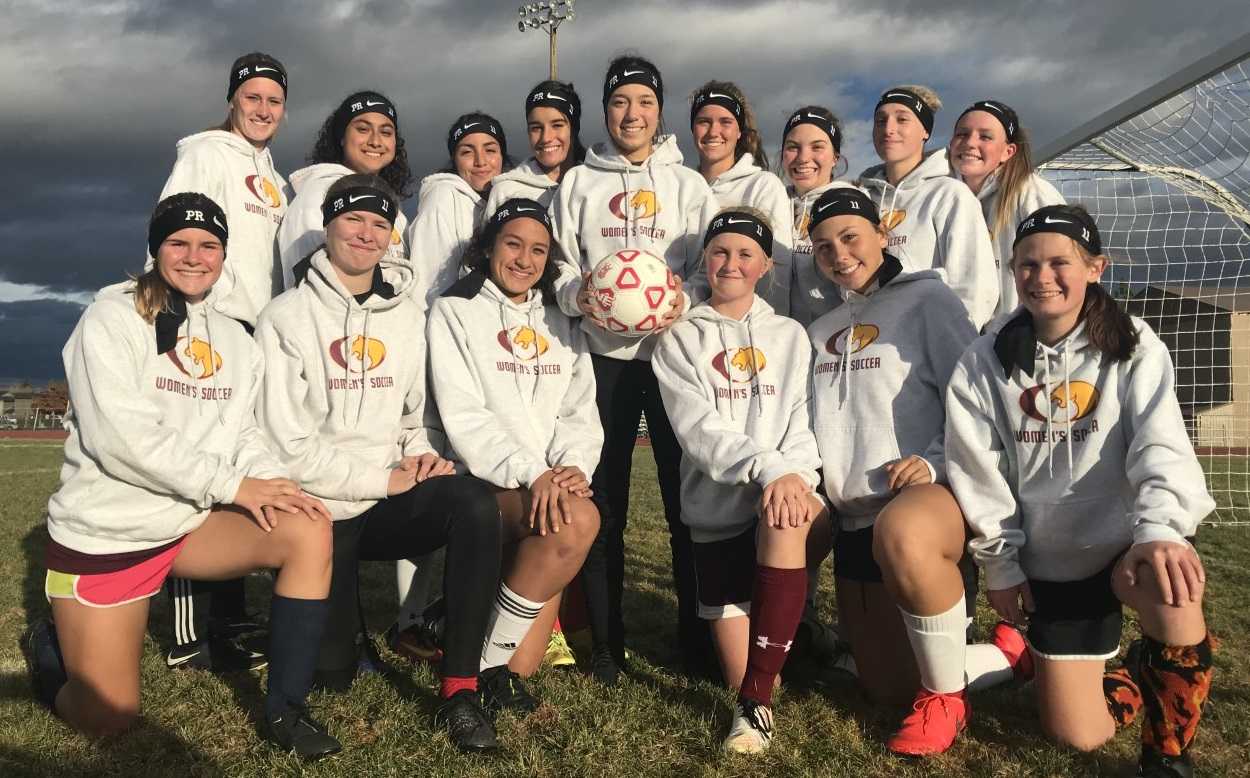 Payton Rogerson's junior soccer season at Redmond was supposed to be the time of her life.
A two-year letter-winner, the forward was primed for a breakout year, and was excited about the possibilities for the up-and-coming Panthers.
"I remember the preseason, I just had the confidence of being an upperclassman," she said. "I was like, 'Wow, junior year, this is going to be my year. I'm going to have a great season.'"
Last month, though, her season – and life – took a major detour.
Rogerson, 16, wasn't alarmed this summer when she learned that a growth in the area of her neck and right shoulder was a tumor. She was told the chances of it being cancerous were about one percent.
But following a Sept. 11 surgery – during which part of the tumor could not be removed because it was engulfed in nerves – she was told that those odds went to 50 percent.
Two weeks later, the news came that she has synovial sarcoma, a rare form of cancer that impacts soft tissue. She would be undergoing four months of treatment, starting with a round of chemotherapy Oct. 11.
Through it all, she has stuck with her team, attending practices and games. She has played in two matches since the surgery, even recording a hat trick in one.
The Panthers – who wear "PR-11" headbands, marking Rogerson's initials and uniform number -- have rallied around her.
"They've done everything for me," Rogerson said. "Going through chemo, I didn't have much motivation for school, but soccer is where I want to be, and with those people. They are all so supportive. I don't think I'd be where I'm at without them, like how happy I am going through this. They really keep my spirits up."
Rogerson first noticed something was wrong in the spring, when she pitched for Redmond's softball team. She felt pain in her neck and shoulder area, but said she "didn't really think anything of it," assuming it was related to the stress of pitching.
"After the season ended, into the summer, I started to see a bump growing," she said. "I thought it was just a huge knot and I just needed to rub it out. But I'd try to rub it out, and it would be really painful."
On July 4, she finally told her parents, who took her to a doctor. After tests, she was told it probably was a nerve sheath tumor and was likely to be benign, although subsequent tests proved inconclusive.
The surgery at Oregon Health & Science University Hospital in Portland was supposed to be a simple, one-hour procedure, but due to complications, it took four hours. About 85 percent of the tumor was removed.
"Me and my family weren't too worried going into the surgery," Rogerson said. "They thought they would just go in, cut the whole thing out, and I would be OK. But when they opened it up, they realized there were four nerve roots kind of wrapped up around it, and if they were to remove them, I would've lost the use of my right arm."
Rogerson had to wait two weeks after the surgery to find out if the tumor was cancerous. She was in school when her father, Jason, arrived to tell her the news.
"It was very confusing, I guess, because it just kind of hit, but I don't think at that point I let it sink in," she said. "I had prepared myself. I had my thoughts already about, 'What if it is, what's going to happen?' So I prepared myself for the worst. It wasn't that hard to hear initially, it was more after letting it sink in for a while that it started to scare me."
Redmond coach Martha Segura found out about it from athletic director Kevin Bryant.
"That was hard news for all of us," Segura said. "I went to the school and met with her that day. I was just a sobbing mess. I was crying, and she was totally fine. I couldn't believe how strong she was."
After school, Rogerson stood up before the varsity and JV teams and told them about her diagnosis.
"She hadn't had a treatment plan yet," Segura said. "All she knew was that it was cancerous and they didn't get all of it. There were tears in a few of our girls' eyes, but she remained stoic when she told them."
When Redmond beat Pendleton 10-0 on Sept. 26, Rogerson broke down crying as she stood by herself while the teams exchanged postgame high-fives. Segura consoled her.
"She just said, 'I wanted to be a part of that so bad.' I said, 'You are, it's OK,'" Segura said.
Rogerson got back on the field for the team's Oct. 8 game against The Dalles, and had a goal disallowed by a handball in a 1-0 loss. Two days later, though, she scored three goals in a 7-0 win over Crook County.
"It was one of the best days of my life," Rogerson said. "I tried to be there for my team as much as I could. I went to a game the day after my surgery, but it's way different when you're actually out on the field getting to play with the people you love so much, rather than just watching them."
Rogerson's hat trick stirred the team's emotions.
"I was just so happy for her," Segura said. "I had tears in my eyes when she scored that third goal."
Rogerson started chemotherapy the next day. She wasn't able to travel with the team to Thursday's 5-2 win at Pendleton, but the team sent her flowers and a note "just to let her know we were thinking about her, that even though she couldn't be with us, that we would bring back the win for her," Segura said.
She was cleared to practice Friday with no contact, so she did some skill work and went for a jog. She is hopeful to play Tuesday when the Panthers (5-5) try to extend their winning streak to three at home against rival Ridgeview (6-3).
Rogerson is scheduled for a second round of chemotherapy Nov. 4. If any cancer remains after completing the four rounds, it would need to be removed surgically, which could result in the temporary or permanent paralysis of her right arm.
She is encouraged by her prognosis, though. A scan revealed that the cancer had not spread, and she remains hopeful of resuming her softball career.
"They believed that I wouldn't be able to play softball again," she said. "But just recently my plan was changed to where there's a good chance that I won't need another surgery. They think that the chemo and radiation might be enough."