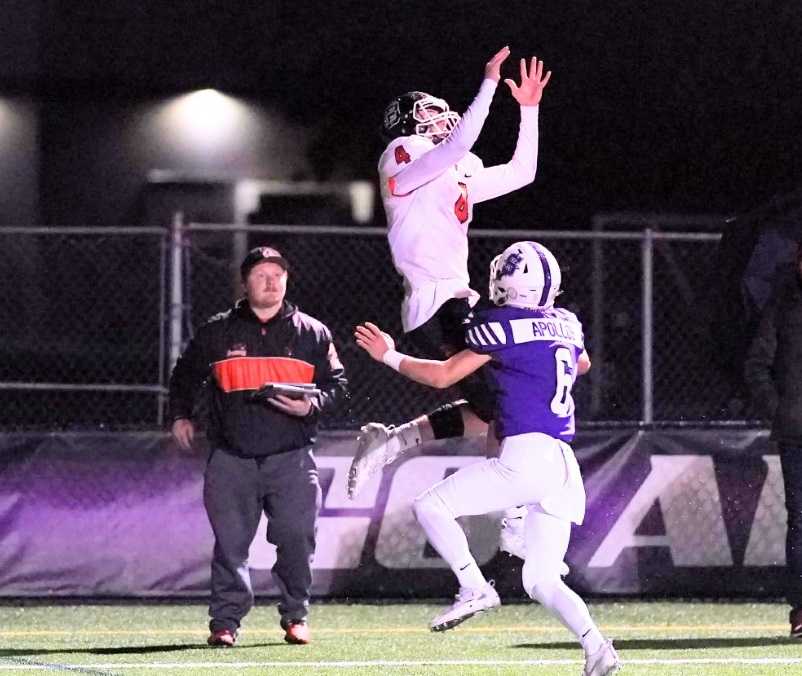 BEAVERTON -- If Beaverton's football team felt any nerves heading into its biggest game of the season Friday night at Sunset, Trent Walker put them at ease in 13 seconds.
That's how long it took the 6-foot-3 junior to return the opening kickoff 98 yards for a touchdown, setting the tone for a wire-to-wire, 48-34 win that leaves the No. 7 Beavers alone in first place in the 6A Metro League.
The No. 10 Apollos won the coin toss but deferred to the second half, and Walker made them pay.
"That's exactly how we wanted to start off the game," Walker said. "My team created a huge hole for me, and I took it from there. There's no better sight than that."
The Beavers (6-1, 3-0) avenged last year's 54-21 loss to Sunset and showed that they have come a long way since finishing 4-6 in 2018. In their last three games they have beaten West Salem 28-21, Mountainside 21-14 and Sunset, all teams with winning records.
"The kids were pumped for this one," Beaverton coach Bob Boyer said. "All week long we've been talking about how you've got to earn your respect. We won last week and people still were doubting us, so we were pumping that up with the kids."
Walker caught an 18-yard touchdown pass from senior Carson Budke on Beaverton's second possession to make it 14-0, and the Beavers kept Sunset at arm's length the rest of the way.
"We knew we needed to jump on them," Boyer said. "We gave them a couple more points than I wanted to, but the thing is, every time they did it, we responded and kept going."
The win puts Beaverton in prime position to win its first Metro League title since going back-to-back in 2002 and 2003. With two games left, the Beavers are ahead of Aloha (6-1, 3-1), No. 4 Jesuit (5-2, 3-1) and Sunset (4-3, 2-1). They play at Southridge (2-5, 0-3) next week before finishing the regular season at home against reigning league champion Jesuit.
"We're moving on to Southridge. It's Southridge, Southridge, Southridge. We've got to get that win," Budke said. "Our goal at the beginning of the season was to be playing Jesuit in the Metro League championship at the end."
The Beavers are relishing their opportunity.
"After how our season went last year, we just wanted to try to get better," Boyer said. "If you would've told me we'd be sitting at this spot right now, I'm not sure … I told them at the end, this was a great game, but all I care about is Monday."
Budke completed 19 of 32 passes for 288 yards and four touchdowns, one each to Walker, seniors Cody Davidson and Parker McKenna and sophomore Cristian Gonzalez. Walker had seven catches for 96 yards, Davidson five for 77 and Gonzalez four for 92.
"We had so many guys making plays tonight," Budke said.
For Budke, the win served as redemption for last year, when he was outplayed by Sunset's Callum Craig.
"That hung with me especially because I got second team last year," Budke said. "After we lost that game last year, I thought, 'I'm probably not getting first team.'"
The 6-1, 215-pound McKenna, a standout at linebacker, was a wrecking ball at running back, smashing through the Apollos for 87 yards and one touchdown on 11 carries and turning a screen pass into a six-yard score. Entering the game, he had only 23 carries and 241 yards as a complement to senior Logan McRae.
"It's nice having two running backs who can get it done," Budke said. "Logan is a little big faster, but Parker will just put his shoulder down and nobody can tackle him, and he's fast. He's probably the best athlete on our team overall. You see it the way he flies around on defense."
Boyer also praised McKenna.
"Defensively, he's our playmaker on that side, but he's been doing a little bit more at running back," Boyer said. "The kid's a man among boys out there."
Sunset got touchdown runs of 11 yards and one yard from 197-pound sophomore Caleb Kim to stay within 21-13 at half. But Beaverton extended the lead to 34-13 in the third quarter as McKenna and McRae ran for touchdowns of 16 and six yards, respectively.
McRae's score was set up by an interception from junior linebacker Gavin Fitzhugh, who stepped in front of a screen pass.
"He was making plays all night," Boyer said of Fitzhugh.
Sunset's Craig threw three touchdown passes in the fourth quarter – seven and 22 yards to senior Jake Eilers and 43 yards to junior Connor Stevens – but the Apollos could not get close as Budke answered with scoring passes of 17 yards to Davidson and 77 yards to Gonzalez.
It was a spotty night for Craig, who was 1 for 7 for 35 yards in the first half and finished 14 of 29 for 224 yards and three touchdowns with one interception. The late burst gave Sunset a 437-405 edge in total yards, but it was little consolation for the Apollos, who were coming off a 37-14 win at previously undefeated Aloha.
"The first half, we didn't play well," said Craig, who also rushed for 97 yards on 14 carries. "We were flat. We didn't do what we wanted to on offense. We didn't execute very well. Towards the second half, we got it rolling, and you could see that. But the first half is what killed us.
"We've got to go harder in the first half. I think that's what we learned from this week."
Stevens had four catches for 105 yards for Sunset, which also got 86 yards on 16 carries from Kim.