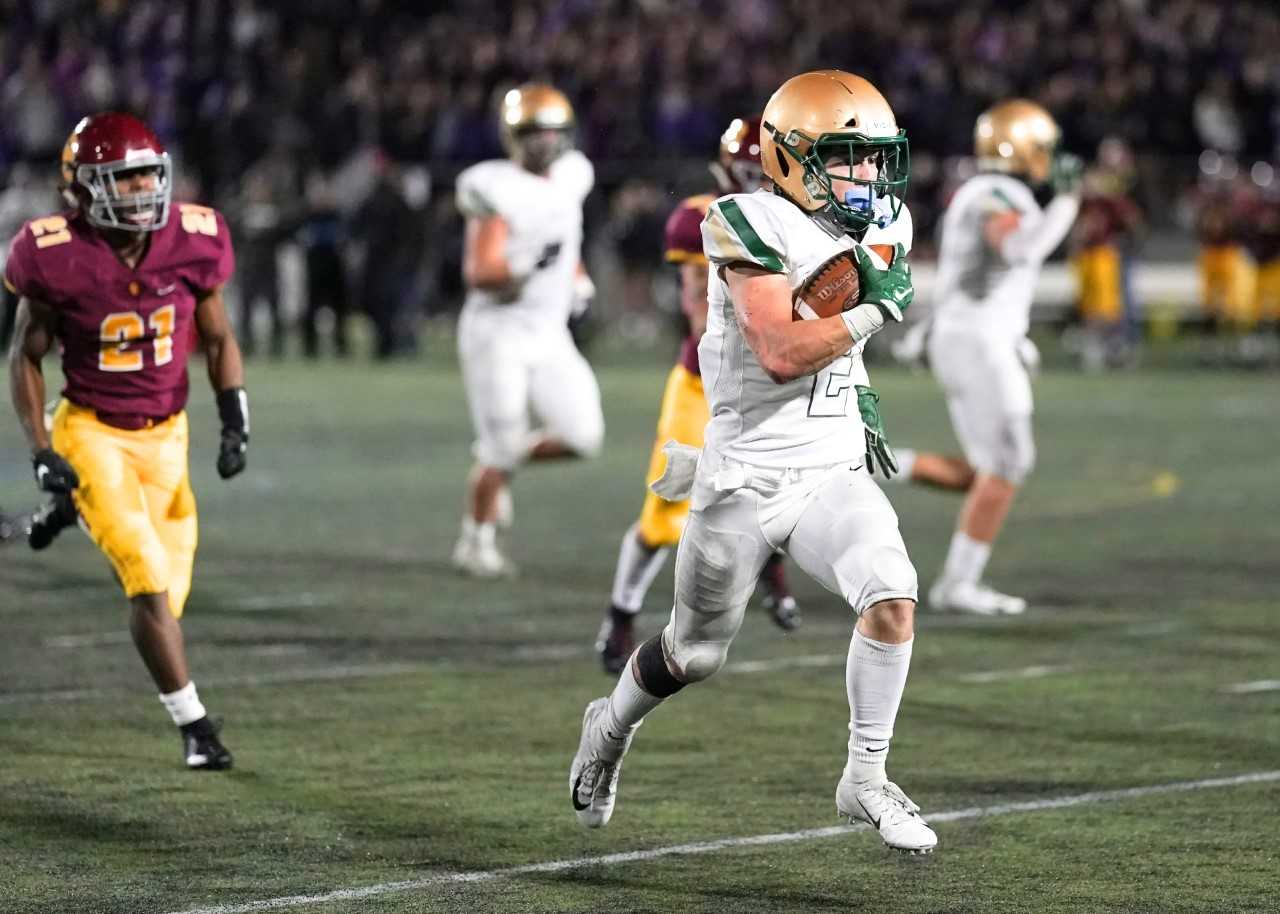 HILLSBORO – Any lingering doubts about Jesuit's running game in the wake of a season-ending injury to running back Andy Alfieri were answered in spectacular fashion Friday night.
The sixth-ranked Crusaders put on a clinic at Hillsboro Stadium, rushing for 485 yards to beat back No. 3 Central Catholic 42-26 in 6A nonleague football game.
Senior Kade Wisher ran for 317 yards and four touchdowns on 27 carries and senior Ted Atkinson added 167 yards and two scores on 14 carries as Jesuit (3-2) bounced back from last week's overtime defeat to Aloha, which ended its 43-game Metro League winning streak.
"Kade is an amazing runner, and he and I combined, I personally don't think anyone in the state can stop us together," said Atkinson, who missed last week's loss due to illness. "The line is amazing. They put everything on the line, literally and physically."
Jesuit beat Central Catholic in the rivalry game for the second year in a row to extend its edge in the series to 23-15-1. More important, the Crusaders got a win to rinse the taste of last week's loss.
"We just had to bounce back," senior right guard Nick Noonan said. "We had to come out swinging, come out and respond, show the state who we are. I think we showed them."
Wisher scored on runs of 1, 20, 54 and 55 yards and Atkinson found the end zone from 59 and 54 yards. On the long runs, they cruised virtually untouched through the heart of Central Catholic's defense, most of the time behind the blocking of Noonan (6-2, 295) and junior right tackle Declan Quillin (6-2, 295).
"Central's D-line is pretty good, but Declan and Noonan really have good size," Wisher said. "We drive sleds Mondays and Thursdays – start the week strong and finish the week off right – so it all comes from that, Declan and Noonan really getting the push and opening up some holes for us to run through."
With the running game in high gear, Crusaders senior quarterback Jack Heyden threw only three passes, completing two for 40 yards. Quillin said that the offensive line, traditionally known as "The Franchise" at Jesuit, is starting to come around.
"We haven't been playing our best," Quillin said. "This was the week last year when we turned it around and really started playing Jesuit football. We really started to be ourselves. It was really important for us to come out this week hard and fast and physical."
Crusaders coach Ken Potter said that his offensive line – which has three new starters, two of whom played tight end last season – needed time to come together.
"They're just learning their positions," Potter said. "Tonight was by far their best game. They really gelled, came off the ball and did things really well together. They opened up some hellacious holes out there."
The 5-9, 160-pound Wisher, who ran for 276 yards last week, had a career high for the second game in a row.
"He's seeing the holes better, and he's very quick," Potter said. "And when Ted got in there, he made some great plays, too. It's nice to have two backs so you don't have to have one carry the ball 35 times. That hurt us last week without Ted."
Central Catholic (3-2) had its moments.
Rams senior Cade Knighton completed 21 of 32 passes for 404 yards and three touchdowns, two to senior Kalvin Souders (four catches, 104 yards) and one to senior Silas Starr (six catches, 185 yards). But after scoring the game's first touchdown, a 12-yard run by senior Elijah Elliott, the Rams seemed powerless to stop Jesuit's running game.
Central Catholic coach Steve Pyne, forced from his Vancouver home this week after it was struck by lightning, had to feel as if he was struck again during a second quarter in which the Crusaders rushed for 224 yards, 166 by Wisher.
After Souders caught a 29-yard touchdown pass from Knighton to pull the Rams within 14-13 midway through the second quarter, Atkinson and Wisher scored on runs of 59 and 54 yards, respectively, to give Jesuit a 28-13 halftime lead.
"We knew they could run the football, there's no question about it," Pyne said. "They probably out-physicalled us at the point of attack tonight, and we've got to learn from it."
How much of it had to do with Jesuit's blocking and Central Catholic's failure to close the holes?
"Little bit of both," Pyne said. "Defensively, we did some things that we thought would work, and we didn't really execute very well. Good response by them after last week, and we've got some work to do."
Atkinson scored on a 54-yard run to open the third quarter, making it 35-13. Central Catholic got a 61-yard touchdown pass from Knighton to Starr to cut it back to 35-20, but Wisher quickly answered with a 55-yard scoring run for a 42-20 lead.
Knighton connected with Souders for a 53-yard score as Central Catholic pulled within 42-26 with 3:55 left in the third quarter, and the Rams had momentum when senior Jackson Elder recovered the ensuing onside kick.
But Jesuit's defense rose up and forced a punt, and Central Catholic never threatened again.
The Crusaders allowed 442 total yards, the second consecutive game they have given up more than 400 yards through the air, but they made several big plays.
They had four sacks, two by senior linebacker Lucas Christen, and got interceptions from seniors Seth Welsh and Campbell Brandt. Sophomore linebacker Johnny Miller forced a fumble that senior Logan Horton recovered, leading directly to a touchdown run by Wisher.