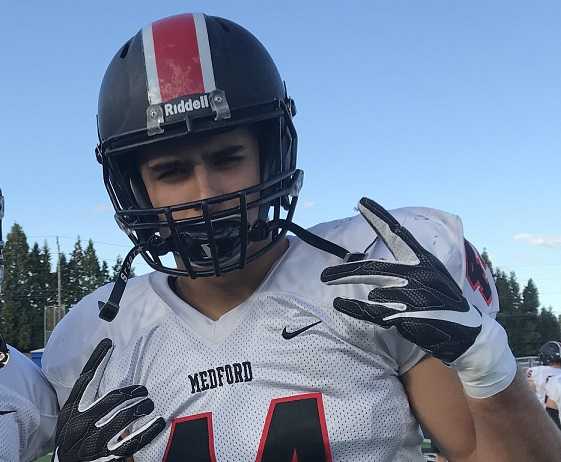 If North Medford senior Eli Spence flew under the radar as a running back entering this season, it's probably because he wasn't known as a running back.
As a junior, Spence spent more time at receiver and tight end, catching five touchdown passes, and had only 32 carries at running back. But that all changed this year when first-year Black Tornado coach Steve Turner walked through the door and declared that the 6-foot-4, 220-pound Spence was his full-time tailback.
"The first time I looked at him it was like, 'Yeah, that's a no-brainer,'" Turner said. "When you have an athlete like that, and you have an opportunity to get it to him 25 times instead of three, it makes sense to me."
The results have been dramatic for North Medford (2-0). In the team's first game, Spence rushed for 343 yards and five touchdowns against McNary. In Friday's 62-16 win over Jefferson, Spence returned the opening kickoff 75 yards for a touchdown and rushed for 186 yards and two scores in the first half before calling it a night.
"He's had a better start than anybody I've coached in the first two games," Turner said.
Spence is averaging 13.9 yards per carry. Turner said that having Spence focus on one position has allowed his natural athleticism to flourish.
"He high-jumped 6-6 as a freshman. And he's our fastest guy," Turner said. "You walk in the gym and you throw him a basketball, he'll stand underneath and two-hand dunk it. The athletic ability is there.
"He's very physical, but yet he's got really, really good speed. His second effort, he makes a ton of yards after contact. People hit him, he doesn't go down. All the intangibles that make a good running back, he's got. And the kids like blocking for him, too."
Turner said he believes Spence has the physical tools to play in a major-college program, although he has not heard from college coaches about him.
"I've watched Wyoming play, and he'd fit great as a tailback in their offense," Turner said. "He can run the football. There's no doubt about it, he has the speed to do that. If somebody wants to make him a tight end, he'd be a great tight end."
300-win club
Tigard's Craig Ruecker became the fifth coach in state history to reach the 300-win plateau when the Tigers (2-0) beat Barlow 58-14 on Friday.
Ruecker has a career record of 300-153 in 42 seasons at Reynolds (1977-81), Glencoe (1982-2003), Redmond (2004-08) and Tigard (2009-present).
"I didn't get there. We got there," Ruecker said of the milestone. "While it is humbling to get to this place, it's never been about me, it's always been about we. I've been a blessed guy to have a wonderful wife and great coaches, because you don't coach football by yourself. And great kids."
The top three coaches on the all-time list are retired: Dewey Sullivan (352-84-2), Thurman Bell (331-154-1) and Kent Wigle (306-101-2). Jesuit coach Ken Potter is No. 4 at 303-71.
Ruecker, a three-year starting quarterback at Oregon College of Education (now Western Oregon), got his first coaching job in 1971 when Reynolds' Larry Keck brought him aboard as a JV coach. He became the varsity offensive coordinator in 1972 and the team's head coach in 1977.
"When I was a little boy, I wanted to be a coach," Ruecker said. "I wasn't good enough to be a professional athlete, but I thought maybe I could contribute as a coach.
"I've always been fascinated with all the different things in football. It has to be simple for the players and complicated for the coaches. You have to do enough things well to where the other team doesn't know what you're doing, and at the same time simple enough that your players can execute it."
Ruecker, 69, said he doesn't know how much longer he will coach.
"I enjoy coaching football," he said. "I have the energy and desire to spend a lot of time behind the scenes. I wouldn't want to continue to coach if I couldn't do that."
Clatskanie's chance
After eight consecutive seasons of exiting the state playoffs in the first round, it looks as if this year could turn out much differently for Clatskanie, which is No. 1 in the OSAAtoday 3A coaches poll.
"I think we have some pieces in place," said Tigers coach Tim Warren, whose team has outscored Heppner and Umatilla 113-0 to open the season 2-0. "If we can continue to improve, I like where we're at."
Clatskanie appeared ready to hurdle its first-round obstacle last year when it held a fourth-quarter lead against Vale in the playoffs, but fell 19-14, a defeat that has since haunted the Tigers.
"We didn't close the deal," Warren said. "There were 20 kids on the sidelines that realized we left something on the field."
Clatskanie's defense, which returned nearly intact from last season, has pitched two shutouts. It is led by three third-year starters at linebacker in senior Justice Osborne and juniors James Helmen and Sam Shockley.
Helmen and Shockley are part of a large junior class that was thrown into the fire in 2016 due to injuries and transfers.
"They weren't mentally ready, but last year you could see the maturity of, 'We've been here before and we lived through it,'" Warren said of his juniors. "It's a huge benefit this year."
The Tigers also have speed to burn with three members of the state-champion 4x100-meter relay team in senior quarterback Cooper Blodgett, senior receiver Crew Blodgett and senior running back Kees Tjaarda. They added more speed with senior receiver Jake Bruce, a transfer from Rainier.
"He's going to fit into that 4x100 team really nicely," Warren said. "He's almost as fast as the other three."
A deep playoff run could be in the making for Clatskanie, which has gone as far as the semifinals once (2007).
"It's definitely something that's being talked about within the senior class, for sure," Warren said. "It's a very, very bright bunch, also, and they're actually very well grounded."
Making the grade
It has been a process for Liberty, but it appears that the Falcons have adjusted to 6A after moving from 5A in 2016.
Liberty has opened the season with two solid wins, going on the road to beat Sprague 35-28 and defeating Beaverton 42-27. In Friday's win, the Falcons built a 35-0 lead in the third quarter against the Beavers, a team that had opened with an impressive 37-7 win at Summit.
"We got better from Week 1 to Week 2," coach Eric Mahlum said. "We're playing really good ball here at the beginning of the season."
Not long ago Liberty was a 5A contender, going a combined 15-1 in the 5A Northwest Oregon Conference in 2014 and 2015. But the Falcons moved up to 6A, finishing 2-7 in 2016 before rebounding with a 7-3 mark last year.
Now Liberty is feeling more like it belongs in the highest classification.
"Last year's team, they felt that they had to prove to themselves that they could compete at 6A," Mahlum said. "This year I think the difference is they know they can compete in 6A. They can compete with anybody.
"We're fortunate to have a good senior group of kids that are really seasoned. A lot of them have been playing since their sophomore year."
Senior quarterback Bradley Norman is a third-year starter. A dual threat, he has passed for 247 yards and two touchdowns and run for a team-high 185 yards and three touchdowns in two games.
"He's definitely the leader of our offense," Mahlum said.
Senior linebacker AJ Records has 14 tackles and two sacks in two games. Junior Marquis Brown, a receiver filling in at defensive back Friday, had two interceptions against Beaverton.
Liberty's schedule offers no reprieve in the next few weeks as the Falcons take on South Medford (2-0), Oregon City (1-1) and Lake Oswego (2-0).
Here comes Tualatin
Perhaps the most overlooked team in 6A so far is Tualatin.
The Timberwolves, unranked in the OSAAtoday 6A preseason coaches poll, have looked dangerous in beating Southridge 47-7 and Oregon City 36-28. They moved up to eighth in last week's poll, and might be due to rise again this week.
Tualatin improved from 2-8 in 2016 to 7-4 last year in coach Dan Lever's debut and appears to have taken another step forward this season.
"On both sides of the ball, just schematically, starting the season we were already on Week 5 of where we were last year," said Lever, whose team led Oregon City 29-7 at halftime Friday.
Tualatin has seven takeaways in the first two games. They had four against Oregon City, including interceptions by juniors John Miller and Luke Marion and senior Garrett Boespflug.
Oregon City senior tailback Zakhayas Dennis-Lee, who rushed for 343 yards on 20 carries in the opener, managed only 54 yards on 17 carries against the Timberwolves.
Miller and Boespflug have been "a great combination for us" at inside linebacker, according to Lever. Junior defensive ends Cody Van Meter and Jake Reser have excelled up front, and Marion, junior Caden Dixon and senior Jeff Searle are savvy in the secondary.
"Defensively, we are in the right place, playing a physical brand of football," Lever said. "And we're taking the ball away, which has really created short fields for us."
Senior quarterback Kyle Dernedde, a third-year starter, has shown improved command of the offense.
"Kyle has been so unbelievably poised and efficient," Lever said. "He just has a different comfort level than he did last year."
The Timberwolves suffered a blow in the summer when junior running back Kainoa Sayre, a Three Rivers League first-team pick as a sophomore, suffered a season-ending leg injury. But senior Dominique Loggins, who ran for two touchdowns Friday, has helped pick up the slack.
A glimpse at Week 2 around the state:
6A
West Linn overpowered McNary 55-27 with its passing game as senior Ethan Long completed 31 of 45 passes for 410 yards and six touchdowns with two interceptions. Junior Casey Tawa had 15 catches for 174 yards and three touchdowns and senior Cade Knutson had seven catches for 142 yards and one score. … Sunset got four touchdown passes from Craig Callum to beat South Salem 36-3. … Sheldon quarterback Griffin Line, filling in for Michael Johnson Jr., threw four touchdown passes – three to Patrick Herbert – and ran for two scores as the Irish thumped Thurston 58-7. … Terrence Butler ran for three touchdowns in South Medford's 38-12 win over Canby. … Mountain View ran over Sandy 48-33 behind Jonas Larson (248 rushing yards, four touchdowns). … Lake Oswego led Jesuit 20-0 in the fourth quarter and held on for a 20-14 win. … Kehdon Fletcher returned a kickoff 95 yards for a touchdown and had 145 receiving yards as Reynolds improved to 2-0 by defeating Franklin 41-6. … Anthony Gould scored five touchdowns to lead West Salem past Bend 56-27. … Newberg got its first shutout since 2009 by blanking Grant 28-0. … Sophomore JJ Woodin completed 18 of 23 passes for 224 yards and three touchdowns in Westview's 53-14 win over Glencoe. … Lakeridge beat Sprague 41-20 behind Jalen John (three rushing touchdowns) and Charlie Maynes (two touchdown passes). … Clackamas topped Sherwood 43-14 as Noah Hobbs ran for three touchdowns. … Centennial overcame Roosevelt 20-16 on a 13-yard run by Cyrus Boatman with 1:34 left. … Century's Jack Wilson threw a 64-yard touchdown pass to Preston Strauss to break a fourth-quarter tie in a 21-14 win over Mountainside. ... McMinnville rallied from a 7-0 halftime deficit to beat Roseburg 23-7.Kevin Sullivan returned the second half kickoff 86 yards to tie and Garrett Alvarez returned a fumble 32 yards to seal the win.
5A
No. 2 Wilsonville beat No. 1 Churchill 57-50 in a four-hour thriller, getting the go-ahead points with three seconds left on a nine-yard pass from Nathan Overholt to Jonah Gomez. Overholt passed for 452 yards and six touchdowns, giving him 888 yards and 11 touchdowns in two games. Three of his scoring passes went to Sam Westing. Churchill's Demontre Thomas II passed for 280 yards and three touchdowns and ran for 85 yards and four scores. … Arturo Diaz ran for 349 yards and five touchdowns as Springfield bounced back from a 21-0 deficit to upend Ashland 49-35. … Parkrose ended a 24-game losing streak by beating Benson 82-7. … West Albany defeated Crescent Valley 20-7 as Cassius McGinty scored on a four-yard run and a fumble recovery. … Levi Nielsen ran for three touchdowns and passed for another to lift Silverton over South Albany 56-23. … Lebanon upended Dallas 37-16 as Colton Shepard threw three touchdown passes to Eddy Kennedy. … Cameron Morgan threw four touchdown passes in Eagle Point's 40-8 victory at Redmond. … Hillsboro's Kane Kiaunis passed for 341 yards and three touchdowns to lead a 28-7 win over St. Helens. … Trent Sorey threw two touchdown passes and ran for a score in Pendleton's 46-0 win over Hood River Valley. … Wilson outlasted Cleveland 28-27 as Andy Martinez ran for 136 yards. … South Eugene got 252 rushing yards on 28 carries from Isaac Reyna to beat Ridgeview 34-20. … Crater scored touchdowns on a blocked punt, interception return and fumble return in dominating Willamette 58-14. … La Salle Prep ran for 430 yards, getting 240 from quarterback Ethan Edgerly, to beat Cascade 41-30. ... 5A newcomer Scappoose defeated Forest Grove 44-32 as Connor McNabb ran for 182 yards and two touchdowns on 15 carries. Forest Grove's Jarrod Miller threw for 349 yards and three touchdowns and ran for a score.
4A
Marshfield beat Gladstone 20-17 on a 17-yard field goal by Arturo Ledesma with 12 seconds left. … Klamath Union got a 38-yard touchdown pass from Xavier Arvizu to Darius Holmes on fourth-and-10 with 56 seconds left to beat 3A Cascade Christian 20-14. … Alexander Teubner ran for 256 yards and four touchdowns to lead Seaside past Marist 33-22. Teubner has 482 yards and 10 touchdowns in two games. … Gavin Parker returned Cobyn Herbert's blocked punt for a touchdown to give Elmira a 31-28 win over North Valley. Brady Nagel ran for four touchdowns for Elmira. … Woodburn beat Junction City 54-20 as Dyontae Nevarrete ran for three scores. … Sisters' Gator Haken ran for 167 yards but the Outlaws fell to Valley Catholic 41-16.
3A
Harrisburg's Gabe Knox for 315 yards and two touchdowns in a 48-13 win over Blanchet Catholic. Knox has 556 yards in two games. … Luke Jannsen ran for two touchdowns and caught a scoring pass as Santiam Christian beat Douglas 33-8. … Joey Tripp passed for two touchdowns and ran for a score and Kenney Tripp ran for two touchdowns in Rainier's 39-0 win over Scio. The Columbians held Scio to 73 yards. … Keegan Mizuta rushed for 103 yards in Vale's 22-12 loss to Cole Valley Christian (Idaho). … La Pine's Adam Plant ran for 187 yards in a 34-12 loss to Madras.
2A
Carsen Smith ran for 191 yards and two touchdowns in Rogue River's 40-18 win over Culver. … Colton Sutton ran for 121 yards to lead Monroe past Grant Union 20-8. … Josh Aguilera returned a poor punt three yards for a touchdown with two minutes left to lift Irrigon past Weston-McEwen 20-14. … Kennedy's Emorej Lynk ran for 103 yards and four touchdowns as the Trojans bested Regis 46-6. … Illinois Valley's Caleb Hess ran for 150 yards and three touchdowns to lead a 58-12 win over Gold Beach. … Kane Mihalak rushed for three touchdowns and caught a scoring pass as Portland Christian defeated Riverside 48-6. ... Sheridan's Josh Rogers ran for 326 yards and three touchdowns to lead a 28-20 win over Willamina. ... Santiam won at Heppner 14-8 as Trevor Tinney rushed for 130 yards and two touchdowns.
1A
Elgin, playing its first league game after five seasons of playing an independent schedule, won at Cove 28-26 in a Special District 3 game. Elgin trailed in the fourth quarter but blocked a punt, leading to a touchdown and winning two-point conversion. … Days Creek blanked Prospect 46-0 as Grant Wentland passed for 233 yards and two scores. … Michael Powell rushed for 182 yards and three touchdowns in Oakridge's 52-8 win over Glendale. … Caleb Parks sparked North Douglas past Bonanza 58-32 by rushing for 235 yards and three touchdowns and intercepting two passes. … Pilot Rock's Tanner Corwin threw four touchdown passes and ran for a score in a 50-0 win over Sherman. … Ryan Patterson rushed for 183 yards and three touchdowns as Imbler beat Union 46-16.