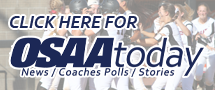 OSAA Boys Basketball
2019-20 Boys Basketball Schedules and Scores
Click here for OSAAtoday Basketball Articles

6A-6 Mountain Valley Conference
There are no 5A contests scheduled for Saturday, Feb 8, 2020.

Use the date navigation features above to select another date,
skip to the previous or next play date, or jump to another day.
4A-6 Greater Oregon League
Non-League
La Grande
@
Powder Valley
3A-6 Eastern Oregon League
2A-1 Northwest League
Mannahouse Christian Acad.
@
Neah-Kah-Nie
2A-3 Central Valley Conference
East Linn Christian Acad.
@
Jefferson
2A-5 Southern Cascade League
Canyonville Acad.
@
Rogue River
Lakeview
@
Butte Falls / Crater Lake Char. Acad.
Illinois Valley
@
Bonanza
2A-6 Blue Mountain Conference
Grant Union
@
Weston-McEwen
1A-4 Skyline League
Riddle
@
Umpqua Valley Christian
New Hope Christian
@
Elkton
Days Creek
@
Camas Valley
1A-5 Mountain Valley League
4pm
Gilchrist
@
Trinity Lutheran
Central Christian
@
Prospect Charter
Central Christian
@
Prospect Charter
1A-6 Big Sky League
Mitchell / Spray
@
Ione / Arlington
3pm
Dufur
@
Horizon Christian, Hood River
1A-7 Old Oregon League
1A-8 High Desert League
Long Creek / Ukiah
@
Crane
Jordan Valley
@
Four Rivers
Prairie City
@
Dayville / Monument
Huntington
@
Harper Charter